The green-eyed monster has struck.
Isn't envy a deadly sin?
I see waffles everywhere.  All the cool kids are posting pics on Instagram.  I am big enough to admit… I'm jealous!  I know I could purchase a waffle maker, but I just don't have room for more in my kitchen.  They aren't really that different from pancakes and I can make those quite easily.  (<–That's what I keep telling myself.)
Then I saw this:
Taco Bell announced it is coming out with a waffle taco; the "AM Crunchwrap."  No, I don't want Taco Bell.  I've actually never eaten at Taco Bell.  What I is to make my own Mexican waffle!!!
This weekend might bring a waffle maker to my house.  This WIAW I (happily) settled for breakfast nachos.
________________________________________________________________________________________
This WIAW I felt a little scattered.  Between a dentist appointment and work, I actually almost forgot to eat!  Almost.  Who could forget about a sandwich on pretzel bread?!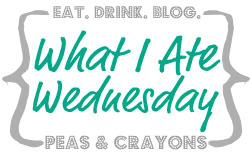 Read on for my eats, and then check out Jenn's blog for everyone else's delicious creations!
________________________________________________________________________________________
Breakfast:
My apple cider morning cocktail was followed by nachos.  I know a lot of people are either sweet OR savory breakfast people, but I like a good mix.  This was a savory morning – I made my Jicama Nachos!
I followed my original method for the jicama chip base.  Rather than using tofu in the recipe, I added protein with a mix of cottage cheese, nutritional yeast, cumin, and paprika.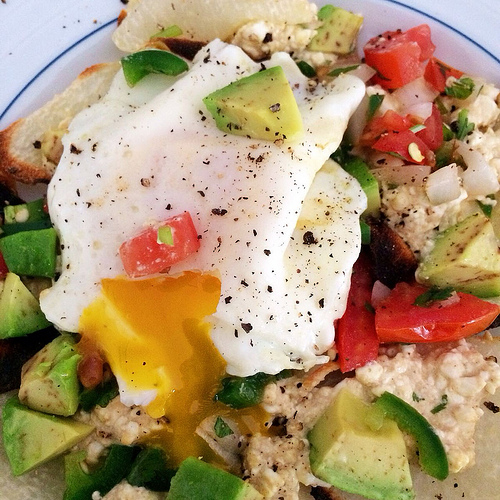 Lunch:
I treated myself to an old favorite for lunch – Souper Jenny.  Jenny and her crew make a fresh menu daily; it's filled with soups, salads, and sandwiches.
When I saw the daily menu email, I couldn't pass up the grilled chicken with avocado spread, tomato, pepper jack, and greens on a pretzel roll.  I had a side salad with goat's cheese, apple, and toasted pecans… and half a cookie (I shared with a co-worker – selfless portion control!).
Afternoon Snack:
Steak.  I've been craving it like crazy lately!  I seared a couple of filets to bring to work this week.  I enjoyed it with snow peas and mustard dipping sauce (a surprise from Heather!).
Dinner:
I had this at work pre-workout.  Swordfish with a roasted shiitake and roasted cauliflower tossed in vodka tomato sauce.  It's brown.  There's just no way of making that look pretty in tupperware.  It was really good fuel though!
Dessert:
Carrot Cake Batter with some coconut flour to make it even more cake-like.  Topped with cocoa powder sauce and sprinkles.  Sprinkles are usually reserved for celebrations… but I'm having a rough time at work and I'm choosing to lighten things up with sprinkles.  It's as good a Valium, I'm sure…
***
Friday, Friday, Friday…
Do you prefer a sweet or savory breakfast?  How about brinner?
What do you do to lighten things up when you're stressed?