Sushi befuddles me.
How do they wrap it so tight and get the rolls to stick together?
I got a wild hair and decided to try my hand at veggie sushi.  No sushi mat, mind you.  I still have no idea how sushi chefs' rolls don't fall apart.  Mind did as soon as I picked a bite up.  But they tasted wonderful!  (Halfway through I discovered that cutting them with wet knife helps, FYI.)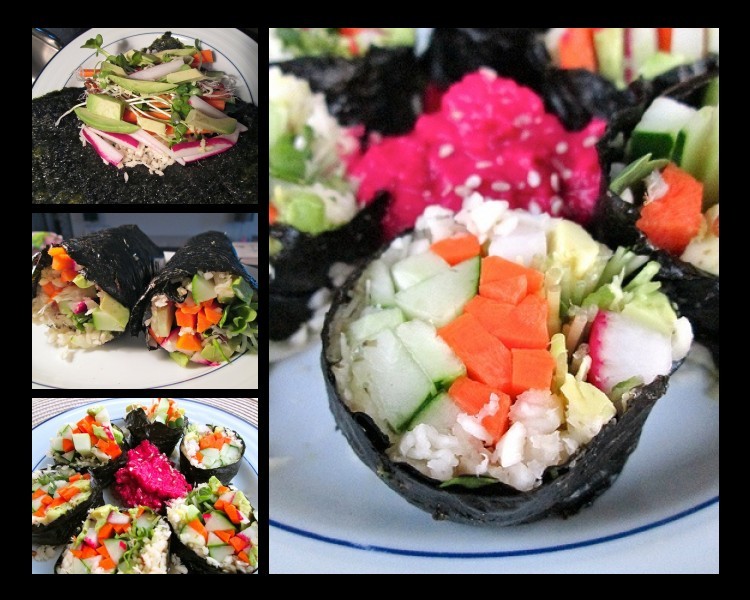 I used parsnips to create the rice, making these rolls a light, veggie-only treat.
Even better was the sauce I served with them – a beet-wasabi puree.  I used Greek yogurt to achieve a creaminess that pleasantly contrasted with the crisp veggies in these roll.  The Greek yogurt I used was the Olympus brand I reviewed here.  Its a super thick and creamy yogurt – perfect for a hearty sauce.
The roasted beets gave the sauce an earthy flavor that was really neat with the nori wraps, and accented with the heat from the wasabi.
This sauce truly is a fun, unique alternative to spicy mayo that works perfectly with the milder, more sweet flavors of the cucumber and carrots in these veggie rolls.  I had some leftover, and it was quite tasty spread on a veggie burger, too!
 Looking for protein in your sushi?  Click here for a protein-rich vegan sushi roll idea.
_______________________________________________________________________________________
Veggie Sushi with Beet Wasabi Sauce
For the sushi:
2 nori sheets
 1 parsnip, blended into "rice"
1 carrot
1/2 large cucumber
1 radish
1/3 C daikon sprouts
1/2 avocado
Scoop a few tablespoons of the parsnip rice onto the nori sheet and spread it across half.  Add toppings and roll nori sheet as tightly as possible.  
Slice into sushi pieces, or eat whole.  Note: wetting your knife before slicing help to achieve a cleaner cut.
For the Beet-Wasabi Sauce:
1/2 C beet, roasted
1/4 C Greek yogurt (sub in almond/soy/coconut yogurt to make vegan)
1 tsp wasabi paste
1/2 in piece of fresh ginger
Salt, to taste
Combine all ingredients in blender and blend until smooth.  
If you are sensitive to heat, add the wasabi slowly, tasting to control for spice-level.
***
Totally unrelated, but I need to whine.  I had leg day with my trainer Tuesday night.  My muscles are so sore it hurts to even think about walking.  Second day soreness is the WORST!
When are you the most sore – the next day or the second day after a workout?  Or immediately?  😉
Do you eat sushi?  What is your favorite roll?