Are you geared up to eat?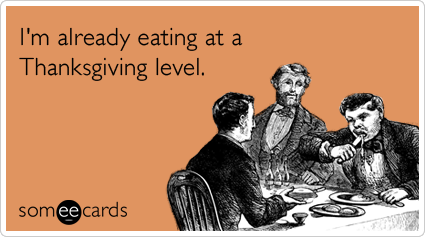 My stretchy pants are ready.
Before you start the Thanksgiving extravaganza, I have an awesome guest post from Allie about vegetarian protein sources. Allie decided to start training for a her own figure competition, and began working with my trainer a couple of months ago.  We've worked out together a few times and let me tell you – this girl lives up to her blog name (Forgotten Beast).  She is a beast.
You guys know the crazy amounts of protein I've been eating?  Well, Allie has a very similar nutrition plan, only she's doing it vegetarian!  While you may not need quite as much protein as we try to eat, it is important to have an adequate amount (typically 0.8g per pound of body weight for athletes).
Instead of a typical What I Ate Wednesday, check out the creative ways Allie crams in the vegetarian protein in a day.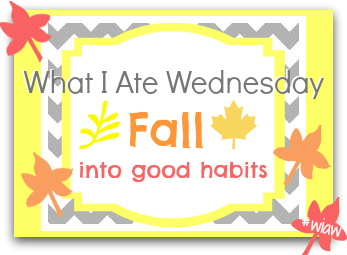 Be sure to click here to head over to Jenn @ Peas and Crayons to get to see how everyone else is ramping up for Turkey Day!
_______________________________________________________________________________________
Hey kids, I'm Allie! You may have seen me pop up on Laura's blog from time to time, since this wonderful guest-blog-post-host inspired me to get on the figure competitor train and has put up with me showing up on her doorstep three times now. Training for a figure competition requires mega-protein, and I'm trying to do it on a vegetarian diet.  This may seem impossible, but I wanted show just how easy it can be with some pointers/ideas for getting vegetarian protein in any diet.
Soy, Beans and Lentils
I'm grouping these together to keep it short and sweet. I mean, those are the pretty obvious sources of vegetarian protein, right? But if you're in a rut or just don't know what to do with it, you've got to give Laura's Chick-less Nuggets and TVP Oatmeal (20g protein) a try – or pick up a package of tempeh (23g) to make "meat" sauce, stir-fries and more.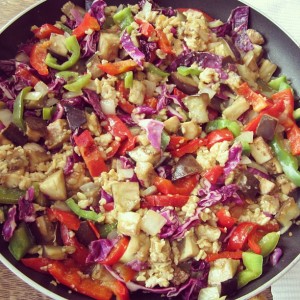 Nuts and Seeds
I feel like nuts are another obvious source of veggie protein—but what about seeds? Sunflower seeds (7g protein), pumpkin seeds (9g protein) and hemp seeds (11g protein) are all fabulous sources of protein – and they taste pretty darn good too.
Eggs
Whole eggs (7g protein) and egg whites (4g protein) are some of the most adaptable proteins. Breakfast, lunch, dinner and dessert – there's no wrong time for scrambled eggs, PB & Jeggs, or an omelet.
Dairy
Greek yogurt tops the charts in the protein-from-dairy category (23g protein in brands like Fage and Trader Joe's). Other good dairy-based protein sources include cottage cheese (15g protein) and ricotta.
Vital Wheat Gluten
Not an option for the wheat and gluten-free among you, but otherwise?  23g of protein in one serving – and there are SO many ways to use VWG. You can make your own seitan, faux chicken, faux breakfast sausage (Editor's Note: I've made Allie's recipe with TVP and it is really good!), high-protein bread and more.  Save money and all the preservatives and sodium you find in the vegan "meat" options at grocery stores by making your own.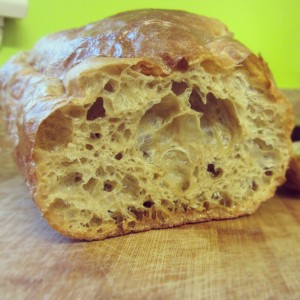 Protein Powder
Protein powder is an easy way to get a protein boost.  While it is not a replacement for real, whole foods, it can supplement shakes, meals and an overall balanced diet.  There are so many good vegan protein powders out there that there is no reason feel powders are limited to those who can/want to drink whey and casein.  (Or beef protein powder. Really? Has anyone tried this?)
Greens and Veggies
Of course I can't omit the veggies! Don't let these precious grams of protein go unnoticed! While a serving may only have 1-3g of protein, if you get 5-6 servings in a day, you're adding 15g of protein!
So How Do You Put It All Together?
Here's a sample of what a day may look like for me (keep in mind I'm eating seven meals and aiming for crazy amounts of protein – just like Laura – you only need a few of these to meet everyday health goals!):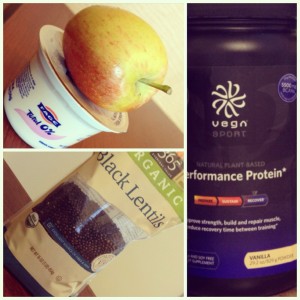 Breakfast: Greek yogurt and fruit (24g)
Post-Workout: Peaches and cream smoothie (Vanilla protein powder, frozen peaches, hemp seeds, almond milk) (36g)
Morning Snack: 

Lentil flatbread

 topped with peanut butter (22g)
Lunch #1: Tempeh "bacon" and sautéed collard greens (26g)
Lunch #2: Vital wheat gluten "chicken" salad (27g)
Dinner:

TVP and cottage cheese "hot pocket"

 with a side of oven-roasted broccoli (42g)
Dessert: Egg white topped with cranberries and sugar-free syrup (17g)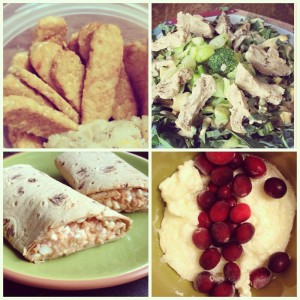 Grand Total? 194g of protein
And not an animal in sight.  Half of these options are vegan as well, so, even if you omitted the eggs and dairy (and I do mean omitted—not even substituted one of the other many amazing and completely plant-based protein options), this day would still have 140g of protein – much more than average daily protein needs (which seem to be around 50 – 100g for ladies, from what I've read).
While I'm not a huge fan of numbers when it comes to food and nutrition, they can be a helpful guideline, so I'll include this: this entire day comes in at under 2000 calories and balances out to a 40/40/20 macro ratio.
I hope this answers some questions/busts some myths about vegetarian protein!
***
Thanks again to Allie for such an incredible post.  I am so impressed by her dedication!  For Thanksgiving I'm taking a few days off to relax.  I hope you all get to do the same.  
Happy Thanksgiving!!!
How are you "falling into good habits" over the holiday season?
Do you make an effort to get protein throughout the day?  Post-exercise?