The reset is going well.
Vegas is even feeling good today!
After our impressive display of gluttony in Greece, it's been good to give our bodies a break and reset some habits.  We are almost a week in and things are looking good!
As the toxins leave your body, it can leave you achey, grumpy, and cause some acne.  We've hit that point.  Day 3 for me was rough.  I was tired and grouchy.  Most of the day I spent working from the bed.  Day 4 was the tough one for Vegas.  She had a headache all day and took her turn with the inability to get out of bed.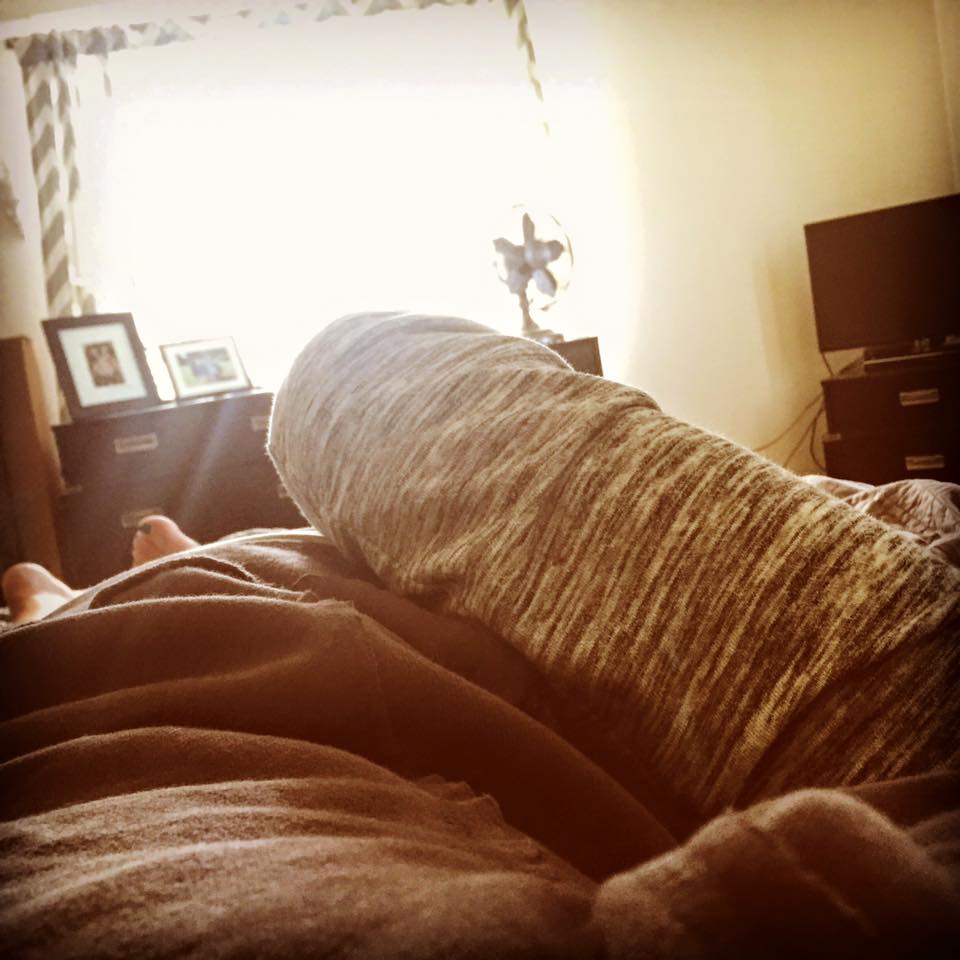 By Day 5 we were both doing well!  I'm used to cooking vegan meals now.  I love the challenge to be more creative in the kitchen; it's actually fun!
(Side note: Remember that time I went vegan-ish?  That won't be happening again after this cleanse… because bacon.)
That creativity inspired today's strange but good recipe.  Dairy-free, nut-free, vegan pesto.  Yes, it is possible.  Yes, it really is good.  I also added some spinach to bulk it up both in serving size and nutritionally.
A typical pesto uses olive oil.  I used MCT Oil.  Either one is good, but I was interested in the added benefits MCT provides.
MCT Oil Benefits
(Almost) Instant energy – unlike other fats, MCT is taken right to the liver where they act similar to carbs
May aid weight loss by increasing satiety and raising the metabolic rate
Enhances ketone production (ketones – brain fuel)
Improve blood sugar regulation
Help in restoring normal metabolic function
This pesto would be good on anything.  I chose lentils because that's one of our super-clean carb options.  And I like lentils.  Apparently Vegas likes them too because she had a confession to make yesterday: "Honey… I've been sneaking lentils."  
Add that to things she never thought she'd say!
I'd pre-cooked the lentils to have for the week.  They're good cold or warm, but we were in the mood for something warm.  To re-heat them, I briefly sautéed them in a pan with mushrooms, zucchini ribbons, carrots, spinach, and asparagus.  With just 30 seconds to go, I mixed in the pesto.
---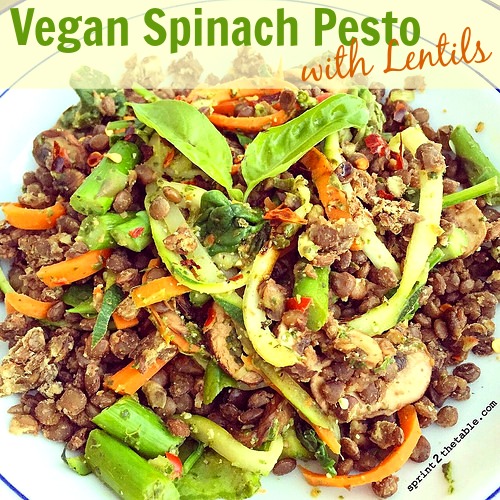 Vegan Spinach Pesto with Lentils
For the Pesto
2 C spinach
1/4 C Hemp Hearts

1/4 C basil, packed
Juice of 1 lemon
1/2 red bell pepper, chopped
1/2 tsp pepper
1 T MCT Oil (or olive oil)
Optional seasonings: sea salt, pepper, red pepper flakes
Place first 6 ingredients in a high speed blender or food processor and blend until it turns into a coarse meal.  
With processor running at a low speed, gradually add the MCT oil.  Pesto should still have texture and not be completely smooth.  Season with salt, pepper, and/or red pepper flakes, to taste.
For the Lentils
2 C Beluga lentils, pre-cooked
1 zucchini, spiralized

1 carrot, shredded
2 C spinach
1 C mushrooms, sliced
1 C asparagus, chopped
Place lentils and veggies in a skillet lightly greased with oil.  Sauté, stirring occasionally for 7-8 mins, until tender and warm.
Mix in pesto and allow to cook for ~30 secs.
Makes 4 servings.
---
How have you enjoyed making co-workers, friends, or family stare with strange but good creations this week? The link up rules can be found here or by clicking on "Strange But Good" in the menu bar above. In short, I want to see what concoctions have earned you weird looks from co-workers, family and friends! Post your Strange But Good creations, grab the logo below for your blog, and link up here.
Remember to use #strangebutgood in any Tweets and Instagrams of your creations. 🙂



***
This took less than 10 mins.  Thank you, meal prep.
Do you use MCT oil?
For those who've done a detox, did you notice any  side-effects in the first few days?