We interrupt my usual post-fee weekend for a BLOGHOP!
This month's theme is #GreensLove in honor of St. Patrick's Day.  Naturally, I got unnaturally excited.  75% of everything I eat is green!
I thought about making another green smoothie, but decided that was getting old (not to my taste buds, but after you've seen one green smoothie pic, you've seen them all).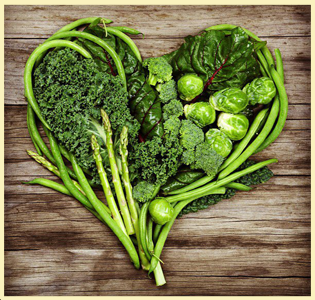 A salad seemed too obvious.  What about an not-so-obvious version of a famous salad?  As I brainstormed ideas for my French-themed vegan book club, I knew the dinner spread would be incomplete without the famous French  salad – Salade Niçoise.
A traditional (by traditional, I mean Julia Childs' recipe 🙂 ) Salade Niçoise consists of lettuce, green beans, shallots, vinaigrette, tomatoes, boiled potatoes, chunked tuna, hard-boiled eggs, anchovy fillets, Niçoise olives, and capers.
I couldn't have tuna, potatoes, eggs, or anchovies.  That's half the salad.  Undeterred, I set to work on recreating the dish in a fun way.
Dressing that can make or break a salad.  I wanted to light, herby vinaigrette that wouldn't overwhelm with the stronger flavors from the olives and capers.  The lemon-thyme vinaigrette did the trick – the lemon flavors brought out the other veggies in the salad.  A high-quality olive oil allows you to use less in the recipe without compromising flavor.  This particular bottle is from my recent travels to Italy.
The other stand-out in this vegan-ized recipe was the "tuna" tempeh.  Meant to sub for the tuna, it doesn't really taste like tuna (a good thing in my book).  Rather, it adds a slightly nutty, lemon-pepper protein addition.  The crunch it adds as a result of being slowly sautéed is a fun dimension to the salad.
You may think you're going overboard with the pepper on the tempeh – and feel free to adjust to your tastes – but when it's combined with the lemon flavors and them eaten with the other salad ingredients, it's the perfect flavor.
The color of the salad is fabulous.  It was the most photogenic thing on the table!
You'll notice I didn't include measurements for the veggie toppings.  Add as much or a little as you like!  I simply added "handfuls" until the bowl was filled and looked pretty.
If you are unable to locate Niçoise olives, substitute Kalamata or another high-quality dark olive.  Read: don't use your left-over pizza topping olives.
Check out these other (vegan) French dishes served that Book Club:
________________________________________________________________________________________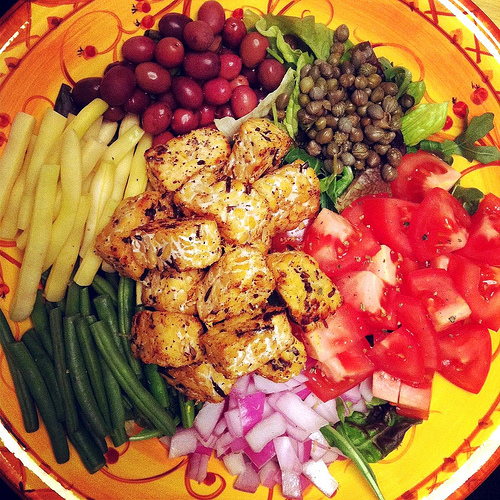 Salade Niçoise
For the Salad:
Arugula lettuce
Red leaf lettuce
French green beans, ends removed and cut in 3-4 in pieces
Wax beans, ends removed and cut in 3-4 in pieces
Niçoise olives
Capers
Tomatoes, diced
Red onion (1/4-1/2 C), diced
Place lettuces in a large bowl.  In individual sections, add each veggie topping.
For the Tempeh:
8 oz. tempeh, cut into 1-in cubes
2 tsp olive oil
Juice from 1/2 lemon, plus zest
1-2 tsp apple cider vinegar
1/2 tsp pepper
4-5 drops liquid smoke
1-2 drops liquid stevia
Salt, to taste
In a small bowl mix together remaining ingredients.  Toss with tempeh to coat well, and allow to marinate for 10-15 mins.
Heat oil in a medium pan over medium heat.
Place tempeh and any residual marinade in pan.  Cook, tossing occasionally until tempeh is lightly browned and crisped on the outside (~10 mins).
Remove from heat and allow to cool.  Once cooled, add to salad.
For the Lemon-Thyme Vinaigrette:
1/4 C fresh lemon juice
1/4 C water
2 T fresh thyme
2 cloves garlic, pressed or minced
2 tsp Dijon mustard
1/3 C extra virgin olive oil
In a small bowl whisk together all ingredients except olive oil.  Slowly pour in the oil, whisking constantly.
Alternately, place all the ingredients in dressing bottle or jar and shake to combine.
Taste and adjust the seasonings before serving alongside the salad.
Note: If not using dressing right away, cover and refrigerate, bring to room temp and shake again before use.
_______________________________________________________________________________________
I'm excited to be co-hosting the #GreensLove event with the following fabulous bloggers.  Be sure to visit them, and to add your own recipe via the linky tool below!
Join us in the March #greenlove by linking up any leafy green recipe below.  Don't forget to link back to this post, so that your readers know to come stop by the #greenlove event!  The twitter hashtag is #greenlove.
Powered by Linky Tools
Click here to enter your link and view this Linky Tools list…
***
I am also honored to announce that I was nominated as a "Best Healthy Eating Blog" for the 2012 Fitterati Blog Awards on FitnessMagazine.com.  You guys are the best and a constant source of inspiration.  If you're so inclined, pretty please click here and vote for me. 🙂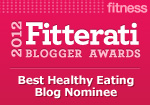 What's the best green food you've made lately?
Is anyone running this weekend?  Good luck – I'd love to hear how it goes!!!