Wicked.
Last night I went to the Fabulous Fox Theatre to see Wicked with my mom.  It was wicked good!
The Wizard of Oz was filled with political undertones (ex: the yellow brick road refers to the gold standard), and this "rest of the story" play delivers on that level as well.  It was actually a pretty dark play!
I'm always impressed when playwrights that are able to parallel what's going on in society in such creative ways.  For instance, at one point the Wizard says to Elphaba:
When I came here, there was discord and discontent. And what better way to bring people together than to give them a common enemy?
Sound familiar?  
But this isn't a political blog.  Let's talk about food, baby.
_____________________________________________________________________________________
Yesterday I posted a dinner pic for WIAW.  You are probably sick of hearing about how I'm only using what I have this week BUT… but I am always amazed when these garbage hodge podge  recipes deliver.  Everything But the Kitchen Sink Stew, for instance.
This bake was a winner.  Like whoa.
For those of you who have been turned off by shirataki noodles in the past, believe me when I say NONE of the sea-like smell remains after this dish bakes.
My "lazy" tomato sauce turned out well too – it's amazing what sauteing some onions and garlic can do for the jarred stuff.  Capers and artichokes were a great add with the lemon-y "ricotta."
Yes, "ricotta."  I would not have believed it if I hadn't tried it for myself, but this vegan tofu variation of the creamy Italian cheese is actually good.
To summarize:  Vegan (that is, until I grated what was left of my French sheep's milk cheese on top).  Gluten-free.  Low carb.  Delicious.  The secret's in the sauce.
It also tastes good leftover… eaten straight out of the pyrex.
_____________________________________________________________________________________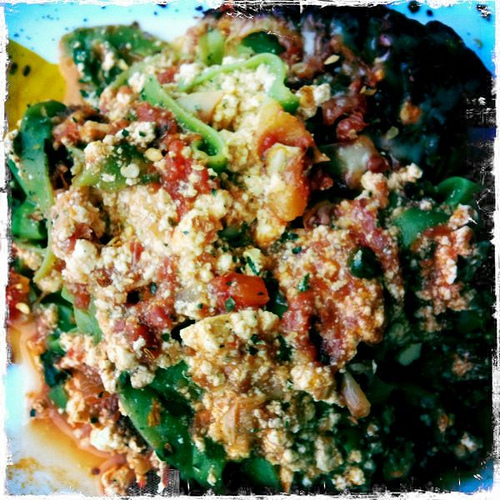 Vegan Ricotta Pasta Bake
Tofu Ricotta
1/2 tofu block, extra firm
2 tsp lemon juice
1 tsp olive oil
1 clove garlic, minced
2 T nutritional yeast
1 T fresh thyme
Tomato Sauce
1 small shallot, diced
1 clove garlic, minced
1/4 C jarred artichoke hearts, rough chopped
1 C marinara sauce (I used tomato-basil)
2 tsp capers, drained
1 tsp red pepper flakes
S+P, to taste
1 package Shirataki tofu noodles (or regular noodles)

Preheat oven to 325 degrees.
Press tofu for ~20 mins (I do this by placing a stack of cookbooks on it).  Crumble into a bowl and combine with remaining ricotta ingredients.  Using your hands, break up mixture until it reaches a "ricotta-like" consistency.
Meanwhile, saute shallot with a bit of olive oil in a medium saucepan until just turning translucent (~5 mins).  Add garlic and artichokes, sauteing 4-5 mins long until garlic is beginning to brown.  
Add pasta sauce to saucepan with the capers and red pepper flakes, stirring to combine.  Bring to simmer, tasting and adjusting flavors as needed.
While sauce warms, prepare noodles according to package instructions.  Mix noodles and tofu ricotta.  
Place noodle mixture in 9 x 11 pyrex dish.  Top evenly with tomato sauce.
Bake at 325 for 15-20 mins, or until heated through.
***
Leftovers for lunch.  Perfection.
Have you tried any of the homemade vegan "cheese" variations?
Do you like to go to the theatre?  What is your favorite play?