Sad, but true: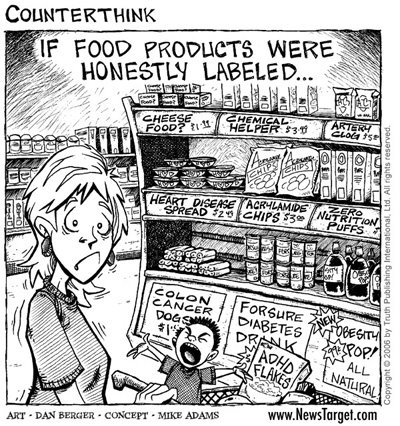 We are so lucky to have the knowledge we do about clean eating.  I am continually surprised by how many people legitimately have no clue how to make good food choices.  Not to mention those who just don't care.
Remember then craziness most of us ate growing up?  Ding Dongs, Pop-Tarts, orange soda… I wouldn't even think to buy those things now!  (Note: there is a restaurant in Atlanta that makes homemade Ding Dongs… those, I would buy. 🙂 ).
In my adult life, I shop the perimeters of the grocery store.  When I do buy packaged food, I read labels to ensure the ingredient list is recognizable.
No one is perfect.  I'd be lying if I told you there weren't a couple of questionable items in my freezer.  The point is to eat as clean as you can most of the time.
One of the items I've become more aware of are frozen veggie burgers.  I try not to eat many processed foods, but in my constant quest for protein I picked up a box of the burgers for a quick fix.  Then I realized I could quite easily make my own and keep them in the freezer for those times of need.
Beans are one of the top sources of vegan protein; however, I cannot eat enough beans to get my 25g required per meal.  I CAN mix them with other protein sources to amp it up though!
Note: I am not vegan, but I am striving to continue to eat as plant-based as possible while I train for a figure competition.
These ancho chile burgers combine beans, textured vegetable protein (TVP), and vital wheat gluten to deliver a homemade, protein-rich vegan burger.  The chili power and ancho chili pepper in chipotle give it a nice heat (if you're sensitive to heat simply leave out the ancho chili).
I served one for dinner with sautéed shiitake mushrooms, onions, garlic, and spinach.  The remaining patties were wrapped up for later meals.
Between the liquid smoke and the grill marks (thanks to Mr. George Foreman and his grill), these bean burgers have turned my cubicle into a lunchtime picnic.  Ok, I exaggerate… but they are tasty! 
________________________________________________________________________________________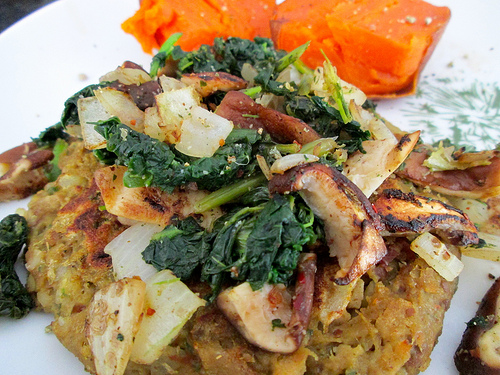 Ancho Bean Burgers
Inspired by JL's Chickpea TVP Burgers.
1/2 C fava beans, cooked
1/2 C cannellini beans, cooked
1/4 cup TVP
1/3 cup low-sodium vegetable broth
1/2 C Vital Wheat Gluten
1/2 C fresh cilantro
1/4 C onion, diced
4 cloves garlic, minced
1 ancho chili pepper in chipotle, diced
1/4 tsp liquid smoke
1/2 tsp ancho chili powder
1/2 tsp cayenne pepper
1/2 tsp turmeric
S+P,  to taste
In a food processor, pulse the cooked beans (leave some larger pieces).
Combine the TVP and vegetable broth and let stand for 10 mins.  Stir in the Vital Wheat Gluten.
Add the TVP and all remaining ingredients and pulse until well combined.
Refrigerate 1 hour (or overnight).  Form the patties, making them fairly thin so the middle get "cooked" on the grill. Return to the refrigerator for 2-3 hours or over night.  At this point you may place in the freezer for future use.
Set out at room temperate about 30 minutes before grilling.  Cook on a grill pan (or grill if you have one) for ~6-7 mins on each side, or place in George Foreman grill for 6 mins.
Makes 5 4-oz burgers.
Approximate Nutritionals: 116 calories, 0.5g fat, 144mg sodium, 13.6g carbohydrates, 3.8g fiber, 1.7g sugar, 14.3g protein
***
In 5 days I will be 29 years old.  The last year of my 20s.  How did this happen?!
Is there anything shameful in your freezer or pantry? Make me feel better… lol!
Have you become more health conscious in your "old age," or did you grow up eating clean?