Playing favorites isn't fair.
No one ever said life was fair.
Everything I made for my vegan French book club dinner was good (I was kind of shocked)…. but we all have favorites, even if you won't admit it.  This is mine.
These vegan Goat Cheese Stuffed Oven-Roasted Tomatoes could probably get by on their looks alone.  That isn't why they were my favorite.  I'm not that shallow.
They were my favorite because of the cheese.
Inspired by this recipe from Alain Coumont, founder of Le Pain Quotidien cafés in France, I decided to take his concept and make it vegan.  (Coincidentally, Le Pain Quotidien offers many vegan dishes.)
Everyone has some sort of vegan "cheese" they use in recipes.  Often it's cashew-based.  Sometimes with nooch or any array of vegan products.  It never really tastes like cheese.
With the exception of this tofu-based cheese.  Tofu makes a GREAT sub for creamy cheeses like ricotta and goat cheese.  (It made a helluva ricotta in this Eggplant Rollitini.)
This particular vegan version of tofu-cheese is a goat cheese.  I swear to you – you would NEVER miss the real thing.  The book club didn't balk at all!
Goat cheese has a tanginess that was captured well with the lemon juice in this tofu creation.  The miso lends a salty-sweetness to it, which helps bring out the cheesy side of the nutritional yeast.
Fantastic taste aside, the other plus to this recipe is that it's easy… yet it looks impressive.  There is a decent list of ingredients for the cheese, but you simply toss it all in the food processor.  I love a one-bowl recipe!
Just be careful not to cut through the tomatoes when you scoop out the middles!
_______________________________________________________________________________________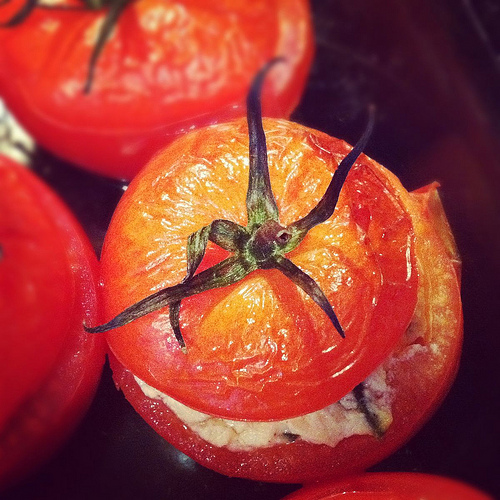 Vegan Goat Cheese Stuffed Oven-Roasted Tomatoes
12 small-ish tomatoes
1 16 oz. pkg firm tofu, pressed
2 T extra virgin olive oil
1.5 T yellow miso
1/4 C nutritional yeast
1/4 C freshly-squeezed lemon juice (~1.5 lemons)
1/4 C yellow onion, chopped
2 garlic cloves, minced
1/2 tsp dried oregano powder
3-4 T finely chopped basil
Salt and pepper, to taste
Pre-heat the oven to 425.
Slice off the top 1/2 inch of each tomato and reserve the tops. Carefully scoop out the tomato cores and seeds. If necessary, cut a very thin sliver off of the bottom of each tomato to help them stand up straight. Arrange the tomatoes in a 9-by-13-inch glass or ceramic baking dish.
Crumble pressed tofu into the bowl of a food processor.  Add remaining ingredients for "cheese," except the basil. Process until smooth.  Add basil and pulse briefly to combine.
Spoon the "cheese" mixture into the tomatoes, filling them just to the brim. Cover with the tomato tops and drizzle lightly with additional olive oil.
Bake the tomatoes for 30-35 minutes, until beginning to brown in spots and the cheese is hot. Let stand for at least 15 minutes. Serve warm. (They're also good leftover!)
Notes:
I do not have a tofu press.  Instead I drained the tofu, cut it in half horizontally, and wrapped it in paper towels.  Then I stacked a load of cookbooks on top and let it press for 10-15 mins.
The cheese mixture can be made up to 2 days in advance.  In fact, they are better on day 2 once the flavors fully marry.  If you do this, do not add basil until just before you bake.
***
Tomorrow is Eggplant Bruschetta!  Next week is the Salade Niçoise with Tempeh "Tuna"… then you'll have a fully vegan-ized French-themed party spread! 🙂
What's your favorite "veggi-tized" recipe?  Or is there one you'd like to see made vegan/vegetarian?
What other dishes would you use a vegan goat cheese for?  I'm making another batch this weekend!