Monday was a day for firsts.
Thank you for all of the supportive comments yesterday!  Many of you asked what my first post-cleanse meal was… I don't know if you could count it as a meal, but at midnight on Sunday I ate a massive spoonful of peanut butter.  It was everything I hoped it would be. 🙂
Monday morning I had a PB&J protein shake post workout.  I had good intentions of taking a picture, but got a little too excited.
Many of you commented that giving up caffeine would be hard, but a cup of coffee didn't even cross my mind yesterday morning!
For an afternoon snack I enjoyed a carrot + PB "sandwich":
Oh, and there was a handful of pistachios for snack too.  I love nuts.  You can quote me on that. 😉
________________________________________________________________________________________
I'm really excited about today's recipe – it was courtesy from my Foodie Penal this month, Laura @ Laura Lives Life.  In one of the most creative penpal boxes I've heard of, Laura sent me the (non-perishable) ingredients to make her favorite meal: Bimbibap.
Thank to Laura, the other first on Monday was my first time making the Korean dish.  The traditional version is served as a bowl of warm white rice topped with sautéed vegetables, gochujang (chili pepper paste), a raw or fried egg, and beef.
Asian foods are some of my favorite, so I couldn't wait to try out my own version of her recipe (and this NYT recipe she based it on) and share it with you all!  I took un-traditional, vegan liberties.
The coolest part about this dish was the crispy rice.  I was nervous about it because, as Laura mentions in her post, this is usually made in a clay pot.  Making it in a skillet worked out perfectly though!  Mine certainly didn't stay in perfect pieces, but it had a fantastic crunch.  I don't know how I'll ever eat rice the "normal" way again!
The other thing I loved about this dish was the nutty flavor from the sesame seeds and the rich saltiness from miso tamari.  It perfectly complimented the zucchini and the meaty shiitakes.  Add to that the sweet, raw carrots… it was texture nirvana.
You guys know how I love heat, so I was of course in love with the gochujang.  It is a chili paste, but is different from sriracha in that it has just a hint of sweetness.  I tossed in a few more red pepper flakes for good measure. 🙂
This recipe is several steps, but you can have the rice going while you prepare the veggies.  It actually helps since you forget about the rice long enough for it to get a proper crunch.  I would have been messing with it too much if the rice had been given my undivided attention!
________________________________________________________________________________________
Before we get to the recipe… don't you want a cool Foodie Penpal too???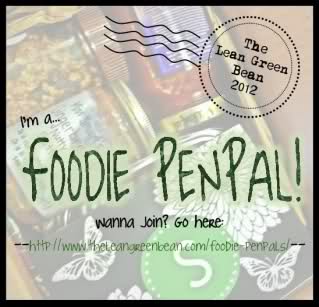 To sign up for a Foodie PenPals in March, send an email to the great and wonderful Lindsay at theleangreenbean@gmail.com with the following deets:
-Your full name
-Your email address
-Your blog name/address (if you've got one)
-Your twitter handle (if applicable)
-Whether you are a US resident or Canadian
Join in by March 4th as pairings will be emailed on March 5th!
________________________________________________________________________________________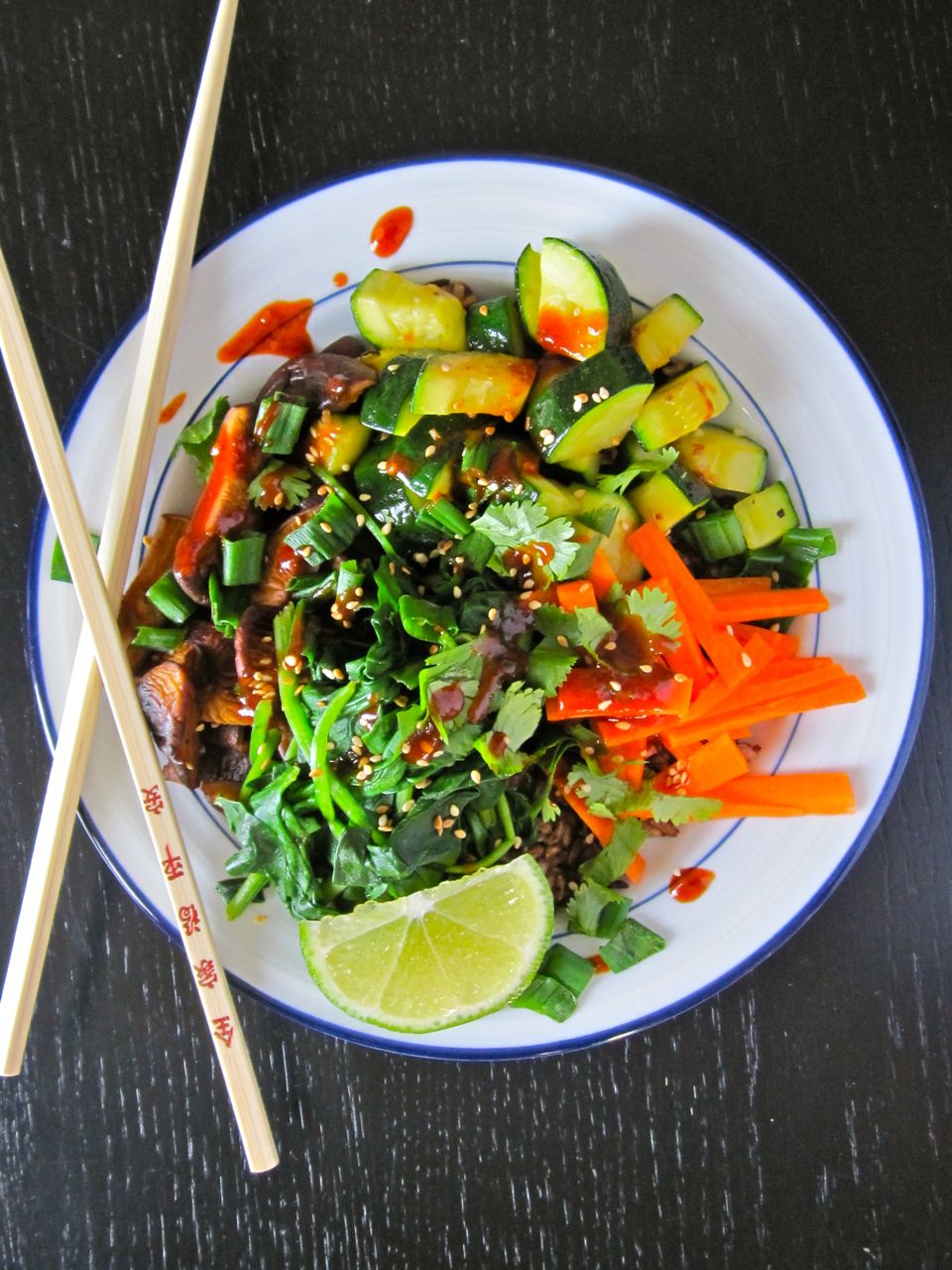 Vegan Bibimbap
1 C wild rice, cooked (or rice of choice)
1 medium zucchini, cut into ~1/3 in thick quarters
1 tsp dark sesame oil
2 cloves garlic, minced
3-4 drops stevia, or other sweetener
1 C thinly sliced shiitake caps
1/2 tsp miso tamari (or soy sauce)
2 C packed spinach leaves
1/2 tsp rice wine vinegar
1 green onion, chopped
1 carrot, julienned in 2-inch lengths
1 tsp toasted sesame seeds
1 T Korean red chili sauce (gochujang)
1/2 tsp red pepper flakes (optional)
Cilantro
Slice of lime
Prepare rice according to package instructions.  Spray a medium-sized skillet with lubricant (oil or PAM) and place over medium heat.  Add cooked rice and flatten to form a pancake-like covering bottom of pan (~1/4 in thick).  Cook until crisp and light brown on underside (7-8 mins).  With spatula, flip rice over, and continue cooking until crisp (~5 mins.  Remove from heat until veggies are prepared.
In a medium skillet a medium skillet over medium heat, and add 1/2 tsp sesame oil, zucchini, garlic, and stevia.  Sauté until zucchini is tender (7-8 mins).  Transfer to a plate and set aside.  
Return pan to burner and add remaining 1/2 tsp teaspoon sesame oil, shiitakes, and miso tamari.  Sauté until tender (5-6 mins), then transfer to plate and set aside.
Return pan to burner and spinach with rice wine vinegar.  Sauté until just wilting (4-5 mins), adding green onions in for the last 30 seconds (just long enough to warm them).  Remove from burner.
On a large plate, arrange rice in a layer across the bottom.  Next, place vegetables on top in individual piles.  Top with toasted sesame seeds, cilantro, chili sauce, and red pepper flakes.  Serve with lime wedges.
Makes 2 servings (easily doubled).
***
Major plus to being single: I have the second serving for lunch today. 🙂
Have you ever made a traditional Korean or Asian dish?
If you were going to mail ingredients to a penpal, what dish would it be for?