REDRUM.
Please tell me you get the reference…
This is the hotel I'm staying at in NYC: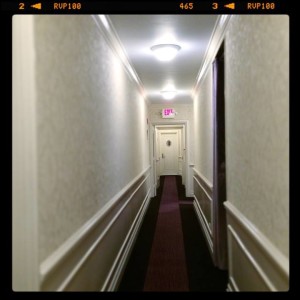 I have no cleaver intro other than to inform you that it's taking a lot of self-control not to run down the hall yelling "Heeeeeere's Johnny!"
________________________________________________________________________________________
Since I am traveling this week for the second week in a row, I am sharing a few Blend meals with you rather than the random assortment of schwag bag goodies (thank you BLEND sponsors!!!) and conference food I actually ate this week.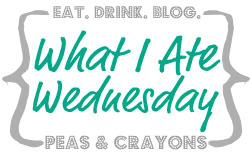 Check out Jenn's blog for everyone else's more reasonable delicious creations!
________________________________________________________________________________________
Heather and I arrived in Utah pretty late on Thursday and went directly to dinner.  We did not pass go.
She took me to a plane she'd dined on a recent trip called Silver.  It was incredibly good – by far the best meal of the weekend!  I started with the Bartender's Roulette, a drink where you simply tell the bartender what your booze preference is and he makes something up.  This was their take on a Manhattan.  It involved something cinnamon-y, which made me far too happy.
We started with a couple of apps: a venison carpaccio with housemade granola, parmesan, and micro-greens, followed by the baby octopus with pimenton spices, potatoes, lardo, and fennel.  I used my newly found low alcohol/sweet + savory drink trick and ordered the Riesling to accompany the rest of the meal.  It was fantastic with the spicy octopus and our main dish, a bone-in pork chop cooked sous vide and then seared.  It was served with a kraut with lardon and apples over a schmear of beer jam.  Thank god we split a main – the pork was huge, but so incredible it would have been a sin not to finish it.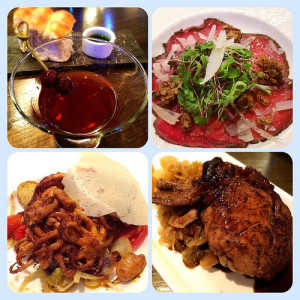 The next morning I was glad we'd had such a hearty meal because by the time we finished the workout I was famished and ready for breakfast.  We did a plyo-style workout courtesy of the Onnit crew, followed by ab work and the afore mentioned planking contest.
Eggs, chicken sausage, tofu scramble, and – the best part – a Quest Chocolate Fudge Cookie Cup.  Holy mother of yum.  I absconded with an extra for a post-hike snack. #sorryimnotsorry
After breakfast we were off for a hike!  It was really neat to be able to take a ski lift up the mountain to our starting point.  I've never been on a gondola without snow before!  The ride was stunning, second only to the incredible views during the hike.
After the hike and a much-needed shower (and post-Quest cupcake seconds), we had another snack time.*  I ate all the foods.  Kidz Shake had a able of chocolate-banana protein smoothies and amazing date balls that tasted exactly like cookie dough (not kidding – I'm picky about my dough!).  There was chocolate from Lily's Sweets (I'm on a mad hunt for those sugar-free chocolate chips now).  Silk brought their "A" game with incredible Cherry-Almond Butter smoothies, and Arctic Zero sampled their new flavors and ice cream bars.  You guys HAVE to try the orange – I almost never choose a fruit-flavored dessert but it was fantastic; it tasted like those Flintstone push-ups you eat s a kid!  I was in frozen snack heaven.
*Note: If you come to Blend, you will NEVER be hungry.
The food doesn't end there.  We had some down time before our cocktail hour and dinner… which was just enough time to work up an appetite.  I didn't take a TON of pics, but I did manage to get a shot of the best part of the evening meal.
The deliciousness in the middle of the table was a soy-glazed salmon from Sizzlefish.  You all know my love to Sizzlefish… I finally got to meet Rob, the founder, which felt like I was meeting a celebrity of sorts because I've loved their product for so long!
Speaking of celebrities…
I had a re-enactment of my favorite rockstar picture from last year's retreat with two of my favorite Blends: Heather and Lindsay.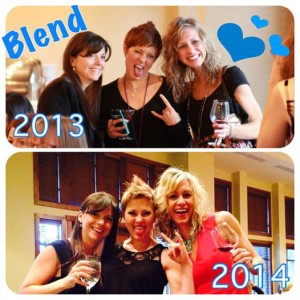 The next day there was more food, more workouts… and then another dinner out!
We met up with a bunch of blends for a dinner out at Purple Sage.  The food was good, but I must say that the company and the wine was the highlight at this dinner: a bottle of Orion Swift's Abstract with a side of Melissa and Madelyn!  (But the duck and the bread pudding did not suck!)
 ***
I love traveling… but OMG I'm ready to be home.
Where would you take your Blends out to eat in your town?
Any restaurant recs in NYC?!