Atlanta is the place to be if you like to eat in secret locations.
It seems like there is an event every weekend!  
This Sunday was the first brunch edition of the Atlanta Underground Market.  The previous markets have been in the evening and didn't have themes.  Brunch was fun because it forced the vendors to try something new… and who doesn't love brunch?  I met Lee, Felix, and Heather there for a gut-busting good time. 🙂
Dr. Sweets Cake Emporium was serving up mini, gluten-free pancakes.  They were ok, but the sauce is what got me excited.  Apple-Jalapeno Jelly and Raspberry-Lime Jelly.  I could have eaten the raspberry by the spoonful.
Next up was a Bloody "Maria" Cupcake from S'More Cupcakes.  Whoa.  The mini cupcake included tomato juice, clam juice, Worcestershire sauce, Tabasco, fresh horseradish, and Silver Patron tequila, and was topped with cream cheese, celery, and a cherry tomato.  A risky dish, this turned out to be everything I hoped it and more.
Ciao Bocca offered a Zucchini Frittata with tomatoes, arugula, and fresh mozzarella was a tasty bite.  I was impressed that the quality of the mozzarella!
One of my favorite items was a Margarita Cookie from Cookie Underground.  We also tried the Mimosa and Strawberry Margarita cookies.  All fantastic.  I took a couple of Chocolate Sweet Potato cookie thins to go. 🙂  Vegetable in cookies, FTW.
The runaway hit was Arepa Mia.  We waited in line for a solid 45 minutes to get the most incredible arepa I've ever had.  Today's was eggplant, black beans, collards, and butternut squash.  It was supposed to have a fried egg (for brunch), but they ran out.  I was a little sad… however this didn't stop me from scarfing my arepa down in record-time.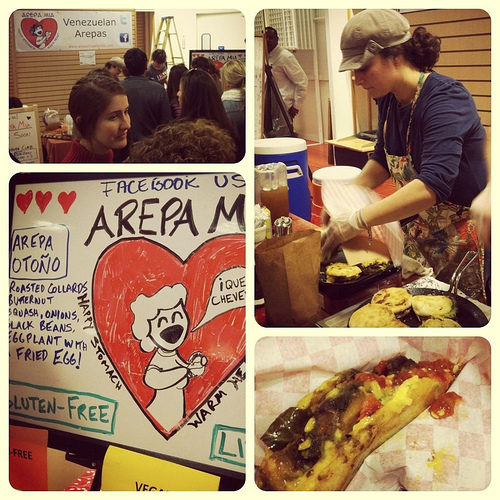 This next item I have to introduce by assuring you that I did NOT try them.  "Dad's Nads" were cleverly named testicles by The Original Yay Yay.  As much as I talk about balls on this blog, these were no-go-nads for me!
All of that food makes me glad I had a good week of workouts!
__________________________________________________________________________________
My modified to cardio-a-day / Mile-a-Day Challenge has been a success!  Two more days and I will have completed it with only a couple of missed days.  Sometimes you just need to rest though. 🙂
I'm officially addicted to shorter workouts – between Body Rock and Pinterest workouts, there is no excuse not to move for at least 15 mins every day.  This week I did this Pinterest find 2x through:
Workout Recap (1/23 – 1/29)
Monday – Body Rock Wk 1 Day 5, Stationary bike (intervals), 100 push-ups
Tuesday – Tris/Chest, Stationary bike (intervals), 100 push-ups
Wednesday – Body Rock Wk 2 Day 1, Elliptical (intervals)

Thursday – This "pinned" workout 2x, Stationary bike (intervals), 100 push-ups 

Friday – Bis/Back, 1 mile run, 100 push-ups

Saturday – This Body Rock, 100 push-ups
Sunday – This Body Rock Wk 2 Day 2, Elliptical (intervals), Ab Ripper X, 100 push-ups
***
Busy weekends are lots of fun… but they sure go by FAST.
Would you have tried Dad's Nads?
What was the best part about your weekend?