It would be impossible to make this dish any more healthy.
Filled with raw, fresh veggies, you would probably ascend into some new level of raw health food heaven if you ate it all in one sitting.  Either that or have some serious gas.
When I saw this recipe for a Detox Salad from Angela @ Oh She Glows, I knew I had to make it post-Chilean tour of gluttony.  In my version I use her base of cauliflower and broccoli, but added some extra nutrients with kale and mushrooms.  I love the meaty earthiness the mushroom adds!
To dress the veggie mix, I used fresh lemon juice and my new Chilean spice blend, merkén.  You can read more about it here, but it's basically a mix of red chilies, coriander, cumin, and salt.  Spicy and smokey!  The other blend in the pic above is a sea weed flake mix: dulse, laver, and sea lettuce.  I picked it up a Whole Foods recently and am addicted to the briny, slightly sweet flakes.
All mixed up it looks like trail mix, hence the name.  However, I wouldn't recommend adding chocolate in this type of trail mix. 🙂
Recipe at the end.
---
I finally have workouts to recap!  This week I was back on it full-blast.  I'm embarking on a new fitness endeavor… after my first leg/glute workout with a trainer on Monday, I was so sore that I could barely walk until Friday.  At one point I (slowly) lowered myself to the floor to do push ups, gave up at 40, and then just laid there in downward dog for a sold half hour.  More this new punishment journey tomorrow!
Today I am sore from playing 4 softball games in 90 degree weather.  I drank 150 oz of water and I STILL had a headache until bedtime.  At least I my socks looked cool.
Workout Recap (6/18- 6/24):
Monday – Ab Ripper X, Legs/Glutes (w/ trainer), 40 push-ups
Tuesday – Tris/Chest, 1.5 mile walk, 100 push-ups
Wednesday – Shoulders, 3 mile walk, 100 push-ups
Thursday – Biceps, 3.5 mile walk, 100 push-ups
Friday – Back/Tris (w/ trainer), 2.5 mile walk
Saturday – Butt/Shoulders, 20 min bike ride
Sunday – 4 softball games
---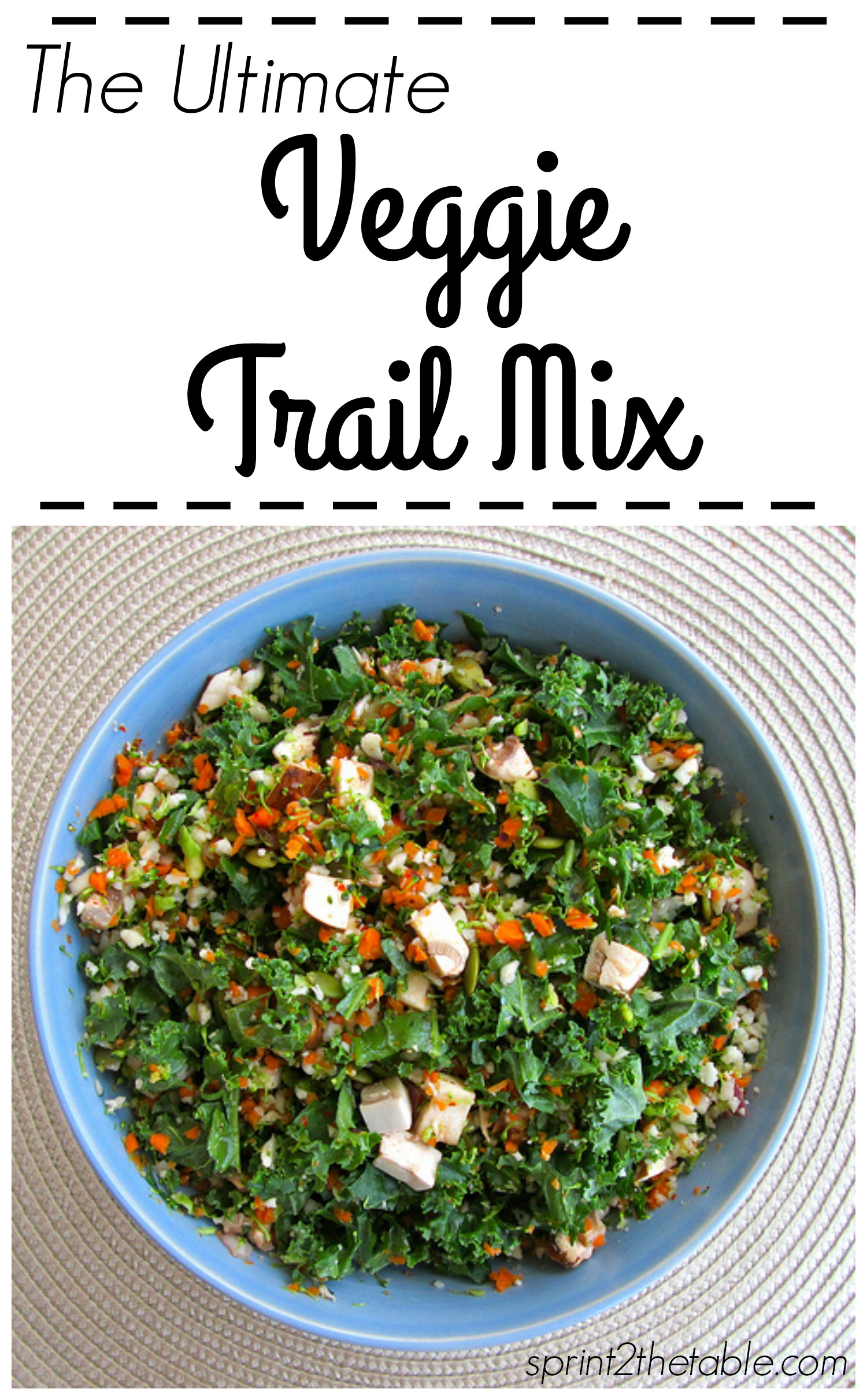 Ultimate Veggie Trail Mix
1 small head broccoli, stems removed
1/2 small head cauliflower, stems removed
1 large carrot, shredded or finely chopped
2 large kale leaves, finely chopped
5-6 baby bella mushrooms, diced
2 T red onion, minced
1/4 C pumpkin seeds (pepitas)
1 T fresh rosemary, finely chopped
1/4 C fresh lemon juice
1/2 tsp merkén (or mix of smoked paprika, coriander, cumin, and salt)
1/2 tsp garlic powder
Dulse or lavar flakes (optional)
4-5 drops NuNaturals orange liquid stevia (or other sweetener, to taste)
S&P, to taste
In a Vitamix or food processor, process the broccoli until fine. Place in a large bowl.  Repeat with cauliflower, then with carrots.
Stir in kale, mushrooms, onion, pumpkin seeds, and rosemary.  
In small bowl, stir together lemon juice and seasonings to taste.  Pour over salad and mix well.  Allow to marinate at least 1 hour before serving.
Makes ~5 cups.
Approximate nutritionals: 94 calories, 5.9g fat, 8g carbohydrates, 2.7g fiber, 2.6g sugar, 5.1g protein.
***
I brought this trail mix to the ball field for lunch.  Amazingly, people didn't stare.  They must have been too busy having heat strokes.
Have you made any good blogger recipes lately?
What was the highlight of your weekend?