Have you even been somewhere that looks like a postcard?
Cinque Terre is even MORE beautiful than that.
Cinque Terre is comprised of five tiny seaside villages on the north coast of Italy.  It literally translates to "The Five Lands." The five towns are: Riomaggiore, Manarola, Corniglia, Vernazza, and Monterosso.  Each one is beautiful in it's own way, but they all possess an almost magical coastal Italian charm.
Then main streets are lined with family-owned shops, artisan gelato, and the best seafood you'll ever eat.  The clear, glittering water will almost hypnotize you, and you'll finish each day plotting a way to retire to one of the colorful old buildings.  It truly is like something out of a storybook.

You could easily spend a week exploring the hiking trails and getting lost among the winding staircases in each village; however, I'm going to try to narrow it down to just two days in paradise.
I recommend staying in Riomaggorie, the southernmost town.  It's a bit larger and is an easy starting point for exploring the other towns.  You can book an Airbnb near the main street, or stay in one of the small hotels alongside the mountain.  We stayed in one called Borgo di Campi, which was gorgeous.
Two considerations if you choose to stay further from the main street:
Get a local taxi driver's number from reception AND memorize the bus schedule – there's no train and the road is too windy to walk.
Most locations are literally on the side of a mountain.  Be prepared for a few… possibly a lot… of stairs!
---
Day 1
Starting out in Riomaggorie & Breakfast
Walk along the main street in Riomaggorie and go through the walking tunnel to the train station.  There's a tourist shop there where you can buy a 5 Terre day pass for the train and hiking trails.  It is €16 (prices subject to change), and covers both the train and hiking trails (yes, they check).
Note: You will only need this pass on day 1 – the trails on day 2 don't require a pass and you'll only take one train, which is just  €4 per person.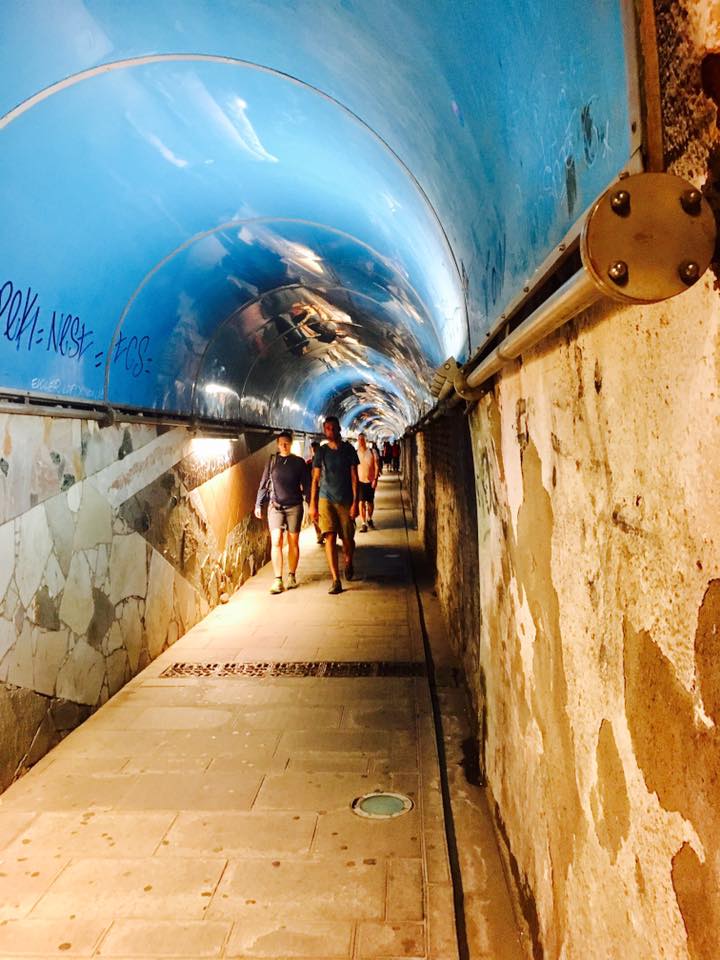 Check the train schedule.  They run about every 20 minutes, so it's not a big deal if you miss one.  Once you get an idea of the schedule, walk up the staircase toward the Via dell'Amore.  This is the "easy" trail from Riomaggorie to Manarola, but it's closed indefinitely due to the danger of landslides.
Instead, locate Bar E Vini A Pie' De Ma' just before the trailhead.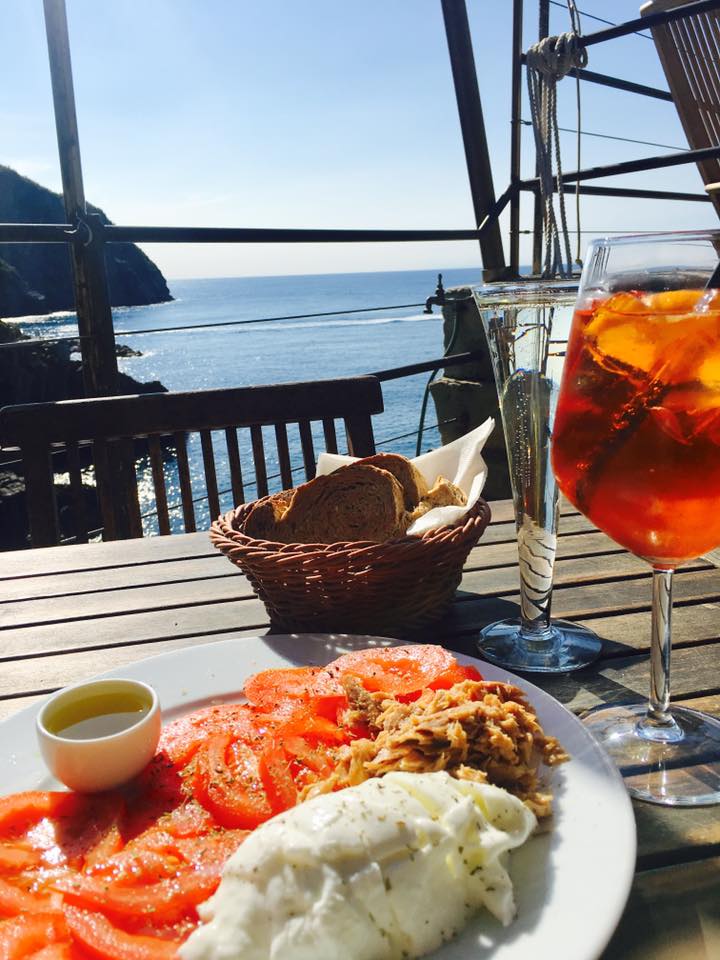 This is the cutest little bar in all of Cinque Terre.  Ok… maybe that's a slight exaggeration… but you'll love it.  You can't beat the views, the drinks, or the small plates.  Order at the counter, then go find a table with the perfect view (hint: it's all perfect).
We had a "traditional" breakfast of Prosecco, Aperol Spritz, meats, and cheeses.
Tip: Get the bread basket.  Their crave-worthy seed bread is made fresh daily; it was my favorite of the trip!
Hike to Vernazza
Catch the train to the northern-most town of Monterosso.  This is the most resort-like town.  There are two sections – the new and the old.  The new section is worth a quick stroll.  There's a short hike at the end with a nice view, but other than that it's mostly hotels and beaches with umbrellas.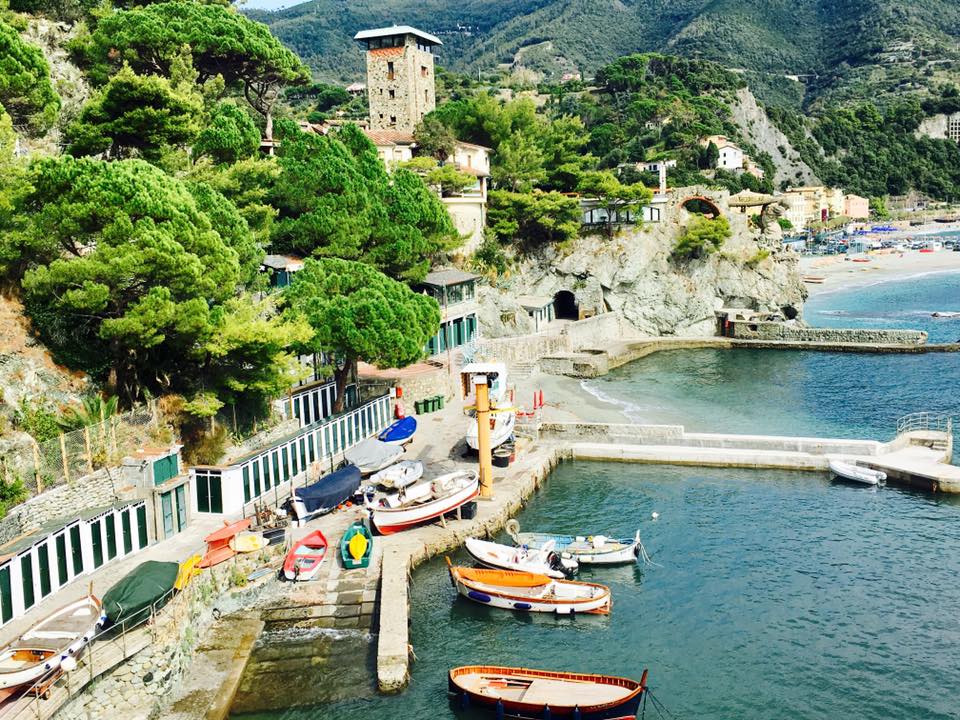 I personally loved the character of the old section.  Walk by The Church of Saint John the Baptist and take a peek inside the beautiful striped green and white marble sanctuary.  Admire the cute shops… but keep moving.  You have a hike to get to!
Pick up the hiking trail to Vernazza at the edge of old town.  It starts out with a lot of stairs, but it does flatten out.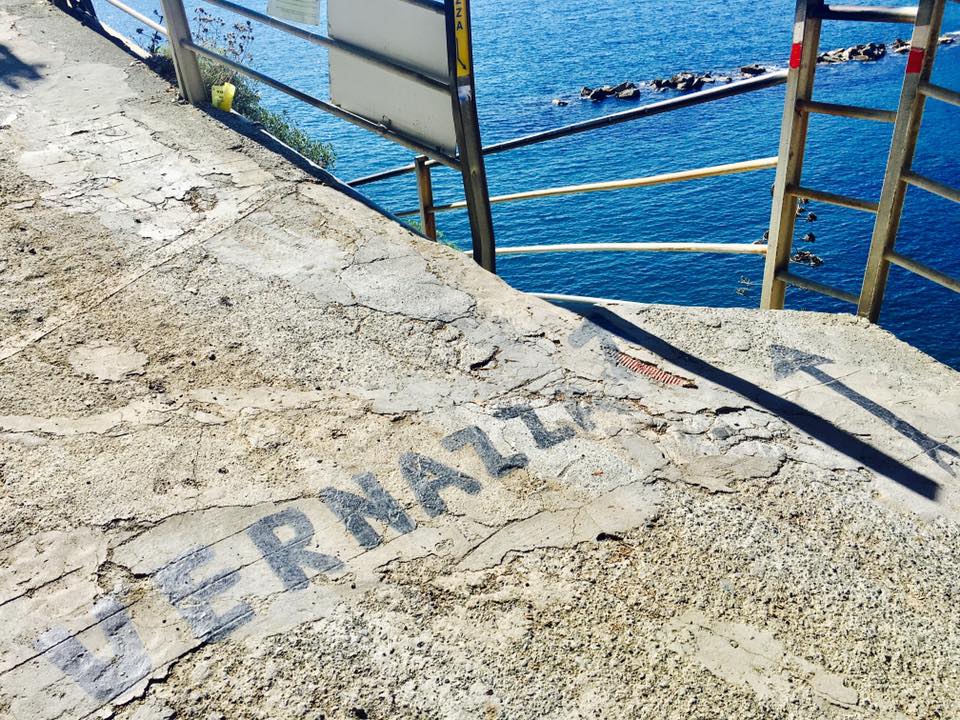 Most people told us it would take 2 hours.  I think they gave a conservative estimate because people of all ages and abilities attempt the trail.  It's really not that hard.  Along the first quarter of the hike there are even locals selling fresh orange juice or jewelry.  My favorite was the accordion player.  Who doesn't like a little music on a hike?
If you're in decent shape, you'll be done in an hour.  It took me 50 minutes, and that's including time to stop for some amazing photo opportunities!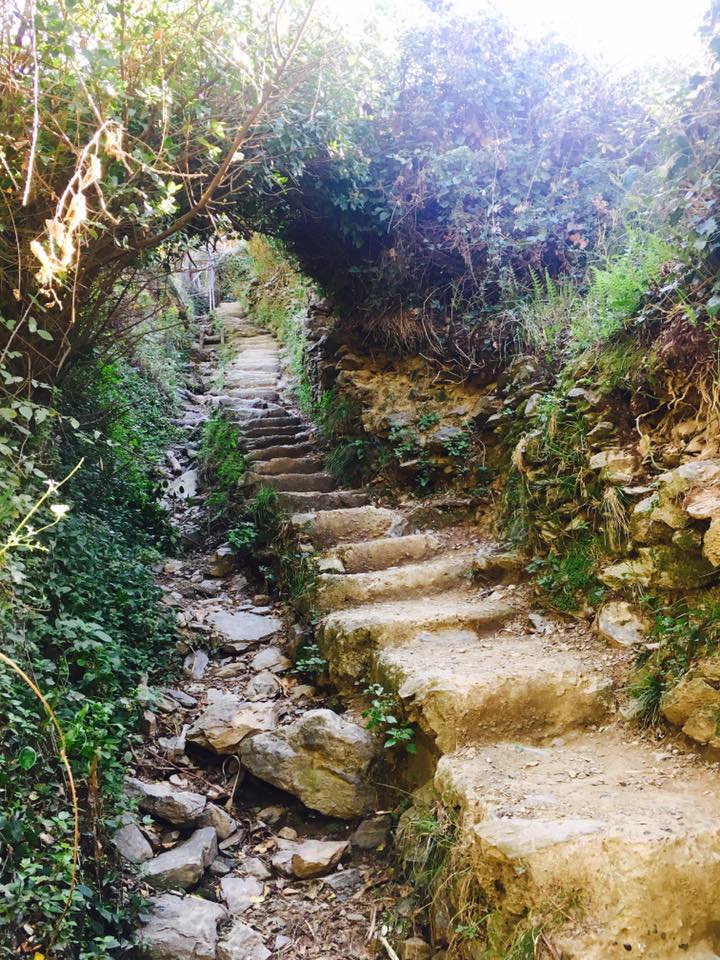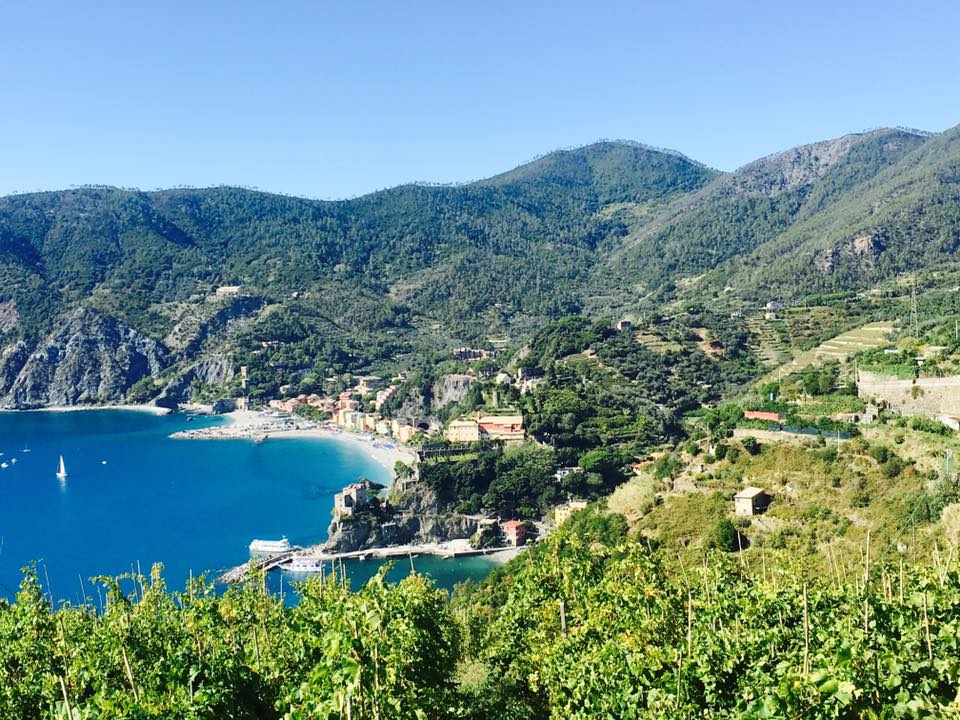 Vernazza
Vernazza was my favorite town.  Wander about, shop, eat, and take pictures.  Lots and lots of pictures.
You'll probably be ready for lunch after the hike.  I'd recommend snacking your way through the day.  Stop for something with pesto; it's what this area is known for and rightfully so!  There are also paper cones filled with fried seafood, slices of pizza, and about a million cute patios where you'll want to stop for a drink.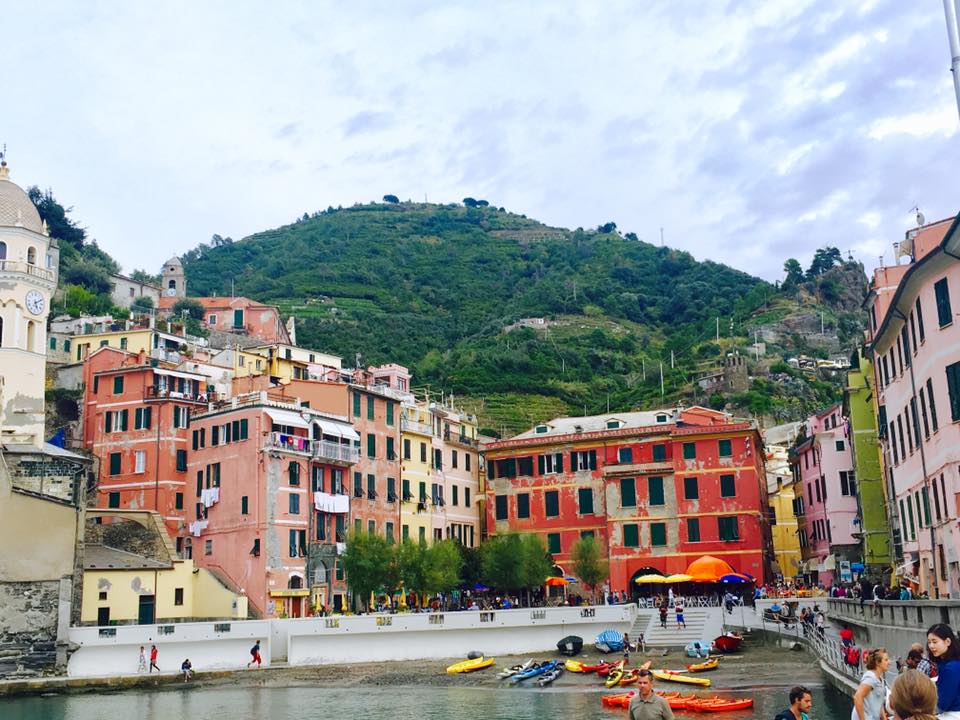 As you adventure, make your way up to Castello Doria.  It is €2.50 to get in, but it offers one of the best views of  Vernazza.
On the way up, stop in at Belforte Ristorante and make dinner reservations.  Vegas and I both agreed that this was the best meal of the entire trip!  More on that later…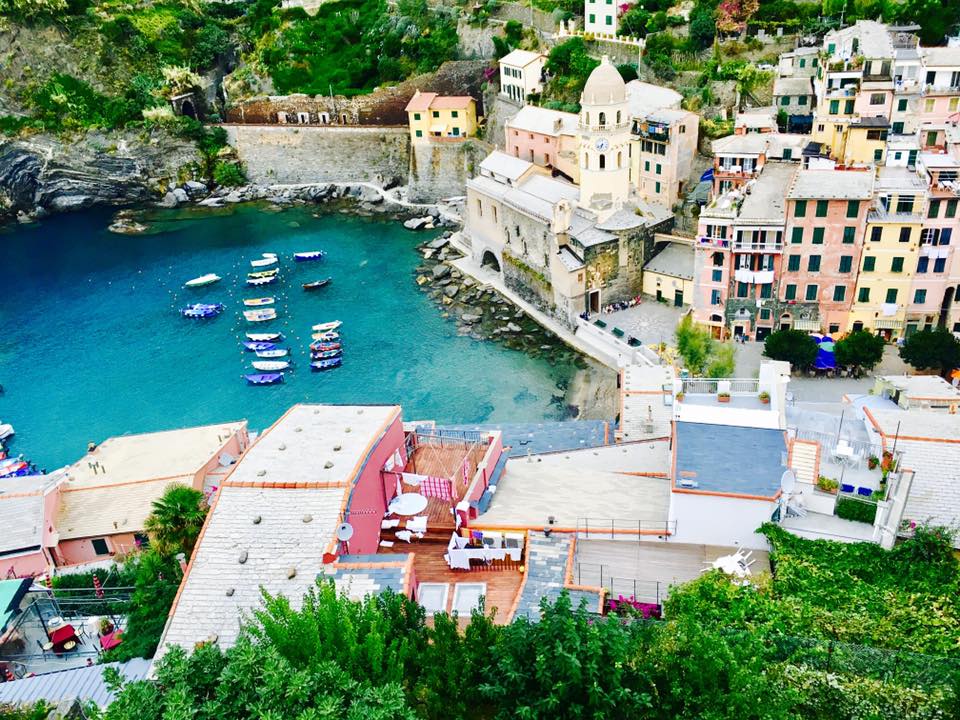 After coming down from Castello Doria, reward yourself at the bottom with gelato.  There's a place right along the harbor called Gelateria il Porticciolo.  They have cinnamon gelato.  Get it.  Trust me.
If you have time to kill before dinner, head north past the train station, and fork right to the trail toward Corniglia.  You won't go all the way there; about 5 minutes up you'll run into Bar La Torre.  Stop to enjoy an aperitivo.  The view is stunning!
Dinner
Belforte Ristorante is your dinner destination.  It's a bit pricy, but this is worth the splurge… the incredible staff even treated us to a sunset champagne toast to start the meal!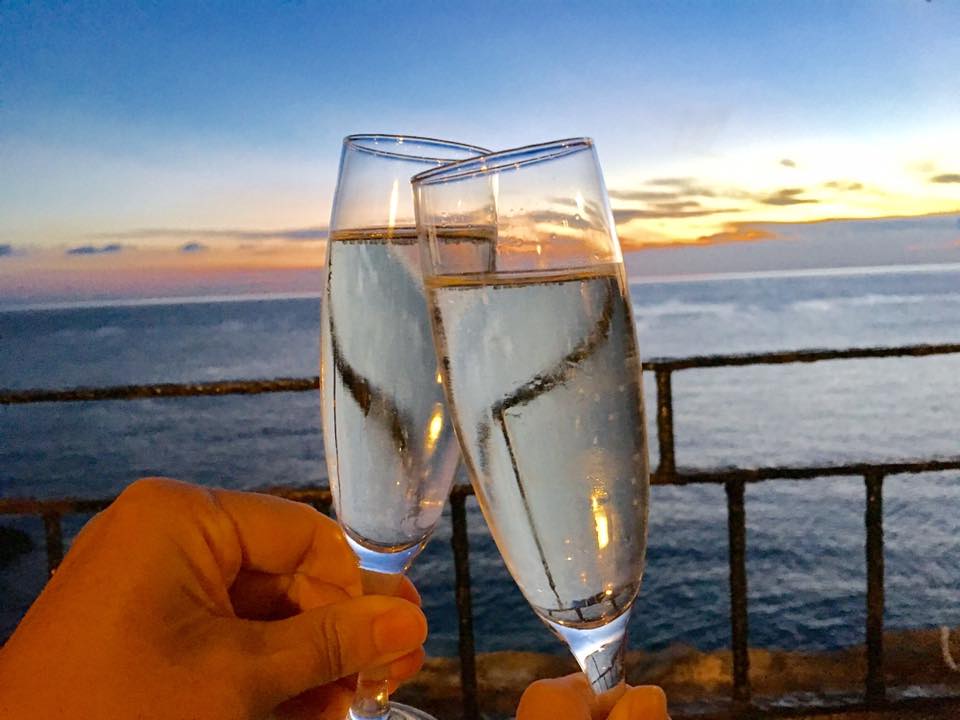 You can sit outside or inside.  If the weather is nice, try to get a table outside.  I mean… look at the view!
We each had our own pasta.  I chose the squid ink pasta with shrimp.  I'm not one to clean my plate of pasta (Vegas is the pasta whore).  There was not a DROP left.  I'd have licked my bowl if people weren't looking.
For our main, we ordered the Sea Bass cooked in sea salt.  It's a seasonal dish for two, which is a perfect the portion after a bowl of pasta.  (Don't worry – after presenting the fish, they de-bone it for you.)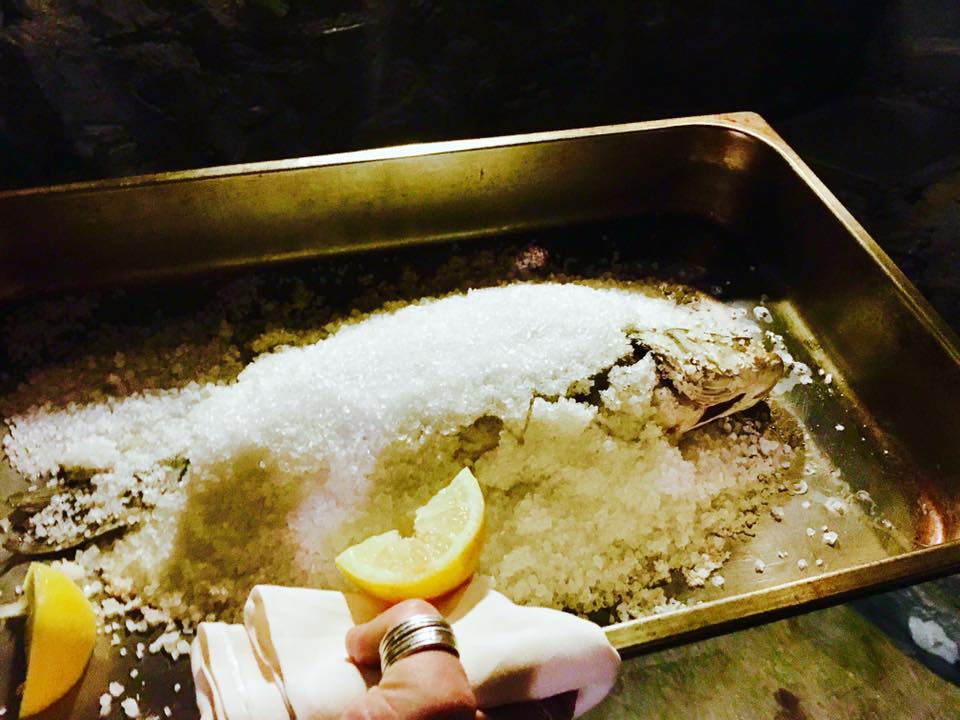 Tip: Make sure to save room for dessert.  They offer a homemade ice cream with strawberry sauce that is to-die-for.  They bring out the pan of warm sauce and pour it over your ice cream at the table.  That's fresh!
Roll out of the restaurant and down to the train station.  Get back to your hotel and get some rest… tomorrow's hike is challenging!
Day 2
Breakfast
Stop by a cafe for a coffee and a small bite.  You're probably still full from dinner anyway. 😉
Hike to Manarola
As I mentioned earlier, Via dell'Amore is closed.  However, there is an alternate trail from Riomaggorie to Manarola.  The Beccara trail has existed for centuries, before Via dell'Amore was created.  WARNING: It's not easy – Vegas almost killed me for this one.
The villages of Riomaggiore and Manarola are very close but have a steep mountain separating them.  The Beccara trail is a pretty steep uphill for the first half, followed by an equally steep downhill for the second half.  The good news is that it isn't very long!  We made it in an hour.
As always, you are rewarded with views.  The trail climbs through the vineyards and looks down on a gorgeous Manarola.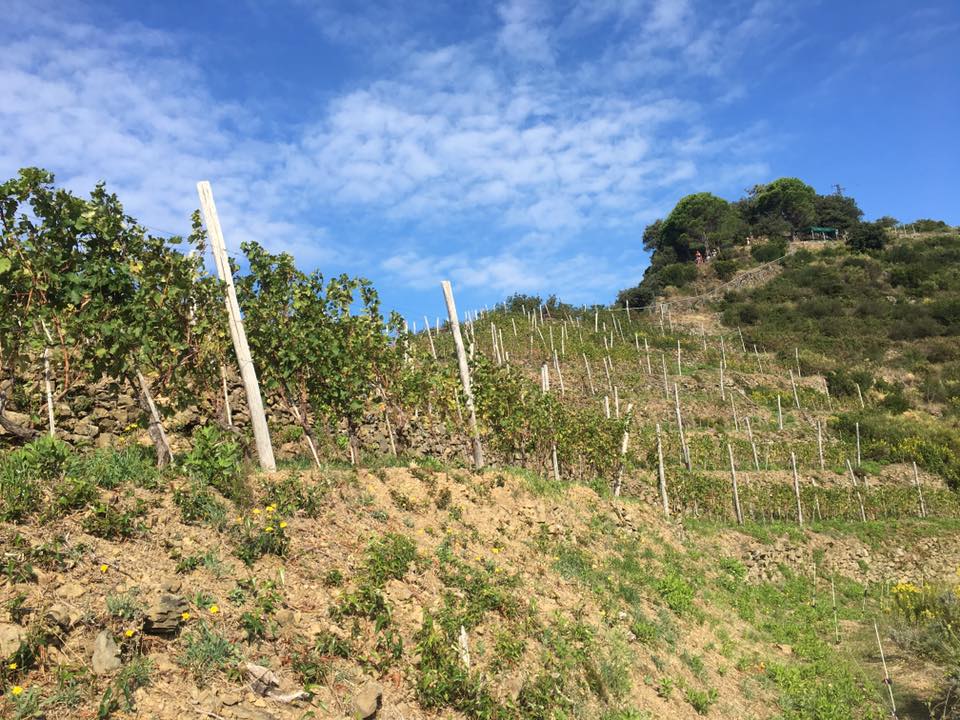 To find the trailhead for the Beccara trail in Riomaggiore:
Make your way to the Riomaggiore train station.  There is a bar there called Bar Stazione.  Follow the road to the right of the bar you'll see a road called via Signorini.  Walk up the road a bit.  You'll see a hairpin turn, a stream and some benches, then a big red house on the left.  Just past that, you'll see a very steep road branching off to the left.
Look for a sign on the stone wall pointing left to MANAROLA.  Follow the sign up the hill to the trailhead.  There will be trailhead markers and signs on your left, just before the public parking area.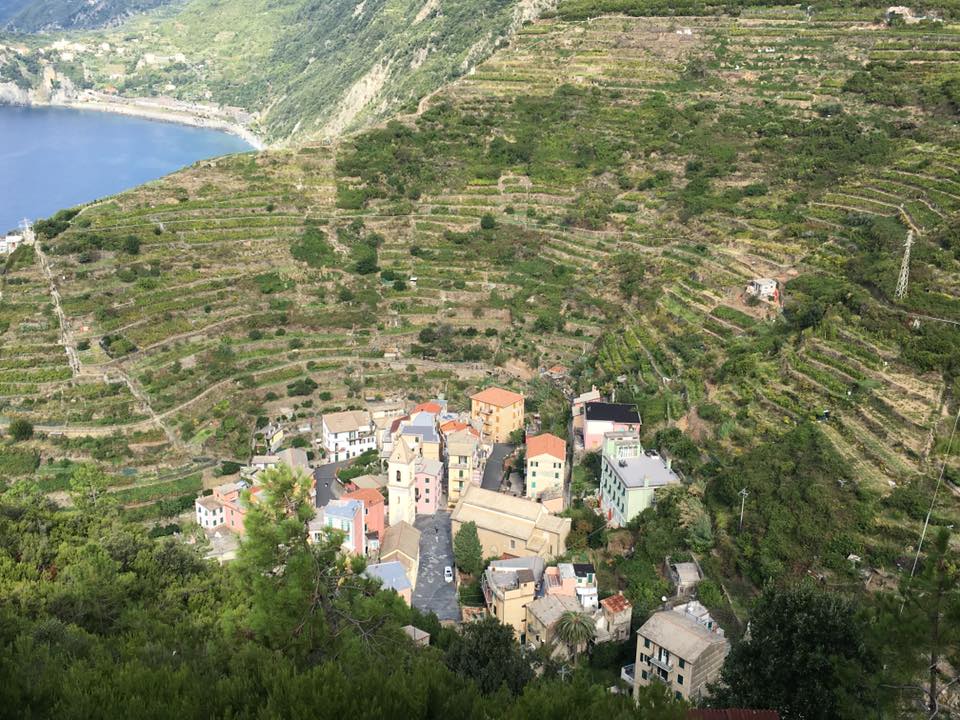 Tip: Make sure to bring water and wear good shoes.  This is a legit HIKE.  These are my favorite because they're good for both trail running and hiking (less to pack).
Manarola
Manarola was our second favorite town.  It's as picturesque as Vernazza and had the most beautiful staircases winding through the colorful buildings.  This was my favorite picture of the trip!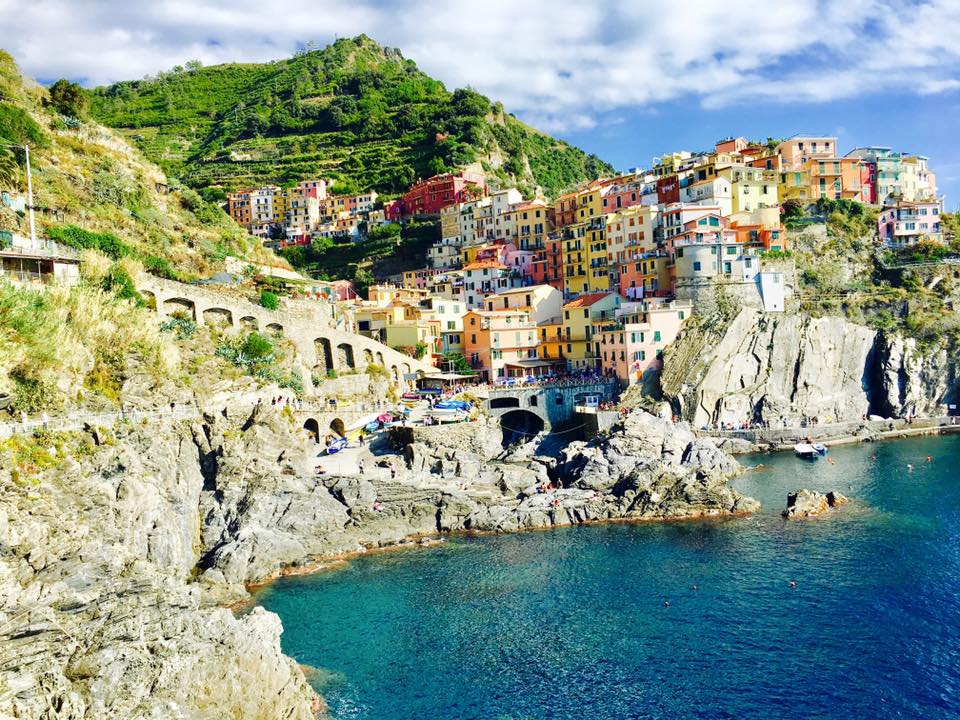 Unfortunately, we ran into a few giant tourist groups here so we didn't stay much longer than lunch.
Tip: Bring your swim suit!  There's a great harbor area perfect for playing in the water.  We were there in early October and the water was still warm.
Lunch
Do stay in Manarola long enough for lunch.  You'll be hungry after that hike!  We enjoyed the patio at the family-run Da Aristide.  It's the perfect spot for people watching and the food is fabulous.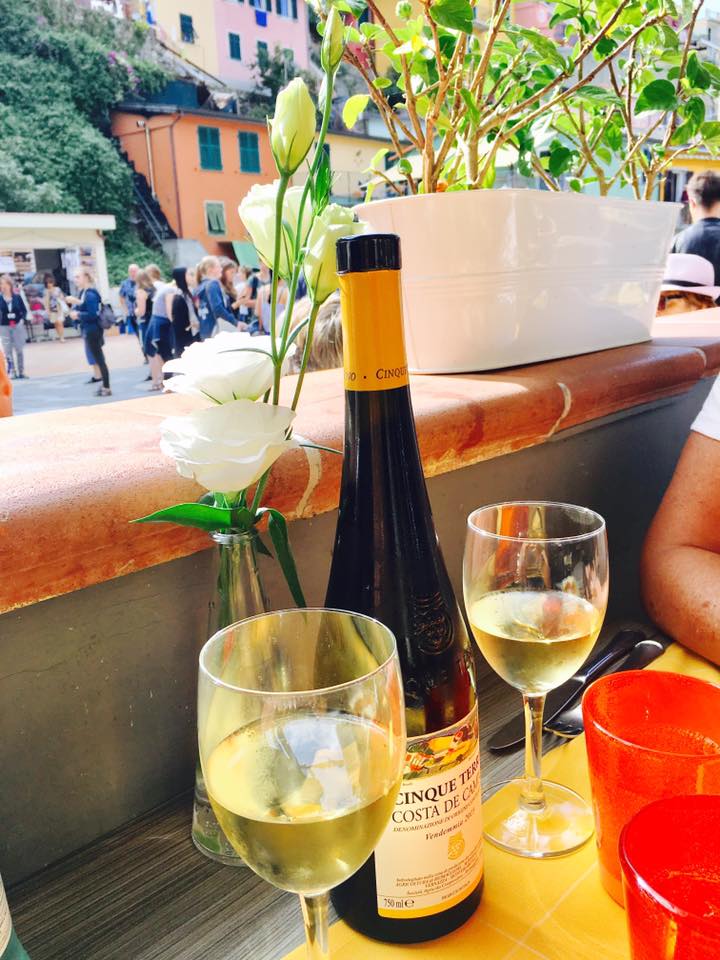 This place is where I fell in love with Cinque's crisp white wine.  It was perfect with our rich stuffed mussels, as well as the fresh pasta with clams.
There's nothing like a simple, homemade pasta to make you smile.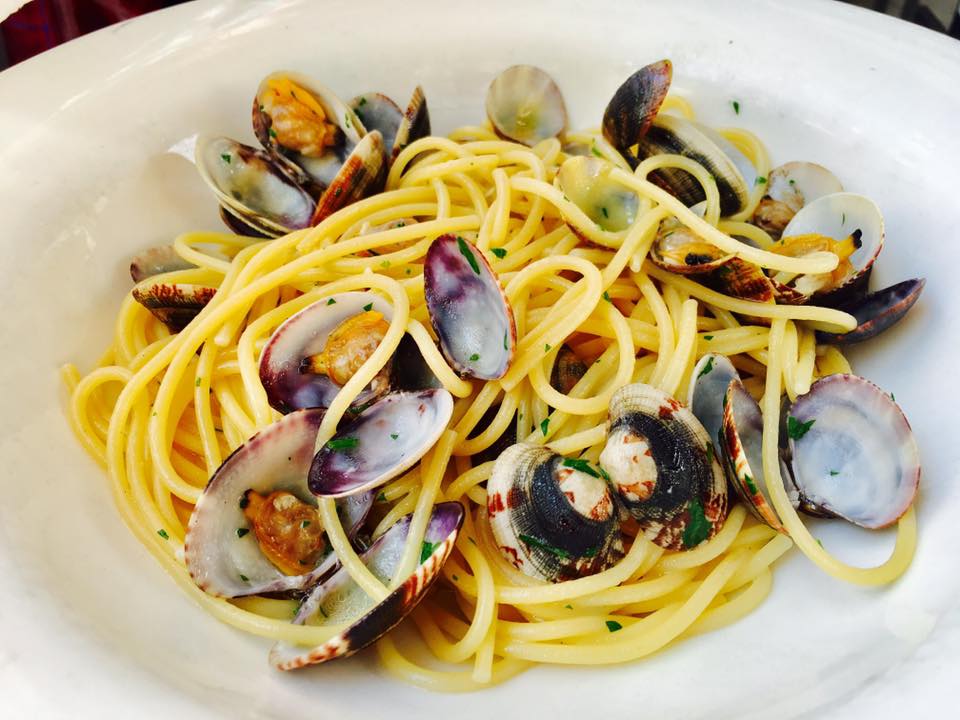 Hike to Corniglia
After that lunch you'll be ready for more hiking!  There is an "easy" trail from Manarola to Corniglia, but that is temporarily closed.  The alternate trail was one of my favorite hikes.  I recommend it even if the shorter trail is open.
It is a beautiful, relatively gentle hike through the vineyards to the tiny town of Volastra.  You continue through more vineyards and olive groves, then through a more forested area into Corniglia.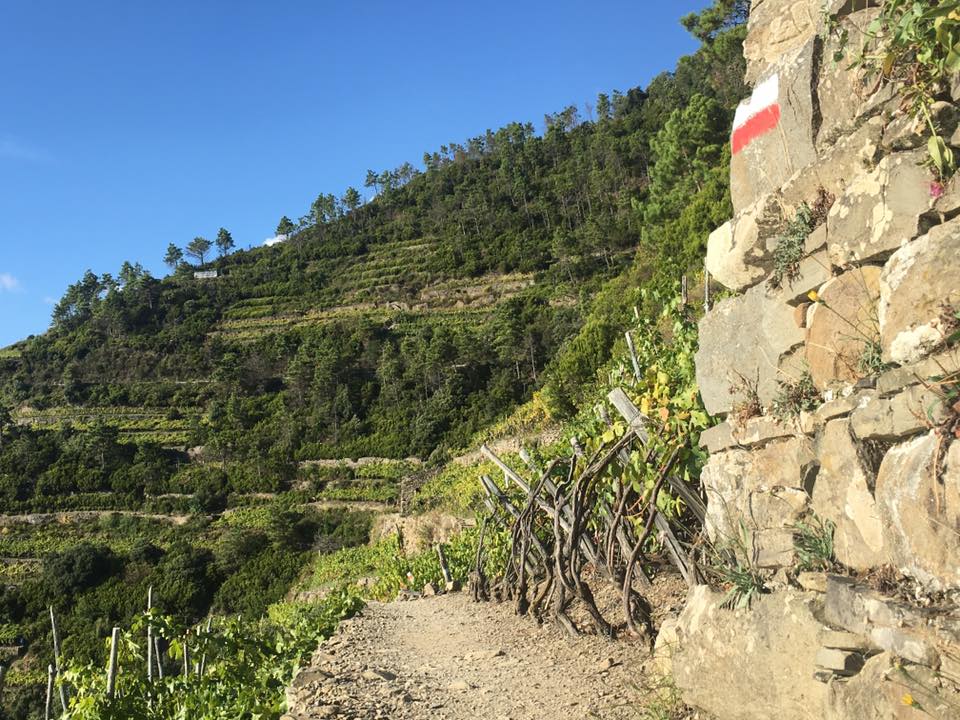 Nothing is terribly steep, but the path at the end of the descent is a bit rocky; you'll want to have good trail shoes to prevent slipping.
The panoramic views along the way never get old.  This hike was about two hours, but felt like the shortest one yet!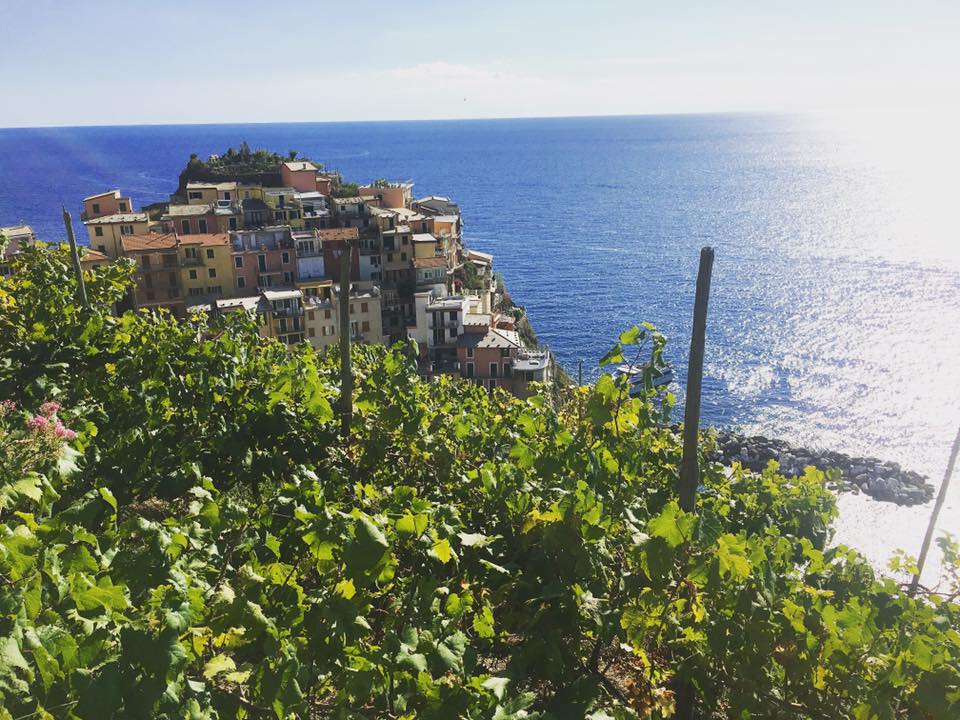 Once you reach the bottom, wander about Corniglia.  It's a the small village of the five, but the streets are gorgeous and everyone was so friendly.
There's also a really great gelateria called Alberto where you can get gelato made from local honey.  This was Vegas' favorite scoop of the trip (mine was in Florence… more to come!).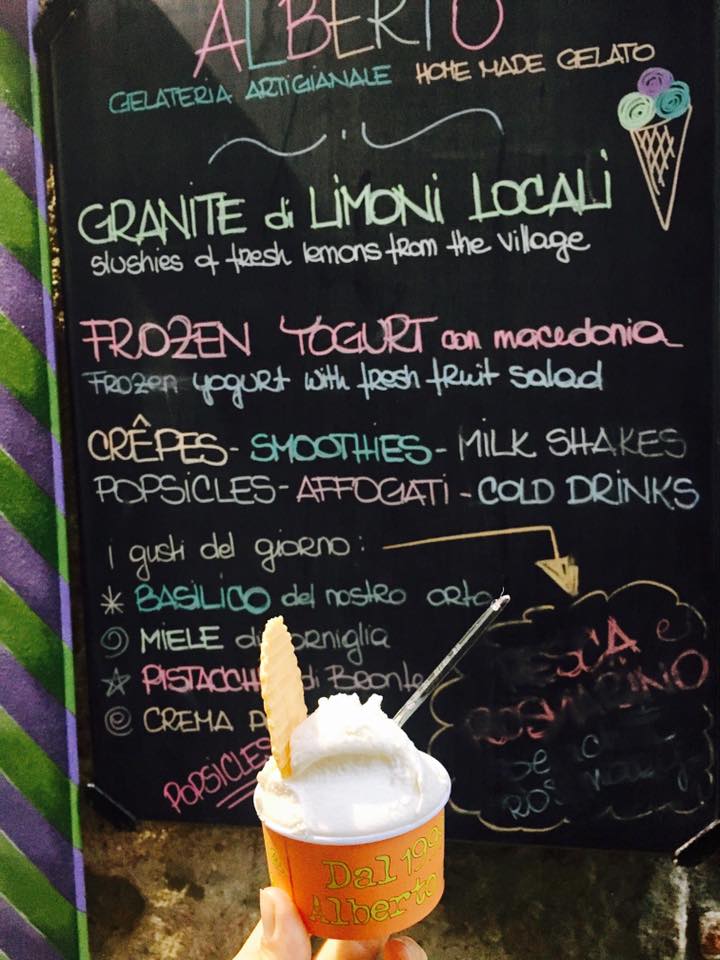 Dinner
I don't have anything specific to tell you for dinner.  There is so much to explore in two days; you will have seen 5 of the most beautiful towns in the world in a very short time.  Therefore, my final suggestion is hop on the train for dinner in your favorite town.
If you're over the restaurant thing, pick up a pizza and a bottle of wine along the way.  There are countless places to watch the sunset and enjoy a quiet, relaxing meal on your last night.
Getting to Italy
Check out my tips for flying on the cheap.  Vegas and I each paid $75 for our tickets!  Fr easy access to Cinque, fly into Pisa, Milan, or Turin.
Getting to Cinque Terre
You'll want to fly into one of the bigger cities and take a train to Cinque Terre.  There will likely only be a couple of changes, and you really don't need (or want) a car in Cinque.
You can check the schedules in advance on the Trenitalia website.
When To Go
October is my favorite time of year to go to Italy.  The summer crowd has thinned, and it's a bit cooler (about 70-75ºF).  The vineyards are ready for harvest, so they're at their most beautiful.
Please feel free to email me or comment with questions or suggestions.  Also check out my Piedmont guide here.
***
That was a long one… if you stayed with it, THANK YOU!
Have you ever been to Cinque Terre?
What would you look forward to most on this trip?