Sausage doesn't have to mean "bad."
Neither does bacon, but that's another post.
This sausage is 100% competition approved and 100% delicious.  I actually like it better than "normal" sausage because it isn't all processed and loaded with salt.  And this strange spin still tastes good.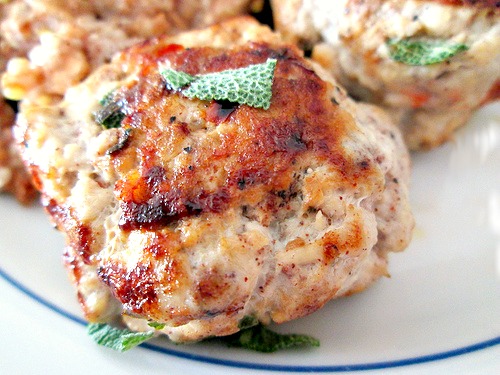 What I love about this dish is that it takes a fairly bland meat – ground turkey – and makes it full-flavored.  It has all the spice of sausage, depth from the liquid smoke, and adds some extra with the fresh herbs.  Note: You could always use dried herbs if you don't have fresh on-hand.  
I enjoyed this with a side of cinnamon oatmeal and a #strangebutgood salad – tomato, pear, raspberries, cilantro, and TVP Smoked Bacon Bits.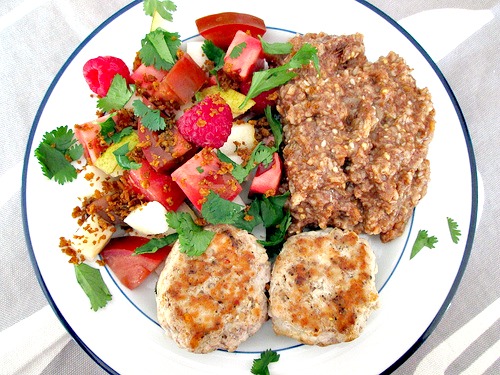 If you don't eat meat, I'm thinking this would be a great place to use a bean-based patty!
---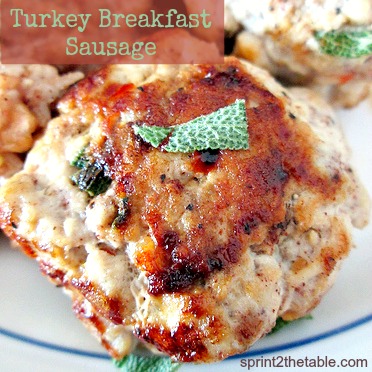 Turkey Breakfast Sausage
1/2 lb ground turkey

1 tsp black pepper
1/2 tsp cinnamon
1/4 tsp fenugreek
1/4 tsp ground cloves
1 T fresh sage, finely cut
1 T fresh rosemary, finely cut
1/2 tsp maple extract
10-12 drops liquid smoke
5-6 drops lemon liquid stevia
Red pepper flakes, to taste
Mix all ingredients together with your hands and form small patties.
Warm a pan over medium-high heat on the stove top.  Spray with PAM (olive oil or coconut oil work too) and place patties into pan.
Saute patties until just cooked through, about 3 mins on each side (this will vary depending on thickness of your patties).
Makes 3-4 servings.
---
How have you enjoyed making co-workers, friends, or family stare with strange but good creations this week?
The link up rules can be found here or by clicking on "Strange But Good" in the menu bar above. In short, I want to see what concoctions have earned you weird looks from co-workers, family and friends!
Post your Strange But Good creations, grab the logo below for your blog, and link up here.
Remember to use #strangebutgood in any Tweets and Instagrams of your creations. 🙂
***
As of the time of publication, I am just 6 servings of asparagus away from my competition.  Woo hooooo!!!
Do you like meat at breakfast?  It's grown on me!
Are you doing anything strange or exciting this weekend?