No drinking in Junk-Free January.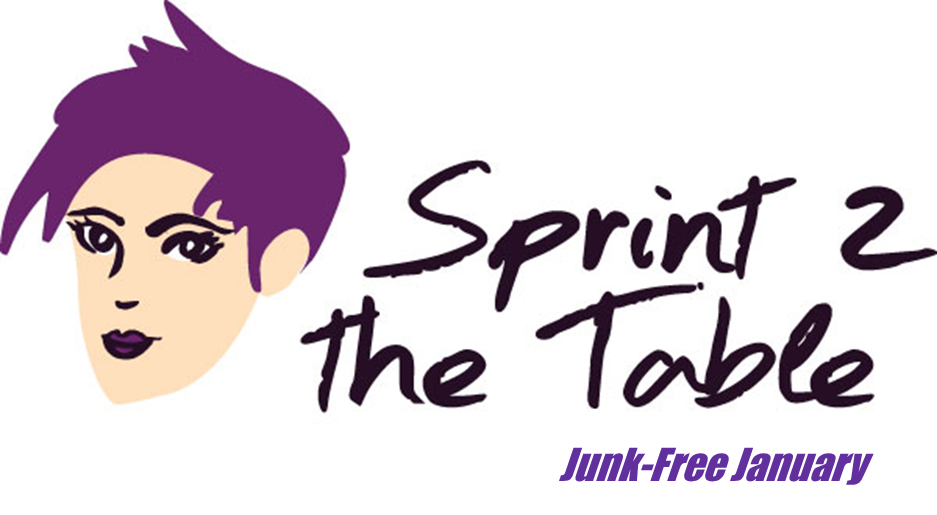 Booze cooks out, so I'm calling the recipe "in bounds."
With the holidays over, you may have some extra beers lying around your house.  Don't let them go to waste!  Even if you don't drink beer, it's a good idea to keep them on hand.
Beer can act as a tenderizer, adds lightness to batters (think: beer bread), and leaves behind a light hop/barley flavor in stews.  I used a pilsner in this chili recipe, but a lager would work well too.
Chili is meant to be hearty, not soup-y (in my not-so-humble opinion).  Mine is a beast of a bowl.  Between the turkey and the beans (the more you eat 'em, the more you…), it's nearly thick enough to eat with a fork.
Depending on your preference, ground chicken or crumbled tempeh would also work well here.
I like the smokiness of  a Tex-Mex-style chili, so I added some liquid smoke and used fire-roasted tomatoes.  If you don't have smoke you can simply leave it out, or add smoked paprika in place of some of the ancho chili powder.
Mexican food is one of my favorites, so I made sure to add in jalapeno and cumin.  The heat is pleasant – not overwhelming – and just what the doctor ordered in the suddenly arctic weather we are having in Atlanta.  Seriously… what happened to our Southern California-like weather?
____________________________________________________________________________________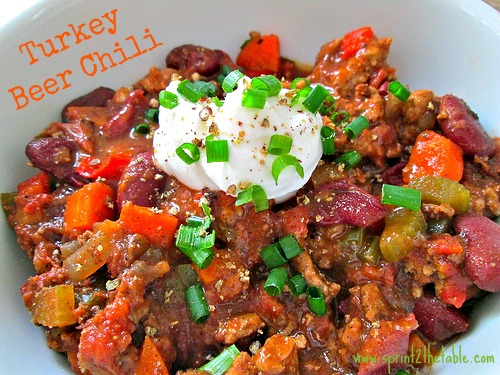 Turkey Beer Chili
1 lb ground turkey
1 tsp avocado oil (can use olive)
1/2 red onion, diced
2 garlic cloves
1 jalapeno, seeded and diced
1 T ancho chili powder
1 tsp ground cumin
1 tsp cinnamon
1/2 tsp ground oregano
1/2 tsp ground thyme
1/2 tsp ground pepper
3 celery stalks, diced
1 carrot, diced
1/2 red pepper, diced
10-15 drops liquid smoke
1 15 oz can diced tomatoes (I used fire-roasted, low sodium)
1 15 oz can kidney beans, drained
1/2 C pilsner beer
1/2 C low sodium veggie broth
2 tsp apple cider vinegar
Fresh chives and Greek yogurt, to top
Heat a large pot  over med-high heat.  Spray with olive oil or cooking spray and place turkey in pot.  Stir the turkey and cook until no pink remains (~ 5 mins).  
Add the olive oil and the onion to the pot.  Cook over medium heat until softened (~5 mins).  Add the garlic and jalapeno, cooking until fragrant (~2-3 mins).  Add spices and stir to combine.
Add the carrot, pepper, tomato puree, beans, liquid smoke, and beer.  Stir and bring to a boil.  Mix in broth and vinegar, then cover.  Allow to simmer and thicken over low heat for 30-45 mins.  Taste and adjust seasonings as needed.  Serve, garnished with chives and Greek yogurt.
Makes 4 servings.
Note: To make gluten-free, replace beer with more broth or GF beer.  To make vegan, use tempeh in place of turkey.
Approximate Nutritionals: 316 calories, 8.7g fat, 57.1mg sodium, 26.9g carbs, 7.2g fiber, 5.5g sugar, 30.9g protein
***
2 reminders: the h.h. gregg $100 gift card giveaway ends at midnight (click here to enter), and don't forget to link up your Strange But Good creations tomorrow (click here for logo and details).
What is your favorite style of chili?
Have you fully recovered from the holidays?  I'm still spinning a bit.