Traveling to pretty locations is fabulous.
And then you come home…
Last week I was in Arizona at the Camel Back Inn with my mom.  You guys saw part of my travel meals Wednesday.  I made it – and I ate pretty well!  In fact, often I was more happy to be eating my food than the resort food!  That, the fact that I didn't give in to the temptation of a tasty margarita in the desert sun… the overall sense of accomplishment… is carrying over today to make my Monday Marvelous.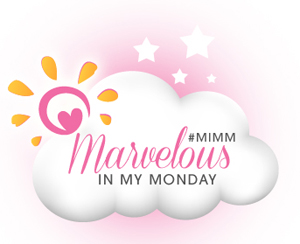 Breakfast was easy – oatmeal all doctored up with my delicious Growing Naturals protein and berries and cinnamon from the hotel.  I also asked for lots of lemon.
Best eaten with beautiful patio view!
Some of my other meals are below: I took lots of fresh veggies, sweet potatoes, bison burgers, no-salt deli turkey, and baked chicken.  And my delicious greek yogurt dessert creations.
I was able to get plain salmon and brown rice from the hotel, which helped a lot.  I brought my own nutritional yeast, but remember you can always ask for seasonings – lemon, vinegar, red pepper flakes are my standard requests.
Two favorites:  the cucumber-mint "mocktail" on the bottom right above was a fantastic refresher at the spa restaurant (See my mom in the background?  She was Instagramming her carrot-apple juice!).  My last meal (on the bottom right above) was on the airplane.  Sweet potato, turkey, and a fresh salad purchased at Wendy's (surprisingly fresh and tasty!) in the airport before take off.
_______________________________________________________________________________________ 
Despite all the fun, it was nice to be home in my kitchen.  Saturday I got up and went to posing practice, followed by a killer leg day (seriously – SO SORE today).  After all my travels there was NO food at my house so I had a great time reloading at the farmer's market.  Sea Bass must be in season because this was some of the best I've ever had.  Buttery, moist (sorry), and not at all fishy.
Served with sautéed shiitake mushrooms, spinach, eggplant, and edamame.
I also roasted a kabocha squash with cocoa powder, cinnamon, and cayenne.  It sounds strange, but it is GOOD!
No real measurements… I just sprayed my squash with some coconut oil and tossed it together.  I roasted it at 350 until tender.
Sunday was softball day.  We won the game… I slid into 2nd base at one point.  Maybe not the best decision 2 weeks before a competition because my knee got a little scraped up.
BUT I was safe.  And then I scored.
That didn't hurt nearly as bad as the split I did off 1st base to catch a ball.  Note to self: splits are not a good idea the day after heavy leg day.
I missed the second game because I had to shower off in order to meet a friend to see Jillian Michaels!!!  I still had to run my sprints, so I just ran them on the way to the show (about 2 miles away) instead of driving.  Haha.
_______________________________________________________________________________________ 
Jillian was good… but a lot of what she said I already knew.  Don't eat crap.  If you want to lose weight, burn more calories than you eat.  It was refreshing to hear someone talk about the basics though.  No "special" diets.
The secret to being in shape is that there is NO SECRET!  Eat good, clean food.  Eat it in moderation.  Exercise.  Why can't I get paid millions to tell people this?!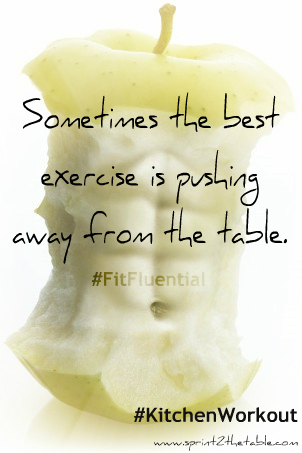 My favorite part was when she talked about exercise.  She called people out of their half-assed elliptical-while-reading-a-magazine workouts.
Raise your heart rate.  If it's not high enough, move your ass faster.
What really got me was what happened in the audience in front of us.  These two (obviously drunk) girls were there… which was funny at first that they were drunk at a fitness event.  It became un-funny when one of the girls PUKED.  I can't even make this shit up.  
They were clearly old enough to know better.  They even looked pretty fit.  I was embarrassed for them.  Cheers to not being that girl.  Not that I ever puked in a nice theatre (or anywhere in public), but I have had my moments.  What I am grateful for – what is marvelous – is that I've gotten past that in my journey and am in a happy, healthy place.  one where I know I'll wake up tomorrow without a headache and sore only from my workouts.
***
Before you think I didn't rest at all, I did stay home Saturday night at watch Life of Pi.  It was ok… I liked Argo better.
Does anyone have a magic trick for healing a knee scrape quickly?
What is your favorite part about where you are right now in your journey?