The hangover is one downside to travel.
Besides the bathrooms on trains.
Coming home is my least favorite part about any vacation.  The harsh reality of a travel hangover: waking up without a mountain view, fighting jet lag, and realizing you can no longer subside on bread, cheese, chocolate, and wine.  Or can I…?
With a sad heart I left Lucie in Zurich on Saturday morning.  I had one last espresso (with the little chocolates they always serve them with) and bought a pretzel for the plane ride.  I became addicted to "bretzels" on this trip.
9 hours later I was back in Atlanta.  2 hours after that, I was home.  Another crappy thing about coming home is customs.  ATL has the WORST set up – it took nearly an hour to get though it!  Finally home, I was exhausted from the travel.  My body was on Swiss time and thought it was 11pm.
Instead of sleeping, I forced myself to acclimate by taking a jog.  It was probably the slowest 5K I've ever run, but it did feel good to enjoy the sunny day and move around after sitting for so long.
But this is Monday and I'm supposed to be talking about marvelous things!  One of the most marvelous things about the trip was getting to help celebrate of Lucie's birthday.  I was so excited that I sang "Happy Birthday" to her from bed first thing Friday morning.  I'm sure she appreciated my impeccably on-key rendition.
We had a lot to do to prepare for her party, but not before we twerked it out at her gym.  You're welcome, Arman.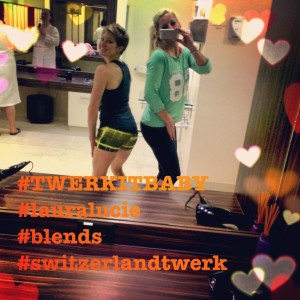 Post-twerking we hit the grocery store to buy party supplies.  This presents an interesting problem when your mode of transportation is a bicycle.  I now understand why Europeans typically only buy food for 1-2 days!
♫ Side note: I want to ride my bicycle was stuck in my head the entire trip! ♫
Loaded up with food and booze, we walked our bikes back to Lucie's flat.  The champagne was on the back of my bike – I was terrified I'd drop it!
We met up with Lucie's friend Syliva to prepare a wonderful phyllo veggie thing, guacamole, and a few quark dips (I loved Lucie's curry one!).  With the help of Sylvia's co-workers, we paraded trays of food and bags of champagne and beer down the street to Lucie's office like the foodie pied pipers.  I wish I had a picture of THAT!
Everything was delicious, but the BEST thing was Lucie's Mom's chocolate cake.  I could have eaten the entire thing by myself!  It was wonderful to meet all of Lucie's coworkers, friends, and her mom.  She is loved by some incredible, warm people – and rightfully so!
Check out Lucie's recap, complete with picture evidence it was a successful party here.
Also marvelous is waking up the day after a fabulous party and leaving for a quick trip to France!  I stayed one night in Dijon and did a little wine tour (more on that to come).
A few of shots from my travel day there:
***
As sad as it is to come home, I'm ready to get back to a routine!
Have you ever had a travel hangover?
What are your most loved and hated parts about coming home?