This is what happens when you can't sleep on a plane.
Sadly, no mile high club.  Vegas is so conservative…
Today we're in Greece, but as I write this I'm on the first leg of our trip.  We caught the first flight out to JFK (read: way too early).  We didn't really go to sleep and I am finding it impossible to sleep on the plane… so please excuse any typos, bad jokes, and general rambling.  Basically proceed as usual.
Before we left I had the house cleaned and thought it the perfect time to take pictures of our new digs in San Diego.  We lucked out with the space – there's a lot of it.  That's hard to come by in our neighborhood!  We live in a flat that's part of a 4-unit building.  Our land lady goddess lives above us, and two other couples are below us.  It's like a little Melrose Place (for those of you old enough to remember that show).
The first tour stop is the living room, our long hallway, and the bird room.
The top two pics are the living room.  The brown curtains are just placeholders; my mom is a great decorator (a skill I didn't inherit) and she's having some made for us as a housewarming/wedding present.  The fire place I'm sure will come in handy this winter – our house was built in 1929 and doesn't have heat or A/C!
The long hallway is off of the living room.  It also leads to our bedroom, the bird room, and the kitchen.  I love it because of the built in book case (which is already full somehow).
Then there's the bird room.  Vegas loves animals.  This room houses a parrot and a cockatil (there are also 2 dogs).  The parrot talks and is pretty funny unless it's super early in the morning or you're on a conference call.  She taught him to say "Go Jackets!" for me.  This room also doubles as Vegas' office.
On to the next…
The top two pictures are from the dining room.  I think this is my favorite room.  It houses the star from my old place in Atlanta and all the wine.  I mostly work at the dining room table, so it's where I spend most of my time.  I probably should have moved more of my clutter off of the table before taking pics… #sorryimnotsorry
Then there's the bedroom and the bathroom.  This room wasn't meant to be the master, but we chose it because there's a ton of light.  Outside the front window is a lot of greenery and a view of the harbor.  This is also my favorite bathroom.  I call it the Waffle House bathroom because of the yellow and back tile.  If you've read for a while, you might have picked up on my love of WaHo.
The bedroom is in the front of the house with the living room.  This is the view from the front: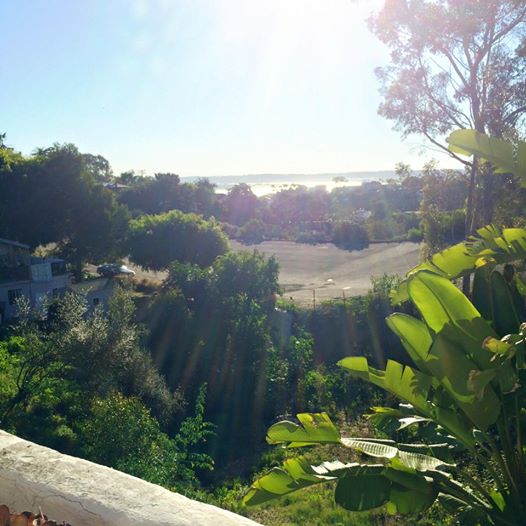 My second favorite spot is the cabana in the front of the building.  It's a shared space with plants and a grill.  There's a sort of courtyard there – it feels very European.  Especially after Vegas strung up some lights!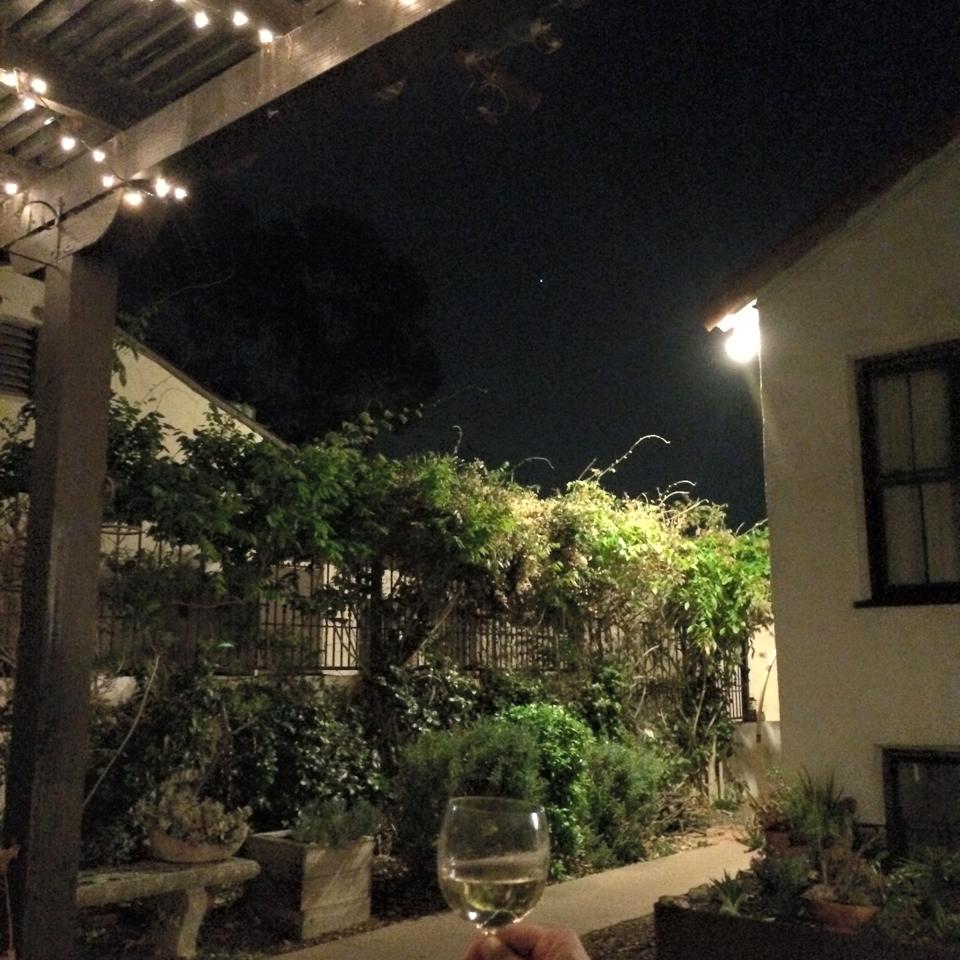 Last, but never least… the room where the magic happens.
Get your mind out of the gutter!
The kitchen.  It's my second favorite room… and to think we almost burned it down!  That new oven is fabulous.  We have a lot of cabinet space, which we've somehow managed to totally fill.
There's also a lot of counter space, and half of the counters are butcher block wood.  Very cool, especially for someone like me who doesn't understand that civilized people use cutting boards.
We have one more bedroom and bathroom off of the dining room (I think it was meant to be the main), but it's so jammed full of stuff I didn't take a pic.
***
I love our marvelous place in San Diego… but we're going to take some convincing to return from Greece!
Can you sleep on planes?  I normally don't have such a hard time!
Do you have a favorite room in your house?