The Tough Mudder was today.
I am more proud of myself for finishing this race than any other I've done.
When my friends and I registered, the course hadn't been finalized.  The race was supposed to be 8-10 miles of obstacles and trail running (followed by a "party" with 2 free beers).
Then we get more info in an email.  It's actually 11 miles.  Fine.  What's one more mile?
Then more: the county the race is in is dry.  No beer.  Whatever.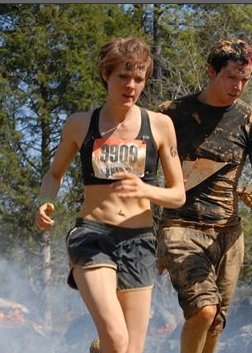 Then we get to the start… and the announcer says it is about 12 miles.
It was actually 13.5 miles.  (Or 15, depending on whose GPS-tacking claims you believe.)
The Short Story:
They ran out of water cups at stations… and out of water.
There was no sort of electrolyte replenishment (13+ miles => need better fuel stations… esp. when distance isn't accurately communicated)
They dumped ICE in every mud water obstacle we swam/slogged through
Mountains hills I never thought I could make it up 10 miles in with wet, mud-caked shoes were conquered
Displays of camaraderie and willingness to help other racers was by far the most impressive I've encountered.
I ran in just a sports bra for the first time ever (wet, muddy shirt was discarded on a mountain tree branch)
Chocolate Muscle Milk is good.  (Bonus points for Georgia Tech-themed bottles)
The Summary: It was 13.5 miles/3.45 hours of TOUGH.
***
Will I do it again?  HELL NO.
Not today anyway.