You may think I've lost it.
And you may be right.
I made mini brownie cakes.  With a tomato.  It sounds strange, but hear me out.  Tomatoes are technically a fruit.  Baking with fruit is good.  So why not?  
These mini cakes were marvelously moist.  Fresh, in-season tomatoes from the market are juicy and pretty sweet on their own.  Between that and the banana, the resulting healthy brownie is a chocolate treat that isn't overwhelmingly rich, but still clearly a dessert.  At the end there is the tiniest hint of something fruity… but you can't pick out the tomato at all (I tested it with several people).
You might notice that I left the oats whole in my cakes; that's because I like the extra chew.  I also added a little coconut flour because I'm addicted to the wonderful, almost silky, texture it lends.  There is also protein powder involved (I just can't help myself). You can sub in more flour for any of these if you prefer.
Like all good cakes, I decided this needed icing.  And sprinkles.  My icing was a simple mix of Greek yogurt, a bit of stevia, and vanilla.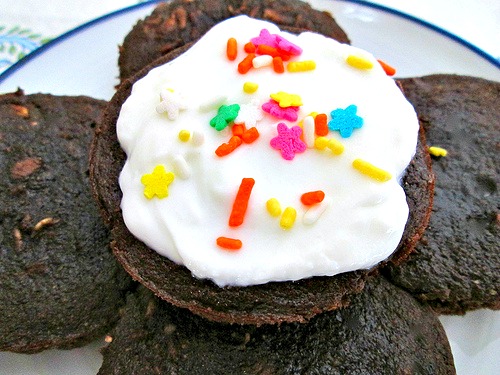 Bonus: tomatoes are a great source of vitamins C, A, and K, potassium, fiber, and the cancer-fighting lycopene,
Try it.  You'll like it.  Your friends will like it.  Your kids will like it.  Just don't tell them what they're eating until after they take a bite. 😉
---

Tomato Brownie Cupcakes
1 small tomato
1 small banana (~6 inches)
1 C water
2 T cocoa powder
1/2 C raw oats
1/2 C spelt flour
1 scoop (30g) chocolate protein powder
2 T cocoa powder
1 T coconut flour
1 T stevia (or other sweetener)
1 tsp baking soda
1/2 tsp cinnamon
1 T coconut oil
1/4 C egg whites
Preheat oven to 350 degrees.
In a blender, blend tomato, banana, and water until smooth.  Pour into a bowl and mx in remaining ingredients except the egg whites.
Beat the egg whites until foamy (you can also use the blender for this), then fold them into the batter.
Pour into prepared cupcake tins and cook for 15-20 mins.
Makes 12 cupcakes.
Approximate Nutritionals (for 1 cake): 51 calories, 1.7 g fat, 34.6g sodium, 7.3g carbohydrates, 1.5 g fiber, 1.1g sugar, 3.3g protein
---
How have you enjoyed making co-workers, friends, or family stare with strange but good creations this week?
The link up rules can be found here or by clicking on "Strange But Good" in the menu bar above. In short, I want to see what concoctions have earned you weird looks from co-workers, family and friends!
Post your Strange But Good creations, grab the logo below for your blog, and link up here.
Remember to use #strangebutgood in any Tweets and Instagrams of your creations. 🙂

***
I had the best time reading all the guesses when I posted this pic on Instagram.  So many great ideas; many are sure to inspire future #strangebutgood baking. 🙂
What is your favorite fruit to bake with?
Would you ever consider trying a tomato brownie?  Be honest.