Sometimes the strange is right in front of you.
If you live in a city, it's right in front of you more often than not.
For this week's meal prep, I had all the ingredients to make my Quinoa Tabbouleh Salad again.  Except the quinoa.  I swear, between the plumbing, burning food, and general forgetfulness… there is some sort of black cloud over my kitchen this week!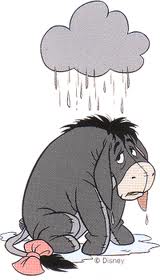 That cloud lifted when I had a strange (but good) idea for a substitute.  Better yet, it's high in protein… tofu!
It's a bit different texturally speaking, but the soft tofu works against the hearty, crunchy parsley.  I loved the way the lemon juice and spices soaked into this making it even more flavorful!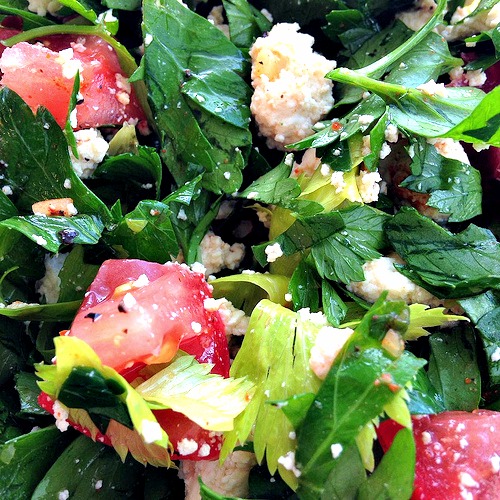 I followed the original recipe almost exactly, but as an afterthought added a tablespoon of nutritional yeast.  Vegan cheesy tabbouleh… why not?  I already jacked up the traditional version. 😉
My tofu sub and the "cheese" add worked like a charm.  And then I did what Tiggers do best.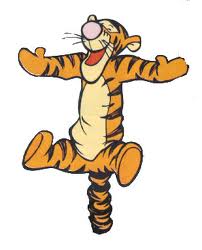 ---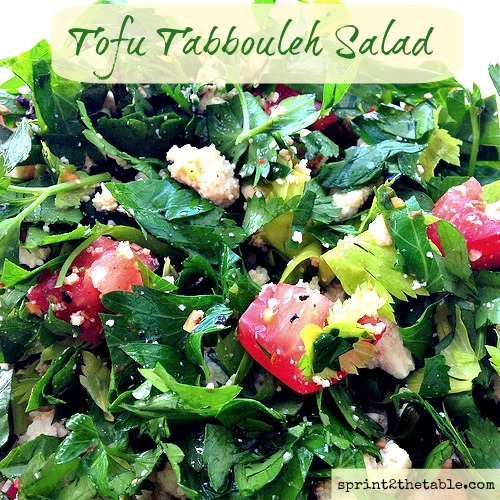 Tofu Tabbouleh Salad
12 oz firm tofu, crumbled
1 large bunch fresh parsley, minced
1 medium tomato, chopped
1 small cucumber, diced
1/4 C red onion, diced
Juice of 1 lemon
1 T nutritional yeast
1/2 tsp pepper
1/2 tsp red pepper flakes
1/4 tsp ground garlic
In a large bowl, toss together parsley, chopped tomato, cucumber, onion, lemon juice, and seasonings.
Add the tofu crumbles to bowl and mix together.  Adjust seasoning to taste.
Makes 4 servings.
Note: This stores well in the fridge for 3-4 days.  It is even better on day 2 when the flavors have time to marry.
---
How have you enjoyed making co-workers, friends, or family stare with strange but good creations this week? The link up rules can be found here or by clicking on "Strange But Good" in the menu bar above. In short, I want to see what concoctions have earned you weird looks from co-workers, family and friends! Post your Strange But Good creations, grab the logo below for your blog, and link up here.
Remember to use #strangebutgood in any Tweets and Instagrams of your creations. 🙂
***
I am so excited for next week.  It's my blog's 3rd anniversary and I have a full WEEK of giveaways for My Favorite Things planned!!!
Does the Eeyore cloud ever seem to get stuck over your head?
Have you made anything strange lately?  Link it up!