Strange, but good.
That's going to be my new tagline.
Training for a figure competition means my diet is a little odd.  It may make you go hmmmm.
I need certain combos of food and certain times.  Rather than view these parameters and restrictions, I try to turn them into opportunities to create.
I love trying new flavors.  Adding sweetness to things that are traditionally savory and vice versa.  Using spices that are not-so-common to give the ordinary a little something extra.  Sometimes it doesn't work… but when it does it WORKS.
Today I want to share a few that I've tried recently, and a couple of "proof" shots from others:
1. Recovery Sweet Potatoes
This was born of a craving.  It was early in the morning and post-workout.  I wanted something breakfast-sweet, but also had a craving for sweet potato.  Then there was the matter of getting my protein to feed muscles growth and aid recovery.  This vanilla-cinnamon concoction fit the bill!
Recovery Sweet Potatoes
1 small sweet potato, pre-cooked and cubed
1 scoop vanilla protein powder
3 T unsweetened vanilla almond milk
1/2 tsp cinnamon
Pinch of freshly grated nutmeg
Pinch of cardamom
2 T raw rolled oats
Place sweet potato cubes in a bowl.  
In a small bowl, mix protein powder and spices.  
Pour sauce over sweet potatoes and top with oats.  Devour.
2. Tequila Lime Tilapia and Kiwi
For meal 2 I get a fruit, a protein, and a tablespoon of seeds.  It was close to noon before I was able to eat, so I wanted something more savory as my protein.  With this leftover Tequila-Lime Tilapia, I made a sort of fruit salad by adding golden kiwi and peptias (pumpkin seeds).
3. Salmon and Peach Salad
This pre-workout meal was eaten in the car on the way to the gym (hence the blurry-in-a-hurry pic).  Again, it was a late Meal 2, so I  needed my fruit and protein.  I had some leftover grilled salmon in the fridge that needed to be eaten.  Salmon is slightly sweet to begin with, so I paired my leftover  it with a late-season peach.  I mixed in a little Greek yogurt (maybe 2-3 T?) to add moisture.  With the slight smoky-char flavor from the grilled fish, the sweet peaches were absolutely fantastic.
For those of you who are short on time, this is an easy, fun meal that can be thrown together 5 mins before walking out the door and eaten on the go!
4. Greek Chocolate-Orange Protein Yogurt
Chocolate and orange probably isn't a strange combination to many of you.  I haven't been a big fan of the combo in the past.  I like my chocolate served with a side of chocolate!  Keeping an open mind (and in need of a quick meal 2), I eyed the half eaten orange in my fridge.
I wanted Greek yogurt, but I try to limit my diary as I find it makes my face break out.  Often my solution is to eat just half a serving and combine it with 1/2 a scoop of protein powder to get at least 20g of protein (my minimum at each meal)., which is exactly what I did here.
Greek Chocolate-Orange Protein Yogurt
1/2 c Greek yogurt
1/2 scoop chocolate protein powder
3-4 drops of chocolate flavoring (I use these

Capella drops

)
5 drops of orange liquid Stevia.  
1/2 segmented orange
Mix together yogurt, protein, chocolate flavor, and Stevia in a small bowl.  
Top with orange segements and (optional) sprinkle of cinnamon.
5. PB & Jeggs (and Aggs) Proof
I have a little PB & Jeggs (Aggs/Peggs/etc) addiction.  This egg white-peanut flour-fruit combo is a staple in my diet.  It's the perfect high protein fuel, and suitable for breakfast, snack, or dessert.
Sounds weird, taste good.  But I'm not the only one who thinks so!  My friends Eiren and Meg agree:
Meg's PB & Jeggs (with oats):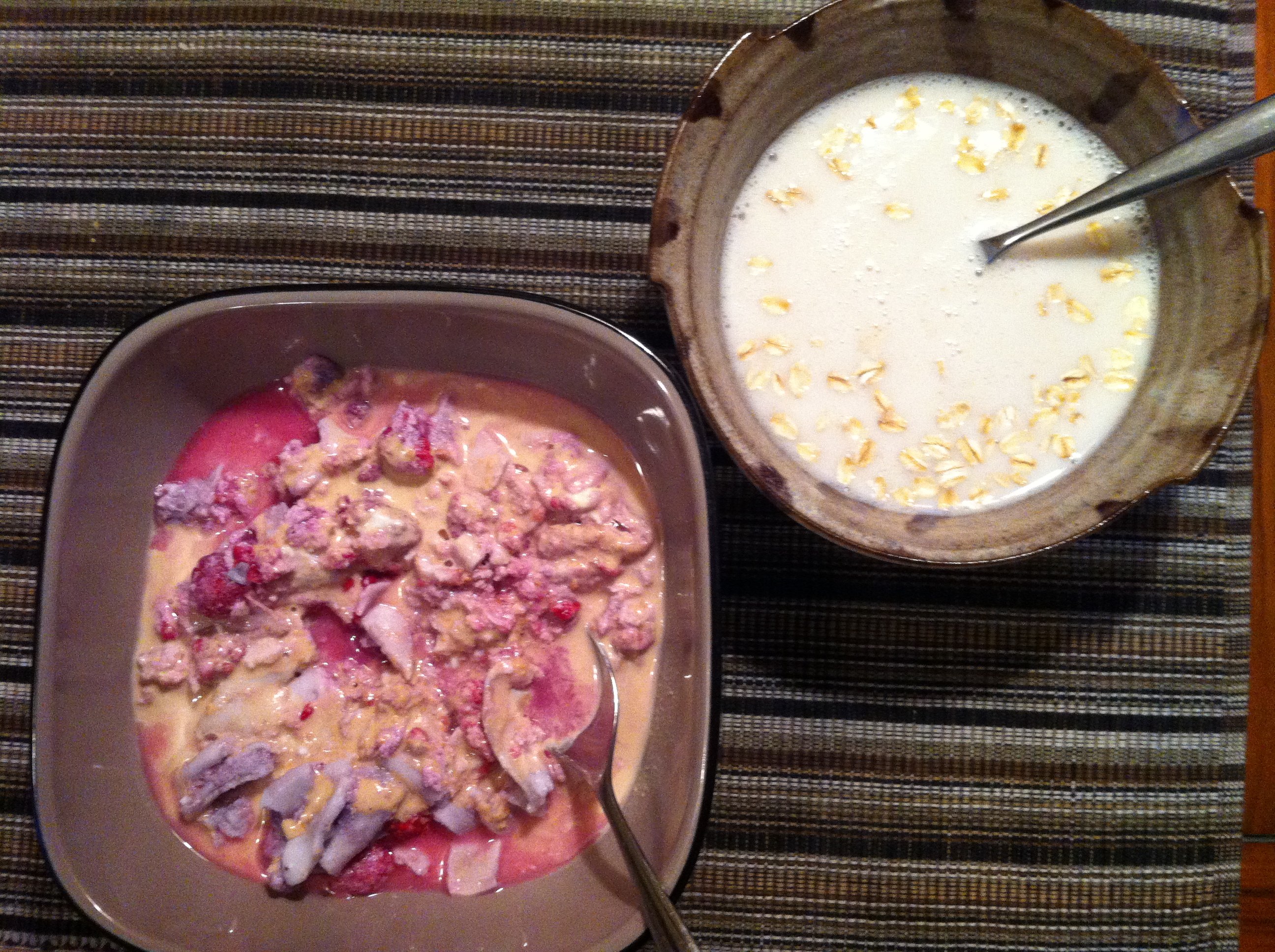 Eiren's PB & Jeggs (isn't this the coolest graphic?!  So sweet of her to make it):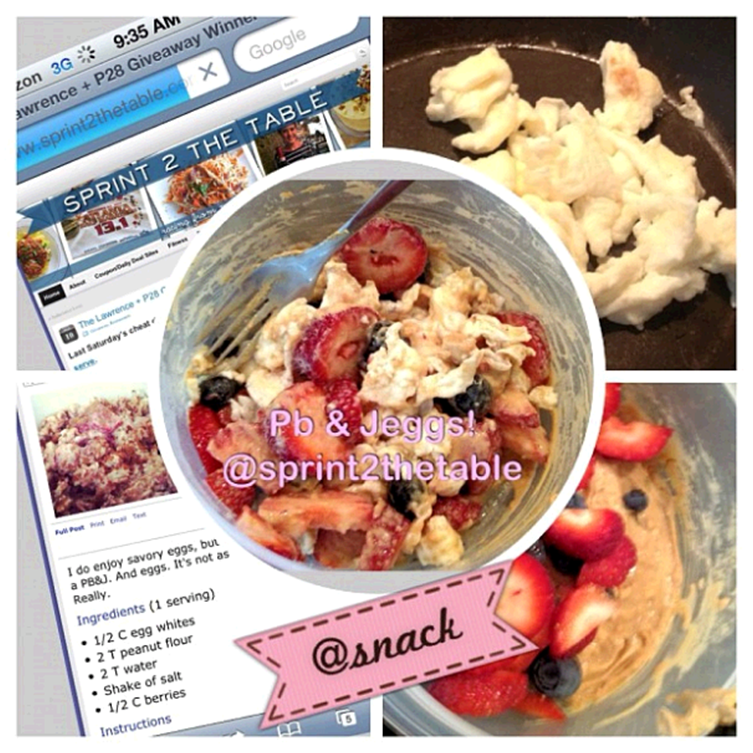 And Eiren's awesome twist on the PB & Aggs… PB & Aggs in a Jar: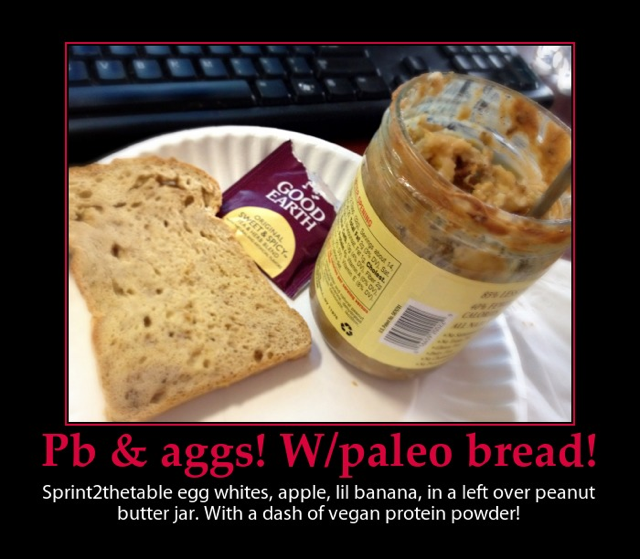 ***
In other weird food news, I remain addicted to Carrot Cake Protein Batter.   I'm eating it as I draft this post.  Pretty sure this will never get old.
Have you tried PB & Jeggs?  Just trust me on this one.
What is your favorite strange food combo?