Weekends make me go "Mmmm!"
Anyone remember this classic?
www.youtube.com/watch?v=XF2ayWcJfxo
So do these favorites from the week:
1. Spicie Foodie's April YBR (check out my Meyer Lemon Ricotta Penne submission!)
2. Anything Indian-Spiced
Remember my epic trip to Whole Foods?  I am finally getting around to trying out the Seeds of Change Madras (a red curry simmer sauce).
It was really good over spaghetti squash and spinach!  I love that they left chunks of veggies in it.  It was spicy… but I added a little red pepper… 'cause some like it hot!
I am also loving my Indian-Spiced Chickpeas.
These crunchy little balls of flavor are addicting.  Try them over a salad with a little sweetness mixed in (I went with cantaloupe).

OMG.  My first attempt at making nut butter was  sheer deliciousness.  From now on, I'm topping everything with this nutty, cumin-laced buttah.

4. Sweet + Salty Combos
Strawberry Pretzel Vegan Ice Cream.  Sweet berries, salty airplane pretzels.  Spring has sprung in my freezer.

And… how could I forget the post-Sweetwater 420 5K recovery?!
Chocolate Chip Pretzel Cookie Bars.  Iced with peanut butter.  I'm beginning to think I have nut butter and pretzel addictions.
5. Vegan Oatmeal Cacao Nib Cookies
I'm headed to visit a friend this weekend and didn't want to go empty handed!  Cookies are the perfect solution to that problem.  So is wine.
These are a great, healthy-ish option.  The maple syrup gave this cookie a perfect chewy center.  Don't expect them to be super sweet, but they are delicious.  If you like a sweeter cookies, try adding some chocolate chips or light brown sugar.
The "quality control" cookies I kept at home are going to be perfect crumbled over Greek yogurt with blueberries for breakfast.
I used Angela @ Oh She Glows' recipe for Vegan Oatmeal Raisin Cookies with a couple of modifications.
---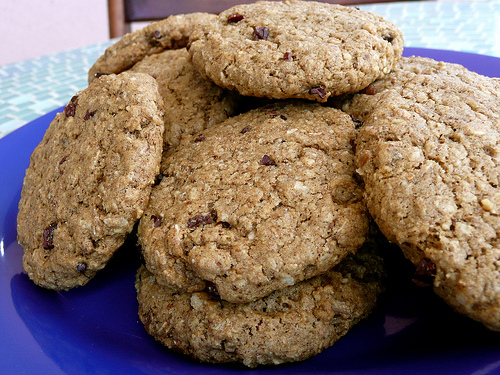 Vegan Oatmeal Cacao Nib Cookies
1 3/4 C halved walnuts, toasted
1 1/2 C rolled oats, divided
1/2 C white whole wheat flour (I used king Arthur)
1/4 C whole grain pastry flour (I used Arrowhead Mills)
1/4 cup dark brown sugar, packed
1 tsp baking soda
1 tsp cinnamon
1/3 C pure maple syrup
2 T unsweetened vanilla almond milk
3 T coconut oil
2 tsp pure vanilla extract
1 oz cacao nibs
cinnamon-sugar mix
Preheat oven to 350 degrees.
Place the walnuts on baking sheet and toast in oven 10-12 mins until just beginning to darken, stirring half way through.  Remove from oven and allow to cool completely.
Put the toasted walnuts in a food processor and process until just finely ground – watch out or you'll have walnut butter!  Add the flours, baking soda, 1 cup oats, cinnamon, and brown sugar to the food processor and process for ~20-30 secs until mixed.
In a small bowl mix coconut oil (softened in micro if necessary), maple syrup, almond milk, and vanilla.  Pour wet mixture into food processor with the dry.  Process until well-combined.
Dump the mixture into a large bowl.  Mix in the remaining 1/2 C oats (you can use your hands!).  Fold in the cacao nibs.  Make balls of ~2T of the dough, place on cookie sheet and and flatten with your palm.
Bake for 10-12 mins at 350 degrees.  Remove from oven and let cool. Makes about 15 medium cookies.
***
I'm pretending to be a college student – road-tripping to visit a friend from grad school!
Have you recovered from Friday's early-morning royal wedding festivities? 
Are you doing anything fun this weekend in this amazing sunshine?