Vacation is almost over!
Clearly I'm sad… but already inspired to get back home and hit the gym.  Today's guest post from Lindsay @ The Lean Green Bean will be first on my list to do!  This girl is a workout rockstar.  The workout she has put together kicked my booty (I cheated and tried it early 🙂 ).
I am totally honored that she wrote one just for me!  Having tested it out, I can tell you that it's 22 minutes of heart-pumping, sweat-inducing awesomeness.  Try it.  I dare you.  You might even brave a bonus round…
---
Hello fellow Sprinters!  My name is Lindsay and I blog over at The Lean Green Bean.
I'm so honored to be here guest posting for Laura today.  We have been connecting online through our blogs for a while now, and we had the privilege of finally meeting a few weeks ago at Blend Retreat!
Laura is totally adorable and we get along SO well because we both share an overwhelming love of food and fitness!  In fact, Laura is one of my biggest workout fans!  (Editor's Note: I am!  Lindsay has the best ideas!)  She's always encouraging and motivating me and she's tried out so many of my workouts…which I love!  Also, she's in way better shape than I am and can usually kick my butt at any workout.  (Editor's note: That's just crazy talk!  Lindsay is in amazing shape!)
So, when she asked me to guest post, I knew I wanted to put together a challenging workout for her.  Before we get started, please keep in mind that I'm not a personal trainer. I just like to work out…and I like to share my workouts. Please check with a doctor before starting a new fitness routine.
For this workout, I chose not to use a specific number of reps for any of the exercises.  I tend to go for workouts like that when I really want to challenge myself because they allow you to push yourself as hard as you want to.  Essentially you're competing against yourself and the clock, instead of just doing a set number of reps.  Perfect for a competitive person like Laura!
Ready for your workout?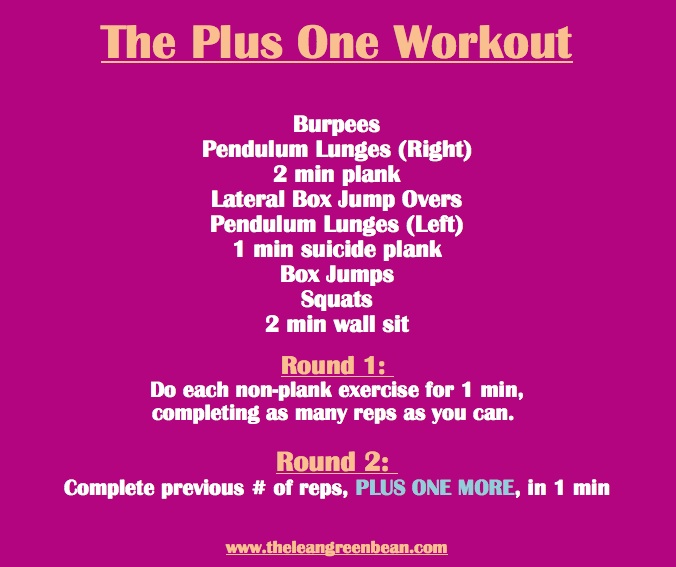 CLICK HERE for a video of pendulum lunges.
CLICK HERE for a video of suicide planks.
This workout is great because it forces you to work just as hard, if not harder, in round 2 as you do in round 1.  I'm not gonna lie…it's rough!  And that wall sit at the end just might kill you.  But if it doesn't – it's making you stronger. 🙂  (Editor's note: She's not kidding.)
Have fun!  And a big thanks to Laura for letting me take over her blog today!
Stop by The Bean for more workouts and some delicious recipes!  I love making new friends.
–Lindsay–
***
So far Chile has been full of a lot of walking, but nothing like these workouts.  I'm loving the down time, but can't wait to get back and run through a few good sweat-sessions!
Are you a fan of these HIIT/tabata-style workouts?  What's your favorite one to do?
Did you try this one out yet?  What are you waiting for?!