Birthday dinners are key.
Every year I think long and hard about what restaurant to try on my birthday.  It's a big deal!  You have to start out the next year of your life with a happy stomach.  It sets the stage for the next year's eats!
This year I was excited to try out a new concept by Chef Ford Fry (of JCT Kitchen and No. 246 fame).  The Optimist (914 Howell Mill Rd,. Atlanta, GA 30318, 404-477-6260) opened just a couple of months ago.  After being reviewed by some of the pissiest critics in Atlanta, I have not seen a bad write-up.  My mom, baby sister, best friend, and her husband all came out to celebrate and eat.
Despite having a broken air conditioner (sorry about my butt sweat on the seat…), the kitchen cranked out some phenomenal food.
To start they bring out what are the BEST dinner rolls I've ever eaten.  I normally wouldn't rave about bread, but these was exceptional.  The fluffy, light rolls were just the right amount of sweet to complement the flaked salt sprinkled on top.  I wish Blais should serve these at The Spence.
We also ordered East and West coast oysters (I did not partake, but am told they were delish), tempura-fried long beans with a buttermilk dill sauce, and corn hushpuppies.
The beans were good, especially with the dill sauce.  My best friend's husband even tried one.  He doesn't eat vegetables, but gave these a thumbs up.  More proof that anything fried is delicious.
The hushpuppies were the favorite of the night.  Done "beignet-style," these were not your mamma's heavy puppies.  They doughnut-like balls of sweet, corn-filled bread were sprinkled with powdered sugar and served with a side of sweet creamy butter.  The butter proved to be totally unnecessary; these puppies stand alone in their perfection as they melt your mouth.
One (minor) complaint – if you don't eat shell-fish and aren't a huge fan of fried, there aren't many starter options beyond a salad.  I'd love to see a couple, lighter easy-to-share items.
Choosing a main dish was difficult for me.  The entrees read like a fine list of food porn.  Eventually I selected the Alaskan Halibut.  The fish was possibly the best quality I've experienced.  It was earthy and almost meaty, complimented flawlessly by hen of the woods mushrooms and the rich red wine bordelaise sauce.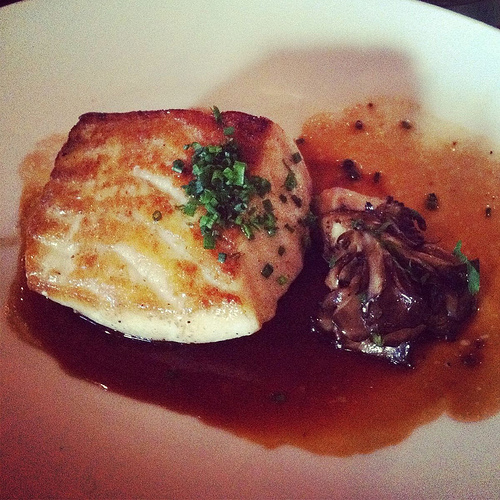 Mom selected the trout served with marcona almonds and greens.  It was an excellent dish; much lighter in flavor than the halibut, but offered a nice contrast of flavors between the flaky fish and the crunch of the almonds.
My friends both selected the skirt steak with romesco sauce and beef jus.  At a seafood restaurant.  I silently judged them until I tried a little bite.  That steak could rival some of the better steak houses in town.  Sadly, my pics didn't turn out from this point on due to lighting and laziness.
Sides are not included with the entrees.  We ordered an heirloom tomato salad, roasted beets with apple, and lightly roasted carrots with ginger vinaigrette.  Each was alight and refreshing, allowing the farm-fresh flavors to shine.  If you are vegetarian or vegan, you could easily create a satisfying veggie plate from the side selections on the menu.
The desserts were surprisingly good as well.  We were treated to a peach cobbler with a rich side of beer cream sauce and a graham cake that was soaked in a fantastic syrupy sauce and topped with a toasted layer of house-made marshmallow creme.  I'd eat bother again.  And again.  Little did I know that I had a bigger surprise coming…
My mom and baby sis had baked my grandmother's carrot cake, then cut out circles of it to form a 29!  It was delicious.  Despite having lapped up too much of the other 2 desserts, I manages to eat my share of this carrot cake.  This is a special cake in my family.  It's the cake that my dad requested every year for his birthday.  I had an extra few bites for him. 🙂
We left the restaurant comfortably stuffed and a bit sweaty from the sauna A/C-less dining room.
Our poor server was sweet, but painfully new.  And sweaty.  Service was spotty – cocktails were slow, I had to ask for water on multiple occasions, and we were nearly done with our entrees before she managed to bring out the bottle of wine Mom brought.
While mildly annoying, the service issue won't stop me from returning.  The new girl will learn, and the food was so good I wasn't irked enough to complain.  I have a new go-to spot in Atlanta.
This has nothing to do with food, but I have to share.  On the way home I paused to take a picture of a parked car:
This dude's friends are awesome.
________________________________________________________________________________________
My birthday weekend started out with a session with my trainer.  After he killed my legs, I had a deep tissue massage, which I credit for my ability to wear heels to dinner.  It was exactly how I wanted to spend the day.  Figure competition training is hard, but rewarding.  This week I realized that I'm able to increase the weight I left in my solo sessions, and that my arms are coming along!
I look forward to my daily trek to the gym… in part because I never know what fun sights I'll see…
Workout Recap (7/9- 7/15):
Monday – Chest/Biceps
Tuesday – Legs (w/ trainer), 1.65 mile walk
Wednesday – Back/Triceps, 1.5 mile walk
Thursday – Shoulders/Glutes
Friday – Chest/Biceps, 2 mile walk
Saturday – Legs
Sunday – 2 softball games, 100 push-ups
***
Thank you all so, so much for your kind words on Friday's post.  I LOVED hearing about all of the goals you WILL accomplish.  If you haven't already, click here to check out the post and enter to win The Simply Bar sample pack in my birthday giveaway. 🙂
Is food an important part of celebrations in your family?  Any cake-traditions?
What is the craziest thing you have seen in the gym?