But what do I eat?!
The eternal question.
I get this question almost daily.  Today's Work It Out addresses the questions.  I won't share my exact diet.  I'm still learning what is best for me, and – like I ALWAYS say – diet is personal.  Paleo, vegan, vegetarian, "intuitive" eating, carb-heavy, protein whores (guilty)… the list goes on forever.
What I WILL share are some of my staples for keeping (mostly) healthy.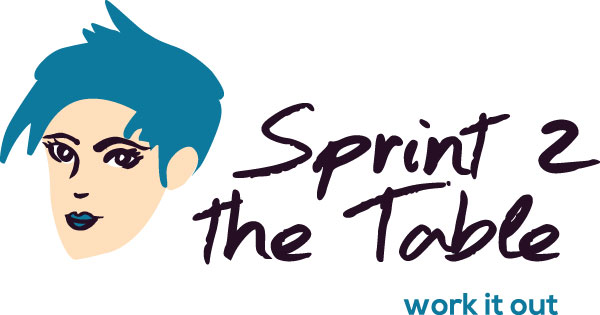 There is a lot of talk about special diets.  I don't buy into any of them for one reason – I think diet is about common sense.  It's a lifestyle.  A diet, as we most often refer to it, is a finite thing usually aimed at weight loss or some quick fix.  I was just on a pretty strict competition diet.  That is NOT sustainable.  Your life-diet should be balanced and include a variety of foods.  No shit, right?
Therefore, I'm starting a new movement:

Diet 101
Eat 5-6 meals per day – every 2-3 hours, with the last meal being fairly close to bed time (your body needs to fuel to heal overnight)
Don't be afraid of carbs or fruit – they provide valuable nutrients.  Everything in moderation!
Eat your veggies!  They fill you up without adding ton of calories or fat, and are vitamin and nutrient rich
Avoid large amounts of processed foods, sugar, and sodium.  In excess, they are bad for your health and you just won't feel good the next day
If you want a "cheat" or "treat," HAVE IT.  Just don't have it all day, every day.  I like wine and dessert, so I have both
Weekly Buys
Veggies – asparagus, broccoli, broccoli slaw, brussels, cabbage, carrots, cauliflower, celery, cucumbers, eggplant, green beans, dark leafy greens (like spinach and kale), mushrooms, onions, parsnips, red peppers
Fruits – apples, bananas (no more than 1x day), berries of any kind, cherries, grapefruit, pineapple, watermelon
Complex Carbs – barley, beans, Ezekiel bread, oatmeal, millet, multi-grain cereal (watch the sugar and sodium), sweet potato, quinoa, wild or brown rice, winter squash
Protein – bison, chicken, eggs (yolks in moderation), lean beef, salmon, tempeh, tofu, turkey, TVP, white fish (I love cod, sea bass, swordfish, tilapia, and trout)
Fats – avocados, chia seeds, coconut (oil and whole), flax, nuts/nut butters (almonds and walnuts are the best), olive oil, seeds (pumpkin, sesame, and sunflower)
Dairy – almond milk (unsweetened), cottage cheese (no salt added), plain non-fat greek yogurt
Flavor Adds
Extracts – almond, butter, butterscotch, coconut, coffee, maple, peppermint, vanilla
Spices – black pepper, cardamom, cayenne, cinnamon, cocoa powder, coriander, cumin, curry powder, garam masala, garlic, ginger, nutmeg, red pepper flakes
Acids – apple cider vinegar, lemon, lime, rice vinegar, white balsamic
Herbs – basil, cilantro, dill, mint, rosemary, sage, thyme
Sauces/Toppings – BBQ sauce,hot sauce (I love Cholula and Sriracha), hummus, mustard, salsa, tomato sauce (note: make your own when possible – read the labels and you'll be shocked at the sodium and sugars added!)
Stuff Most People Think is Foreign
Liquid Smoke (the Colgin brand I buy is all-natural and vegan)
Nutritional Yeast (high in B-12 and protein, has a cheesy/nutty flavor)
Peanut Flour (defatted peanuts; I like this better than PB2 because it has no added sodium or sugar.  I order mine here; use discount code USO924 for $5-10 off)
Stevia (the

NuNatruals

vanilla and chocolate liquid drops are my favorite)
Shopping
Most of my shopping is done at to following places:
The local farmer's market,
Whole Foods
Fresh Market
Publix (big box grocer)

iHerb.com

(use discount code USO924 for $5-10 off)
Tip: ask your grocer if they can order items for you – Whole Foods is especially good about this!
PLEASE do not take the this as the be-all, end-all list of foods to eat.  This is a sampling of my staples.  I eat a massive variety of food – it helps me not get bored, which make it easier to keep it clean.  I definitely indulge as well.  Like tonight – I know I'm going to have an awesome dinner out.  Rather than worry about salty, fatty, yummy food, I make more of an effort to keep it clean throughout the day today!
This is life, not heaven.  You don't have to be perfect.  Live life, eat good food, and share it with those you love.
***
I don't mean to poo-poo people's belief systems.  In the name of balance, next week there will be a guest post from Calee with a different perspective.  I don't say vegan, for example, as a bad thing.  If it's tied to a belief or you know that's the way your body functions, more power to you!  What I am against are people jumping of whatever is popular at the moment in hopes of finding the magic fountain for youth and weight-loss.  There is no magic, y'all.  
What is the craziest diet you've ever tried?  In college I ate nothing but grapefruit.  It lasted 2 days.
Have you found a lifestyle that works for you?