You don't want to go to the bathroom after me.
Anyone else having Ace Ventura flashbacks?
In the final week before my figure competition, I've cut out all that is good.  My only vegetable is asparagus.  Asparagus is like body building super food.  It is low in sodium and sugar, high in protein, and a natural diuretic. My pee stinks.  I don't think I'll ever eat asparagus again.  Until the next competition.
See my veggie drawer at the bottom?  That's nothing but asparagus.  I spent $40 on asparagus.  Other items in the fridge include sweet potato, spaghetti squash, chicken (5 ways), swordfish, and tuna.  All of these are pre-cooked so I can eat in a hurry.
Below I'll chronicle the 7 exciting meals I have to shovel down… but first a little inspiration.  Monday I asked what quotes or songs inspired you to push through, and Alexandra shared to following quote:
"The brick walls are there for a reason. The brick walls are not there to keep us out. The brick walls are there to give us a chance to show how badly we want something. Because the brick walls are there to stop the people who don't want it badly enough. They're there to stop the other people." – From "The Last Lecture"
This really resonated with me, and inspired me to keep pushing all day.  If it were easy everyone would be doing it!
---
This Halloween-themed What I Ate Wednesday is downright scary.  Repetitive meals terrify me.  That's exactly what today's post is.  Sorry.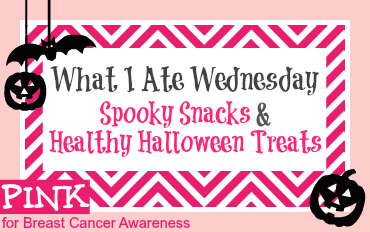 Check out my freakishly boring eats below, and then click here to head over to Jenn @ Peas and Crayons to get to see some more exciting Halloween treats.
---
Meal 1:
In effort to shake things up, I have been drinking my morning cocktail out of champagne glasses.  It's almost like a mimosa.  But not.
For breakfast I am allowed a protein (chicken or white fish), oatmeal, and 10 blueberries.
Yes, I said 10.
Thank god for last week's Cinnamon-Flax Chicken creation.  I think this is the only way I can eat breakfast protein.
Served with oatmeal, which I flavored with almond extract, vanilla, and an ass-load of cinnamon (that's a technical term).  And 10 blueberries.  10.

Meal 2:
Asparagus.  Protein.  Spaghetti.  Squash, that is.  I only get carbs before 2 pm now (at meals 1-3).  My carbs can be oatmeal, sweet potato, or winter squash.
Here I roasted some asparagus to go with my spaghetti.  While that was cooking, I made a quick sauce of lemon juice, rice vinegar, cilantro, and 1 drop of lemon Stevia (a little goes a long way).  For my protein, I had a serving of my pre-cooked chicken.  This one was done on a grill pan with a Mexican spice blend (sodium-free, obv).
It wasn't half bad!
Meal 3:
I swear I don't know what I'd do without Swordfish.  The asparagus I could do without.  At least I get 1/2 tsp olive oil at lunch.  I drizzled my meal with Sweetwater Growers' Habanero-infused olive oil, and topped it with fresh basil.
Since it is Halloween, I decided to get festive for my carb at lunch.  No candy for me this year, but who needs that when you have sweet potatoes?  (I'm totally lying – I'd kill someone for a Halloween cookie right now.)  
I turned my 'tater into a pumpkin dessert by mashing it with a little water, lots of cinnamon, nutmeg, brown sugar and maple extracts, and a few drops of liquid Stevia.  His face is made of oats and his stem is – what else – an asparagus tip.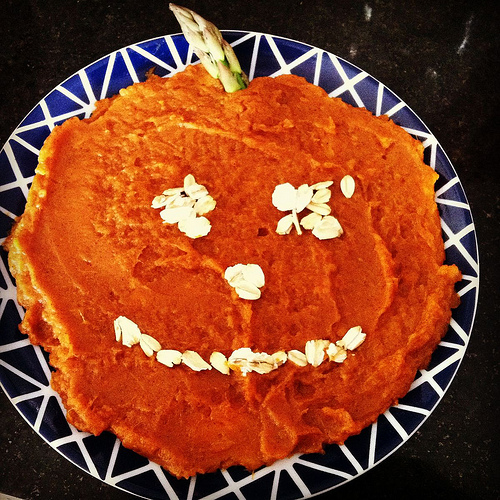 Meal 4:
Seared tuna steak with a green onion, ginger, and lime sauce.  More asparagus. This time in soup form.  I'd like to work on this recipe and post it… it's not ready yet.
Meal 5:
Surprise!  More asparagus, this time sauteed with garlic and red pepper flakes.  Topped with 1/2 tsp Sweetwater Growers' Rosemary-infused olive oil.  And Swordfish.  I miss nighttime carbs.

Meal 6:
More chicken, this one grilled in a Mediterranean spice blend.  And I shook things up with… WHITE asparagus.  Eaten raw with a sprinkle of cumin.  Despite its phallic appearance, I normally love white asparagus; however, at this point I hate all things asparagus. 
White asparagus is nearly identical to green nutritionally speaking, but it is white due to having been kept out of the light.  The flavor is slightly milder then green, and it's a little softer.  They sort of taste like endive to me.
Meal 7:
No more dessert for me.  Sort of.
Dessert chicken, anyone?  In the South people eat chicken and waffles for breakfast sometimes.  Gladys Knight has a famous restaurant based on the concept!  With this in mind, I tossed this chicken with a little maple extract and cinnamon before baking.  Then I sprinkled everything with more cinnamon… even the asparagus.
Not bad.  Would be better with a waffle.  And syrup.  Mmmmm… sugar…
---
It's also Foodie Penpal reveal day!!!
Emily sent me a delicious box of goodies.  At least I think they are delicious… since it's not asparagus, I can't eat it until after I walk of that stage Saturday night. 🙂  That chocolate granola is coming with me though!! 
***
The protein count for the day: 192g.  The sodium count: 602.8mg (all from the protein!).  The sugar was 17.7g.
Driving home from posing practice last night I was stuck between a Krispy Kreme truck and a Pabst Blue Ribbon truck.  I subsequently gave the universe the finger.
Do you like asparagus?  Does it make your pee stink?  I heard it doesn't affect some people!
What is your favorite Halloween candy?  I like Reese's.  Or Snickers.  Frozen.