He delivers my packages!
Last week was a good week in terms of goodies.
Bulu Box was kind enough to send a sample of their July sample box.  Bulu is a monthly subscription service.
For $10 a month, you can get a box filled with 4 to 5 nutritional products from top brands.  Products include vitamins, supplements, sports nutrition, meal replacement, energy, protein, natural remedies, endurance… and more.  Honest opinion: this was $10 worth of goods.
In my box:
Life Equals Omega-3 (2 pills)
RevHoney (a tube of energy – created with freeze-dried fruit and honey)
Pure Matters Vitamin D (this was a full bottle!!!)
NightFood Cookies 'n Cream Bar (nutrition bar formulated for better sleep)
 Cellucor Super HD (fat-targeting weightloss supplement)
My favorites were the Omega-3s, Vitamin D, and NightFood.
The Omega-3s – as advertised – didn't product "fish burps."  I take Vitamin D every day and had just run out, so I was elated to get this bottle.
The NightFood Bar was only 150 calories!  It was low in sodium (90mg) and had 6g of protein.  The taste made me forgive the 9g of sugar.  Did you guys ever eat those Cookie 'n Creme Quaker Oats Bars?  This bar tasted just like those!   Nom.
***Disclaimer: I received the Bulu Box for review purposes though the FitFluential program. All thoughts and opinions are my own.***
_____________________________________________________________________________________
That box would have been enough… but there was another box!
I also received an incredible thoughtful box in the mail from my Foodie Penal, Edwina.  She doesn't have a blog, but she is an avid blog-reader.
She did her research!  The items she sent were EXACTLY the sorts of things I like to eat.  She read my blog and knew I had a love of spicy food, protein, peanut flour.
She also must have known that I drink 120oz of water per day, because she sent me a tasty bottle of spring water from her home state of Idaho.
In my Foodie Box:
Chocolate-flavored PB2
Spring Water from Idaho
Melinda's Habanero Hot Sauce (it's hot, ya'll)
Bhuja cracker mix (with wasabi peas)
Oatmega-3 Protein Bars
Annie Chun's Wasabi Seaweed Snacks (I eat these ALL the time and love them!)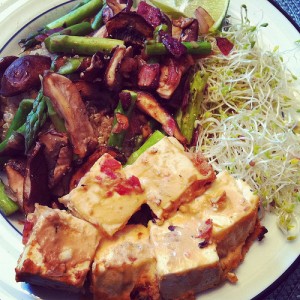 I used the hot sauce last night to spice up my marinade for this favorite Chili Nutty Baked Tofu recipe.  It gave it one helluva kick.
Served with quinoa, shiitakes, asparagus, and radish sprouts.  I was one happy Foodie Penpal. 🙂
_____________________________________________________________________________________
And one more box, though this one was FROM me!
My July Foodie Penpal, Peggy, doesn't have a blog.  She was introduced to the program through her daughter, Bethany @ One Girl's Taste On Life.  Peggy sent me the sweetest write-up of the box I set her to share:
My daughter, Bethany, a member of Foodie Pen Pals, strongly encouraged me to join. I was reluctant at first because I am not the primary "chef" in our home. My partner, Wes, has spoiled me in many ways; one of which is his culinary abilities.
I hit the jackpot!  Thank you, Laura, for making my first swap so much fun!  Her package arrived and I couldn't wait to tear (gently mind you) into it to see what goodies I had.  Oh my, such great finds.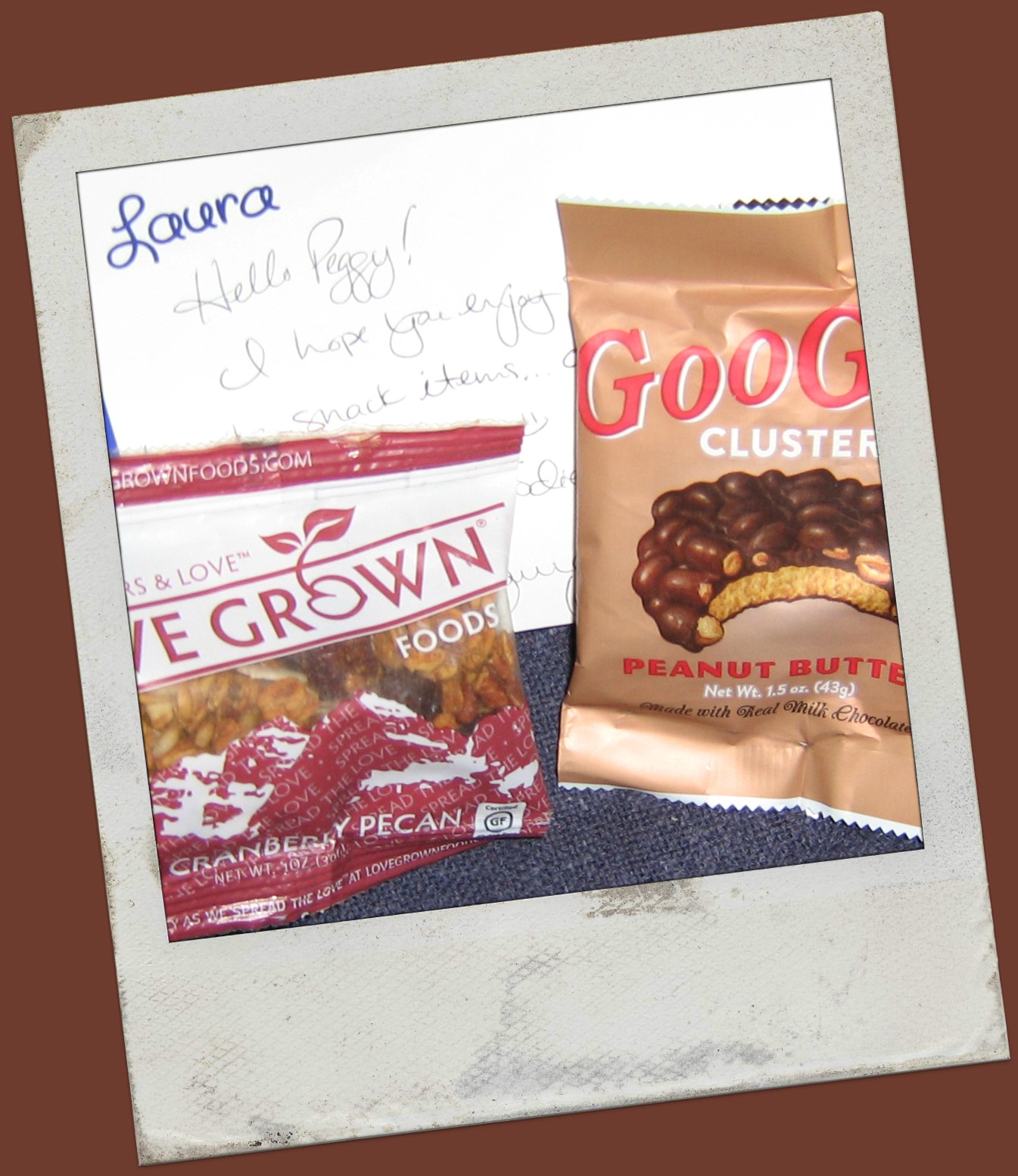 OK, so my eyes first focused on the Goo Goo Cluster.  I had my first sampling of this yummy treat when I moved to Tennessee in 1984.  I held off opening this true delicacy until I had taken the picture.  It was hard to do, but you will be proud of me.  I DID IT! I originally thought of slitting the back of the package.
I LOVE nuts and cranberries.  Laura must have had a spy in my house.  I'm going to savor this little baggie of treats until I have finished this write-up.  Work first, eat second is my motto.  Dumb motto, huh?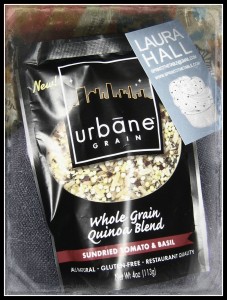 Laura is health conscious.  What a good partner I have.  Her mission, which she chose to accept, was to send something healthy to inspire me to "live long and prosper" in the words of Star Trek's Dr. Spock.  Quinoa is something I have had one time.  It was a very Plain Jane variety.  I think I did something wrong in the making because it tasted burnt.  Laura has given me a second chance to redeem myself.  Sun-dried tomato AND basil flavor.  I KNEW she sent a spy; I love anything sun-dried.
Last, but certainly not least…
Recently, I went to lunch with friends.  One of them had this product I had never tasted: Stevia.  She invited me to add to my tea.  It was quite good; I especially liked it because it was liquid and blends much better than some granules.  I made a mental note (they don't work at my age) to buy myself some.  Never did, but GUESS what arrived in my "goodie box".  I told you I won the jackpot.  Not only was it Stevia BUT it was orange flavored.  It was delicious in my sun tea.  Just added numerous drops to my glass pitcher and voila!  Oh YUM!!!!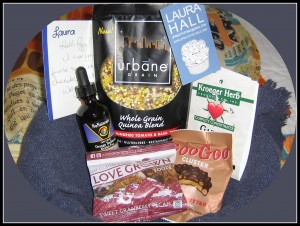 Thank you, Laura, for the fun of being a first time Foodie Pen Pal.
HUGS
Peggy
 _____________________________________________________________________________________
Don't you want to get in to the action?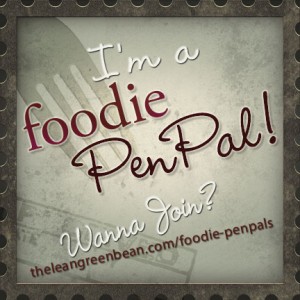 To sign up for a Foodie PenPals in August, click here to fill out the form on Lindsay's site.  It's that easy!  You don't have to be a blogger, and the spending limit is just $15.  The only requirement is that you be a US or Canadian resident.
Join in by August 4th as pairings will be emailed on August 5th!
 ***
The chocolate PB2 is really good mixed with almond milk and eaten by the spoonful spread on apple slices.
What is the best thing you mailman (or woman) has delivered recently?
What one thing would you send a penpal to represent your hometown, or your blog-style? I thought the water was really creative!