I worked until 11:30p last night.  
And I went to the dentist for a filling.  And I didn't get the prep done that I had planned for the catering gig this weekend.
This was well-deserved: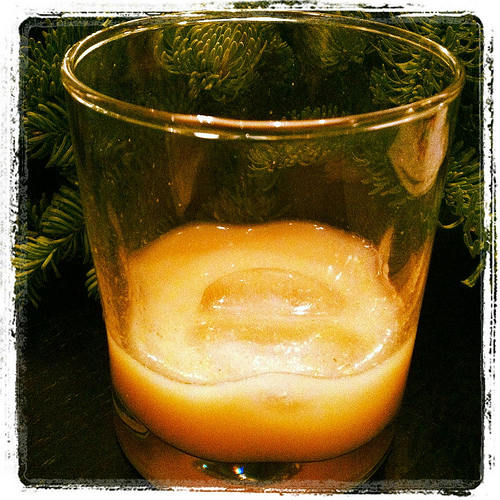 What had happened was…
I was wrapping up my work when I saw Rufus' blog post titled "Christmas in a Glass."  My curiosity was piqued and 5 minutes later I was making myself a reward-in-a-glass.  The only change I made was to use unsweetened almond milk rather than heavy cream.
Next time you need a little something to take the edge off of the holidays, I do recommend this deliciousness commonly known as a Brandy Alexander.  Don't skip the nutmeg.
An additional recommendation is making a midnight snack of cereal in the same glass.  Without rinsing it.  
Raise your hand if you think I'm even more weird now!
---
One thing I did get done was a MASSIVE trip to the Dekalb Farmer's Market.  Cooking will begin in earnest tomorrow.  In the meantime, check out my weaponry groceries:
This isn't everything I need for a party of 40, but it is a big portion.
On the menu:
White Bean Rosemary Dip
Baked Brie with a Pecan-Bourbon Glaze
Grape and Blue Cheese Truffles
Rosemary Bread
Endive Boats with Pomegranate, Pumpkin, and Champagne Vinaigrette
Apple Sausage Chestnut Stuffing in Phyllo
Pesto Chicken Wraps
Pumpkin Fudge
Can I pull it off?  You'll have to keep reading to see.  Don't you love a cliff-hanger?
***
I fell victim to the craziness and missed a workout for the first time in I don't know how long.  It was a good steak.
Are you staying on track this holiday season?
What is your favorite holiday drink?  (Other than eggnog 'cause I don't like it 🙂 )