This crave-worthy Thai-Style Basil Chicken is made with lean ground meat, basil leaves, and veggies.  It's a quick, heathy dinner that's full of flavor!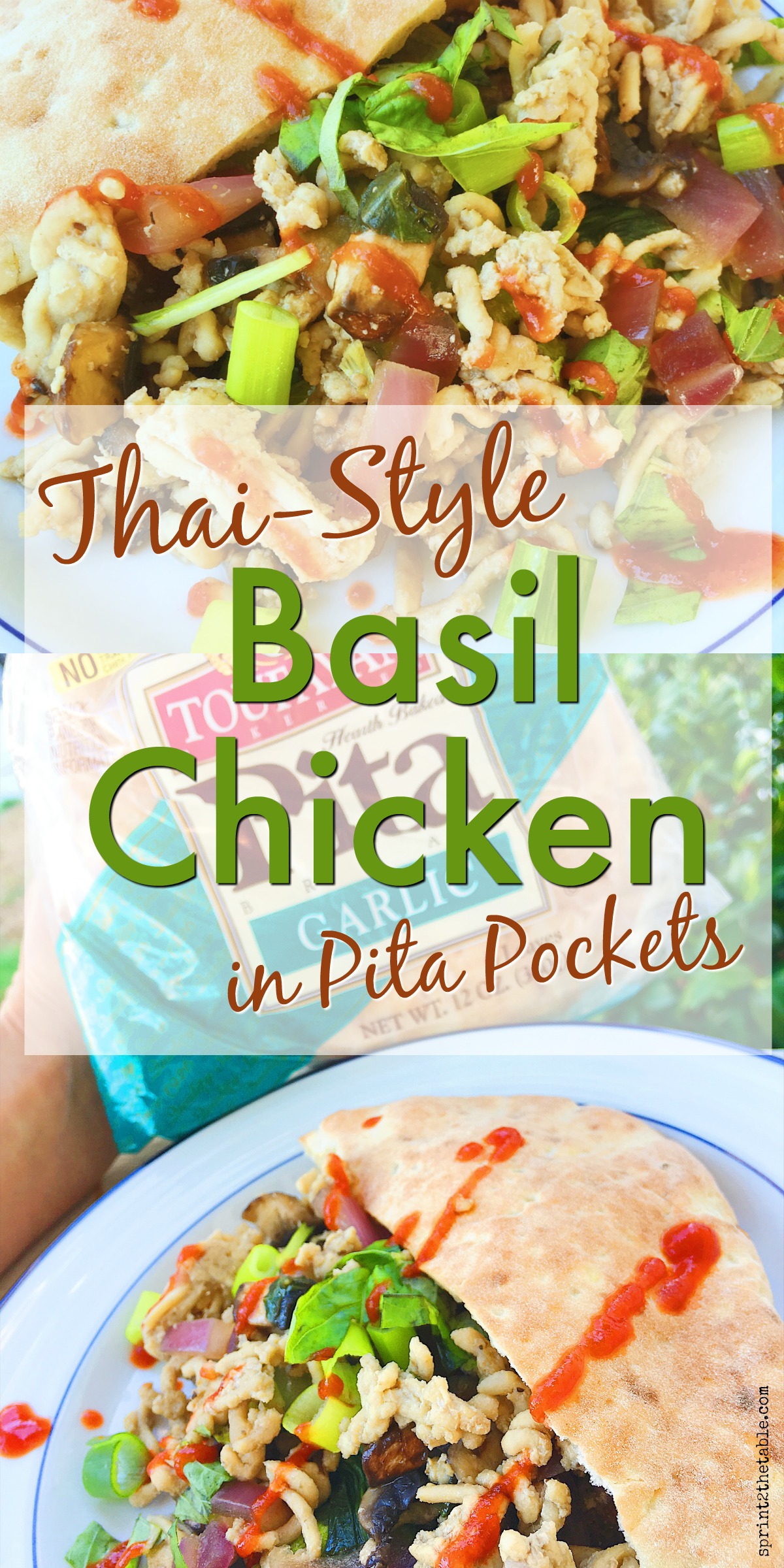 I received free samples of Toufayan Pita mentioned in this post.  By posting this recipe I am entering a recipe contest sponsored by Toufayan Bakeries and am eligible to win prizes associated with the contest.  I was not compensated for my time.
I'm a fan of all sorts of cuisine – Italian, Indian, Greek, Thai.  Doesn't matter.  I love it all.  One common thread is basil.  It's my favorite herb; if there's a dish on the menu that features it, I'm on it.
Basil is what inspired this Thai-Style Basil Chicken recipe.  I'd purchased a bunch to make Lindsay's Drunken Noodle Casserole (which was awesome) and had leftovers to use up.  The sauce mixture she used in that recipe is what inspired the one here.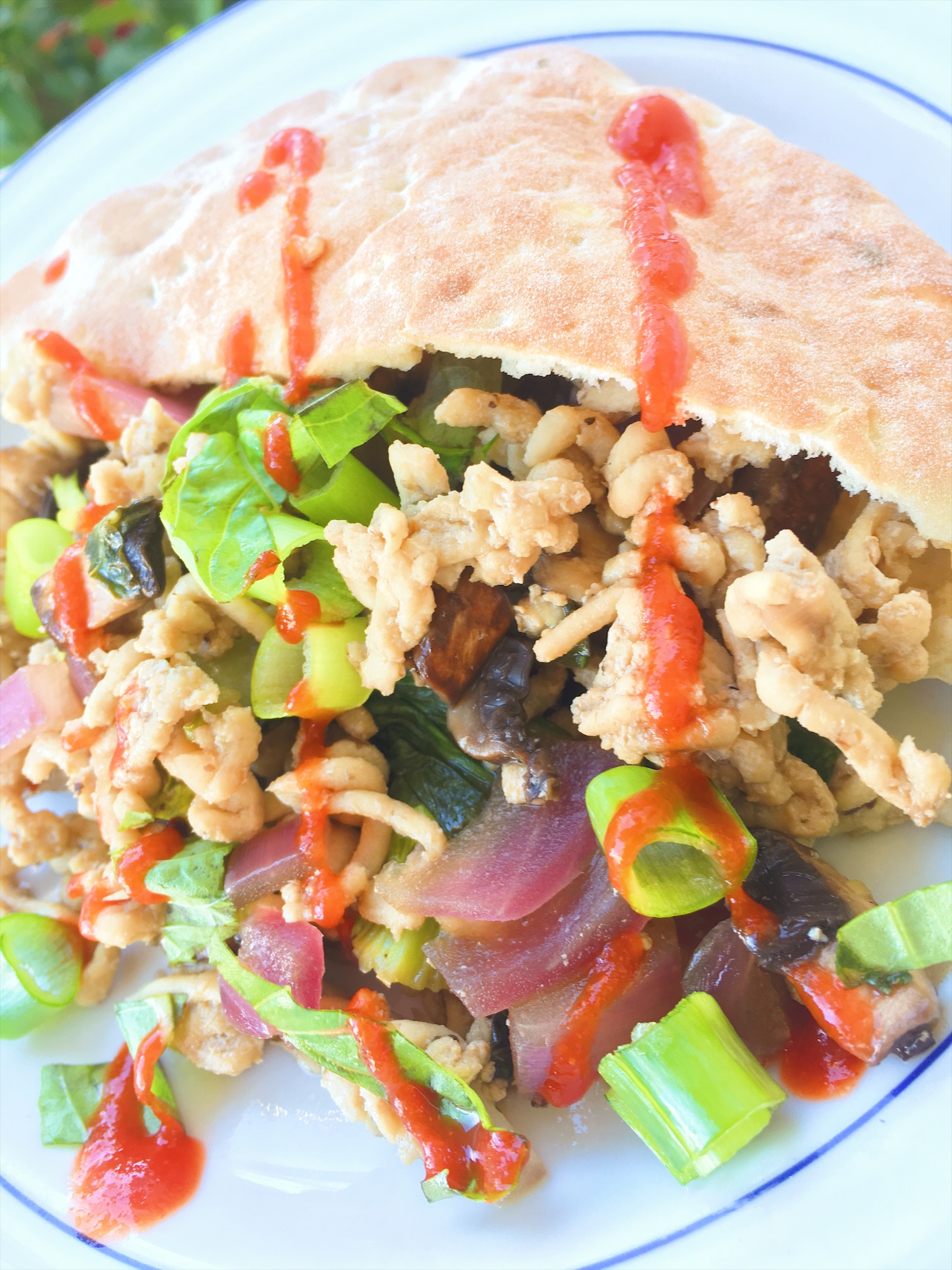 Here's where I strayed from Thai-style: I put it in a pita.
When I saw that there was a garlic flavored pita in my delivery from Toufayan Bakeries, I knew I had to use it in this Asian-inspired dish.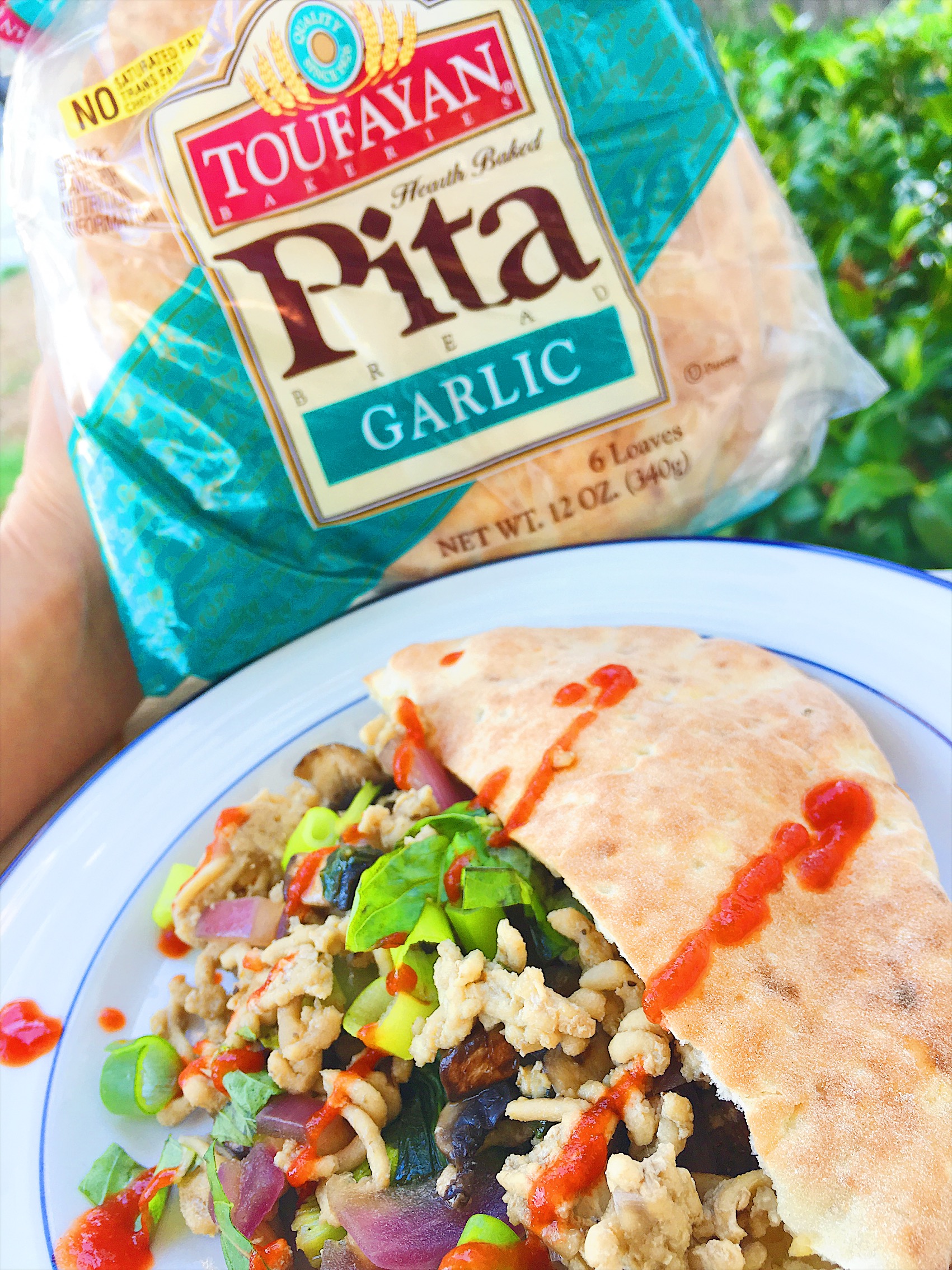 FYI: Garlic pita bread is amazing with Asian flavors.  Vegas and I downed these without speaking, then both went back for seconds.
They also sent oat bran, sweet onion, organic sprouted whole wheat, multi grain, low-carb, and others.  We can't try them fast enough!
Toufayan Bakeries has more than 100 products available across the nation (check availability here).  I just learned that it is the largest Pita company in the U.S.!  That's especially cool since they're still a family-owned bakery.
What's even better is that they use old-world recipes with only top quality, wholesome ingredients.  Toufayan Pita is naturally cholesterol free and trans fat free.  The perfect addition to a healthy meal.
Check out Toufayan's website and learn more on their Facebook page, or Instagram!
---
Thai-Style Basil Chicken in Pita Pockets
4SERVINGS
adjust servings
This crave-worthy Thai-Style Basil Chicken is made with lean ground meat, basil leaves, and veggies. It's a quick, heathy dinner that's full of flavor!
Ingredients
1

T sesame oil

4

cloves garlic, minced

1/2

red onion, finely chopped (~1/2 C)

1

fresh jalapeño cut, diced

2

portobello mushrooms, diced

3

heads bok choy, chopped

1

lb lean ground chicken

1

T sriracha

1

T fish sauce

1

T coconut vinegar (or rice vinegar)

1

tsp brown sugar

1/2

tsp white pepper

1

bunch Thai basil leaves, stems removed (can also use regular basil)

2

pita pockets, cut in half
Instructions
Heat a large pan over medium heat. Add the oil, follow by garlic, onion, jalapeño, mushrooms, and thick lower parts of the bok choy. Stir fry until softened and just starting to brown at the edges, ~3-4 mins. Add the leafy tops of the bok choy and cook until just softening, ~1 min more.
Remove from heat and scoop veggies into a bowl. Set aside.
Return the pan to the heat, drizzle lightly with oil, then add the ground chicken. Use the spatula to quickly stir-fry and break the ground chicken meat into small lumps.
Meanwhile, whisk together soy sauce, sriracha, fish sauce, aminos, sugar and pepper in a small bowl.
When the chicken to brown changes color, place the veggies back in the pan and stir to combine. Next, pour the soy sauce mixture over the chicken and veggies. Stir to combine. Add the basil leaves and mix again. Allows to cook just a minute longer to wilt the basil leaves.
Divide among warm pitas and enjoy!
Note: You can also serve these over rice, or as lettuce wraps.

***
I don't know what it is, but I've been hard core craving Asian food lately.
What's your favorite Thai dish?
How do you stuff pitas?