I am a kabocha nut.
Not a bad thing – it's good – but time to branch out.
Admittedly, I got in a rut with it.  I have been preparing it the same way for weeks.  Tossed in this Mexican chocolate spice blend and roasted before being doused with a sweet peanut sauce, it has been my favorite "dessert."
Possibly strange to "normal" people.  Definitely good.  But no longer unique.  When Heather chose it was the "K" ingredient for the MMAZ link up, I knew I needed to step up my game.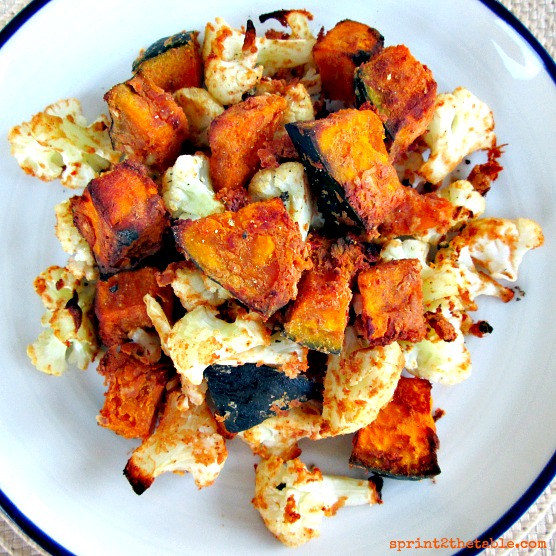 Today I bring you a strange non-dessert kabocha creation.  Not to worry – it's still good.
Peanut flour again makes an appearance (I guess I didn't branch that far out…) but this time it's as a savory Asian-inspired dish.  If you don't have peanut flour, you can certainly use peanut butter!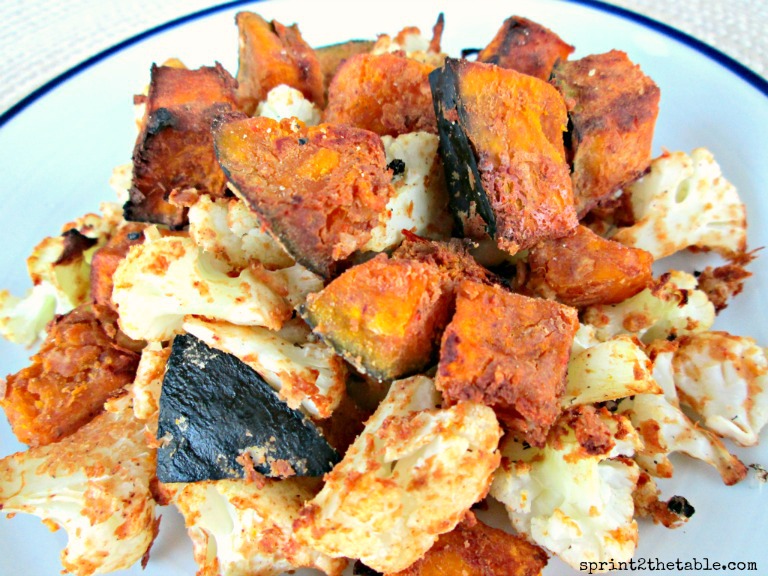 Sriracha is my favorite way to add heat, and you could use it here.  I avoid the sodium this close to a competition, so I added my own sriracha-esque ingredients to the peanut flour.  Red pepper flakes and rice vinegar, plus garlic and a dash of cinnamon.  Trust me on the cinnamon.
After a quick toss, I roasted my pea-nutty kabocha until it was nearly burnt nicely crisped.   If you want to make it more strange, add in some cauliflower.  It's another dessert of the vegetable world – it tastes good in pancakes or spiced up.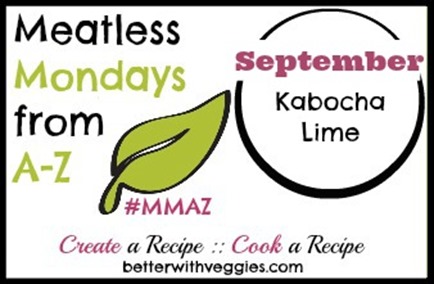 Don't forget to head over to Heather's blog on Monday for everyone else's kabocha creations!
---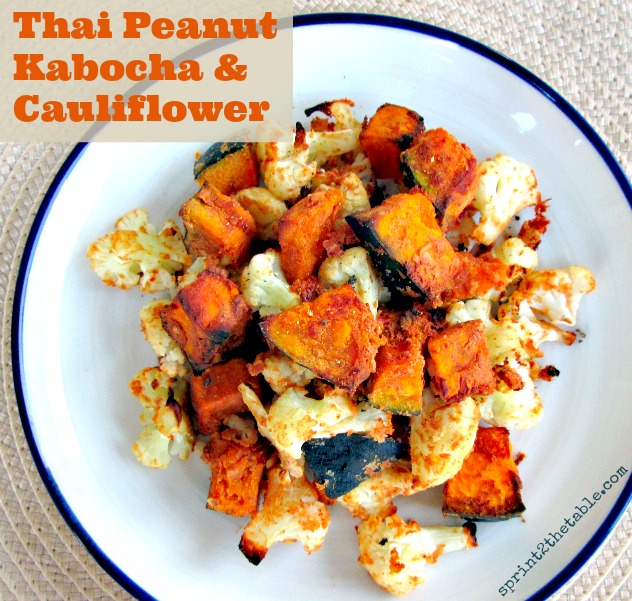 Thai Peanut Kabocha & Cauliflower
2 T peanut flour* (or peanut butter)
2 T unsweetened almond milk (or other liquid)
1 T rice vinegar
2-3 cloves of garlic, pressed
Red pepper flakes, to taste
Pinch of cinnamon
1 C kabocha squash, cubed
1 C cauliflower florets 
Preheat oven to 400 degrees.  Line a baking sheet with foil.
In a small bowl, mix together first 5 ingredients.
Place cubed kabocha and cauliflower on baking sheet.  Pour peanut mixture over the veggies and toss to coat.
Place in oven and bake for 20-30 min, stirring once half way through.
Makes 2 servings.
*I order my peanut flour from iHerb. Use discount code USO924 for $5-10 off your order!
---
How have you enjoyed making co-workers, friends, or family stare with strange but good creations this week? The link up rules can be found here or by clicking on "Strange But Good" in the menu bar above. In short, I want to see what concoctions have earned you weird looks from co-workers, family and friends! Post your Strange But Good creations, grab the logo below for your blog, and link up here.
Remember to use #strangebutgood in any Tweets and Instagrams of your creations. 🙂
***
This week has been insanely busy with work and travel.  I'm so sorry I'm behind on replying to comments and emails.  I promise to catch up this weekend!
What's your favorite squash?  Have you tried kabocha yet?
Do you ever eat your veggies sweet?