Don't fight the festive.
My former Grinch-self is kicking me in the shins.
As advertised, Vegas and I got a tree.  Vegas did the lights (after a debate over whether wrapping or running lights up and down is better).  We hung ornaments.  There was Christmas music and champagne.
This, after being opposed to Christmas decor of years.  My former self thought it was a waste of time and money, not to mention messy.
My new smiley-self loved every minute of it.
(And that's not just the wine talking.)
---
This WIAW I revisited some old favorites… and created a new #strangebutgood dinner!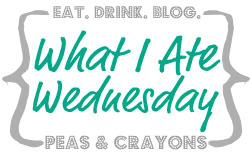 Read on for my eats, and then check out Jenn's blog for everyone else's delicious creations!
---
Breakfast:
After my morning cocktail, I ate my morning sludge.  As usual.
Breakfast was made in a rush while I was getting ready.  Turkey omelette with strawberries.  It was lovely… eaten the car.  Out of tupperware. #notamorningperson
Mid-Morning Snack:
Arugula salad with carrots and fresh lemon juice with a lazy version of an old favorite – Chili Nutty Baked Tofu.  The lazy version doesn't get pressed or marinated, and the sauce is just peanut flour, sriracha, and a little almond milk.  Sooooo… totally different, but baked the same way.  Like an easy Thai Peanut Tofu!
I also had one of my Apple Carrot Protein Muffins for dessert.  They freeze really well.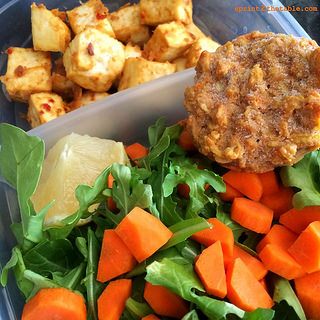 Lunch:
Canned salmon (desperation move after a lunch got cancelled) mixed with lemon and nutritional yeast.  The awesome part was the veggies I tossed on top.  I used Kristina's recipe for Bourbon Roasted Brussels and Winter Squash.  My only changes were to add pecans and use kabocha squash.  You 100% should make this too.
Mid-Afternoon Snack(s):
I'm loving a pre-workout bar lately.  Particularly these Quest S'mores bars.  I cannot get enough – baked or just plain!
Dinner:
This was one strange but GOOD creation.  Most of the time when I panic-cook after a workout it is something involving protein powder and a blender.  Tonight I was carving scallops.  I sautéed my Sizzlefish* scallops in a little coconut oil while I made the strange part.  I needed a sauce and I needed to use the last of my Apricot Riesling Greek yogurt cream cheese… so I mixed it with some aged balsamic and a little cinnamon.
Plated on a corn tortilla (which I had no illusions of trying to fold into a taco) with arugula and tasty local #yolkporn.  Side of roasted kabocha topped with peanut flour sauce.**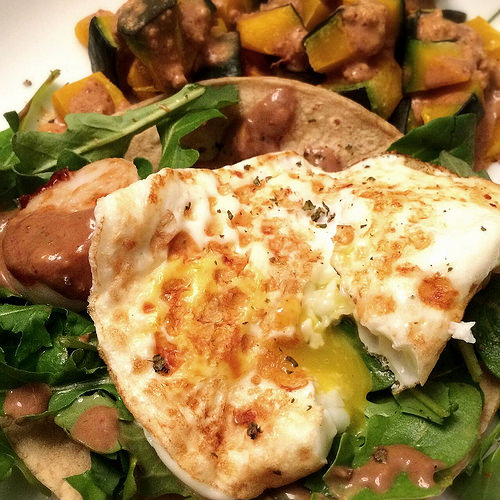 *Sizzlefish is offering 15% off their Holiday Sampler pack with the code HOLIDAY.  It sounds odd, but this is makes an awesome Christmas gift!  I just ordered some for Vegas.
**I order my peanut flour from iHerb.  I like it because it doesn't have the added sodium and sugar that other brands (ahem PB2) have.  Use discount code USO924 for $5-10 off your order!
Dessert:
I do love a midnight snack. This was an especially good treat… it tasted like chocolate cake batter!  Greek yogurt mixed with coconut flour, gelatin, carob powder, almond milk, vanilla, and NuNaturals cocoa syrup. Topped with Boom Chicka Pop kettle corn, Cool Whip, and sprinkles.
***
I'm humming Christmas carols.  WTF?!
Are you a holiday decoration enthusiast?
Do you midnight snack? I must have sweetness before bed. #TWSS