Deciding on food is hard.
There are so many tasty options!
I saw 2 recipes I wanted to try (well, 3 really)… so I just made them all into 1 for an over-achieving Meatless Monday recipe!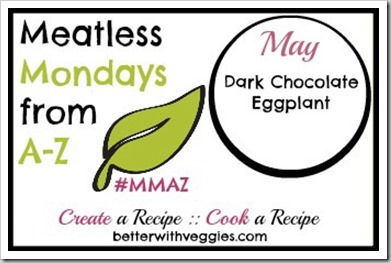 This week we are supposed to choose a recipe someone else linked up using last week's secret ingredient, dark chocolate.  Hopefully Heather will forgive me for bending the rules a little.  Especially since the first recipe I was inspired by was her own Tempeh Protein Muffins!
Inspiration recipe #2 was from the link up – Sarah's Cinnamon Cocoa Mole with TVP Chorizo.  She used her mole as a sauce for her chorizo… but I decided to mix it all in one, and use tempeh.  And make muffins.  Don't you love the creative process?!
I'd made Seiten Chorizo in the past, so here I used that recipe and Sarah's to inform my mix of spices.  If you try this recipe, feel free to play around and change it up to suit your palate.  My combo was a smokey, savory mole with a fun swirl of sweetness throughout thanks to the sweet potato.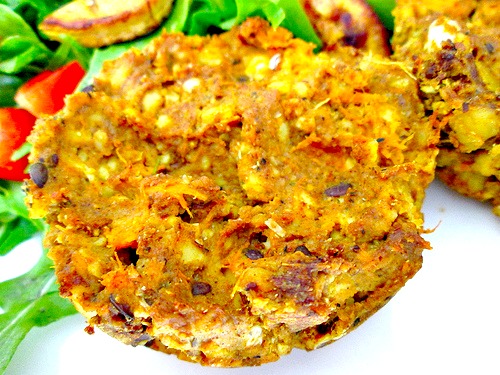 I ate my mole muffins with a Mexican-inspired salad.  Local arugula with red bell pepper, raw zucchini, and a drizzle of lime juice.
Lastly, I chopped up a few plantain slices I broiled with coconut oil, cayenne, and cinnamon.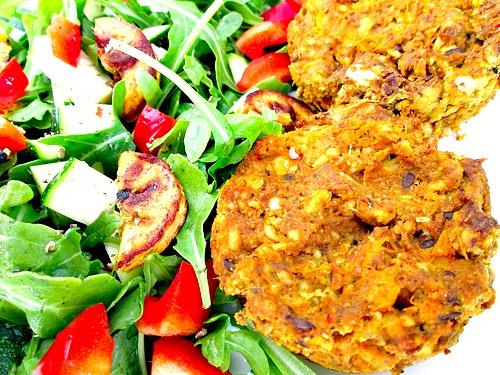 Don't forget to check out Heather's link up to see what everyone else made this week.  I wonder if anyone braved my Chocolate Avocado Cookies???
I think this ia all pretty marvelous… and I know my Diva girl, Katie would agree, so I'm joining her link up again this week!  Check out all the Monday marvelousness: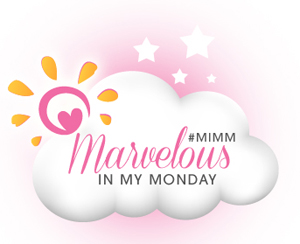 Katie… we missed you this weekend at Blend!!!
_______________________________________________________________________________________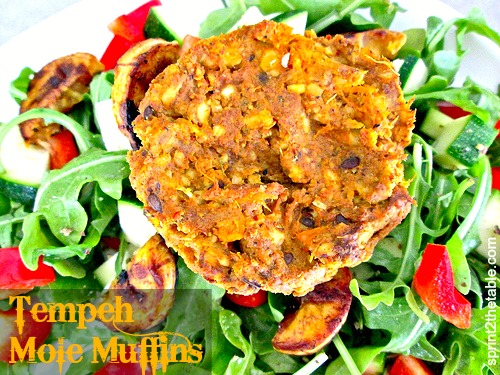 Tempeh Mole Muffins
8 ounces tempeh
1/4 C egg whites (or 1 flax egg)
Juice from 1/2 lime
1 T nutritional yeast
2 cloves garlic, minced
1/2 inch piece fresh ginger, minced
1 tsp oregano
1 tsp smoked paprika
1 tsp ground cumin
1 tsp onion powder
1 tsp ground coriander
1 tsp cocoa powder
1/2 tsp cinnamon
1/2 tsp red pepper flakes (optional)
1/2 tsp turmeric
1/2 tsp ground black pepper
1/2 C mashed sweet potato
Preheat oven to 375 degrees. Coat muffin tin with cooking spray & set aside.
place tempeh, egg, and lime juice in a food processor and pulse (I used my Vitamix). Add all remaining ingredients and pulse until mixed.  Manually stir in sweet potato, leaving chunks throughout mixture.
Divide batter evenly between 6 muffin containers.  Bake for 15 minutes, or until browned and set. Remove from oven and allow to cool.
Using a knife, loosen the muffin edges from the pan and transfer to wire rack or plate.
Approximate nutritionals (per muffin): 108 calories, 3.4g fat, 29.7g sodium, 11g carbohydrates, 4.8g fiber, 1g sugar, 8.7g protein
***
I'm still smiling from the marvelous Blend Retreat this weekend!  I can't wait to recap it all for you!!! 🙂
Have you ever made your own mole?  Chorizo?
Do you make an effort to go meatless on Mondays?