Long weekends should end appropriately.
It should be a relaxing evening with crisp wine on a patio, a flavorful dinner, and a light dessert.  And that's exactly how I spent the last few hours of this long weekend.
Dinner was a lazy version of a recipe I've been eyeing by Richa @ Hobby and More.  Hers is a Tempeh and Kale Tikka Masala.  Mine is so bastardized that I didn't feel right calling it a Tikka Masala, but it quite delicious!  The tempeh I used was pre-flavored, cutting back on half the prep, and I used spinach instead of kale (I'm having a love affair with spinach).
The heat in the spices was right on.  Enough to get your attention and wake the palate, but not so much that your eyes water.  If you wanted to tone it down even more you could add additional  yogurt or milk, but I like my sauces with a kick.
Curries are traditionally served over rice, but I wasn't feeling anything that heavy in the summer evening.  Instead I made a parsnip rice (like this one).  It was just the thing; the parsnip added a sweetness that balanced the intense Indian flavors.  My dinner guest had never heard of parsnip rice, but she said she really enjoyed it!
For dessert I modified Angela @ Oh she Glows' recipe for a Cardamom Almond Pear Crisp.  Rather than pears, I used strawberries and blueberries in one and apples with blueberries in the other (my dinner guest loves baked apples).
The fruit was fantastic, but my favorite part was the crumble topping.  The oats turn doughy after being baked – it's almost like eating batter.  My version of Angela's dish is sugar-free (aside from the fruit)… and you would have NEVER been able to tell.
The crumble was served alongside a sugar-free vegan ice cream a la Chocolate Covered Katie's Cake Batter.  I followed her recipe exactly, except I left out the sprinkles, added 1 T Frangelico, and 1/8 tsp Guar Gum (helps achieve the creamy texture).  I'm sure sprinkles are good… but the hazelnut liqueur rocked my world.
The lighting was poor for picture-taking, but the food was good.  That's all that matters, right?
________________________________________________________________________________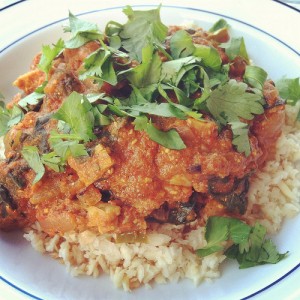 Tempeh Spinach Curry
Coconut Curry Tempeh (I used this one from Turtle Island Foods)
1 tsp olive oil
1/2 medium white onion, diced
1/2 tsp garam masala
1/4 tsp paprika
1 tsp coriander powder
1 tsp dried fenugreek
1/4 tsp turmeric powder
1/4 tsp cinnamon
2 C spinach
1/4 C vegetable broth
3 medium tomatoes
1/2 red pepper
1 inch piece fresh ginger
7 cloves of garlic
1 red chili
3-4 drops liquid stevia
2 T plain Greek yogurt (or non-dairy yogurt)
Cilantro
Toast tempeh in a pan until it becomes golden. Remove from heat and set aside.
In a medium pot, add the oil and warm over medium heat.  Add the onion and cook for 7-8 minutes, stirring occasionally till it becomes translucent.  Add the dry spices and mix well.  Add spinach, mix and cook for another minute.
In a blender or food processor, blend the tomatoes, red pepper, ginger, garlic, and chili until smooth.
Add the tomato mix to the pot and let simmer over low heat 15 mins, stirring occasionally.  This mixture should thicken to a marinara-like consistency.

Add the tempeh, greek yogurt, and stevia.  Mix well.  Taste and adjust spices as needed.  Remove from heat.
Serve over parsnip rice (or plain rice), and top with fresh cilantro or parsley.
Makes 2 servings.
________________________________________________________________________________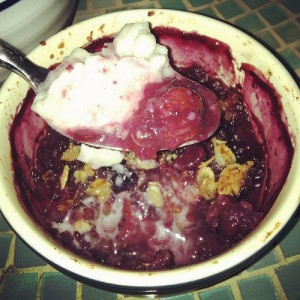 Sugar-Free Vegan Berry Crumble
2 C fruit (I used 1C apples and blueberries in one, 1 C strawberries and blueberries in the other)
1 T xylitol (or other suagr-substitute)
1 tsp cornstarch
1/8 tsp ground cardamom 
1/8 tsp cinnamon
1 vanilla bean, scraped (or 1/2 tsp vanilla extract)
1 tsp coconut oil, melted
3 T almond flour
2 T rolled oats
1 T xylitol
1 tsp sugar-free syrup
1/2 tsp maple extract
Shake of salt
Preheat oven 400 degrees.   Grease two (8-oz) ramekins with butter (Earth Balance).
In a medium bowl, mix the fruit, xylitol, cornstarch, cardamom, cinnamon, and vanilla.
In a small bowl, combine the remaining ingredients to make the crumble.
Add 1/2 of the topping mixture to fruit mixture and mix.  Scoop the fruit mixture into ramekins.  Top each with remaining crumble mix.
Cover ramekins with foil, poked with 2-3 holes.  Bake for 22-25 minutes.  Remove foil, turn oven to broil and allow tops to brown for ~ 1 min (watch closely – they can burn fast!).
Allow to cool before diving in.
Serves 2.
***
I really with there had been leftovers.  At least the crumble can easily be made for 1!
What was the best thing you ate over the long weekend?
Have you tried any new blogger recipes lately?  Share the good ones, please! 🙂