Cooler weather is a trigger.
For my sweet tooth.  Sure, it exists year-round, but something about the fall and winter seasons makes me yearn for decadent baked goods.
Is it just that sweets are more prevalent?  Spring and summer offer delicious naturally sweet fruits, maybe it 's the pies and candies that come with certain winter holidays that are to blame.  We can always blame advertisers: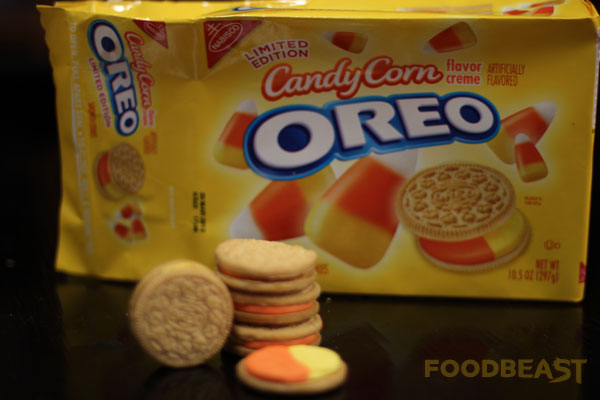 Some of you may have seem my tweet about Candy Corn Oreos last week.  Is this really necessary?  *I must admit I'm biased, as I don't even like candy corn.
Whatever the case may be, I have found a few ways to keep my sweet tooth at bay.  Even when I have a kitchen full of Maple-Bacon Pancake Cookies. 
---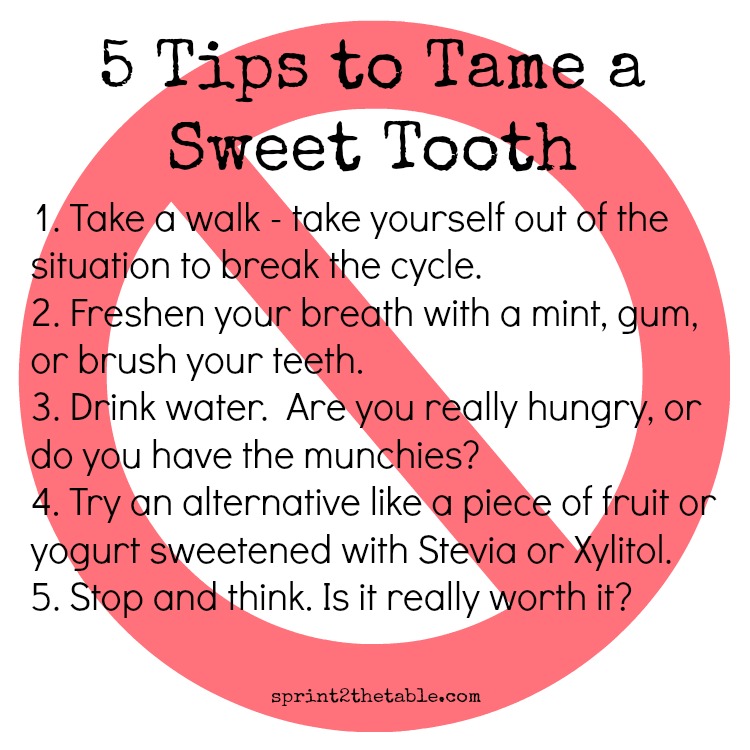 Walk it out.  When I was baking all those treats I found myself unable to stop "taste testing," so I took a 10 min walk.  Unbelievably, it worked!
Freshen your breath.  Get the taste out of your mouth – have a mint, gum, or just go brush your teeth.  You won't want to mar the minty freshness with more food.
Drink water.  Are you really hungry, or just have the munchies?  Chug a glass of water and see!  The body can't distinguish between thirst and hunger, and ad after a 16 oz glass of water, you'll probably feel too full to eat that break room cookie.
Try an alternative.  If you really are hungry and your body wants something sweet, try a piece of fruit or a "treat" sweetened with a natural sugar-alternative like Stevia or Xylitol.  I like to keep my Granola Cookies (ahem… only 74 cals and 3g sugar) or Chocolate Zucchini Muffins (100 cals and 2g sugar) on hand in the freezer for a dessert-emergency.
Stop and think.  The first bite of that treat is going to taste the exact same as the last bite.  So… do you really need more than one bite?
---
Another way to keep the fall dessert binges away is to checkout the collections of posts for this fall's  What I Ate Wednesday theme: "Fall Into Good Habits."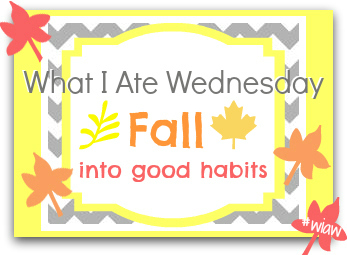 Check out may healthy fall eats below, and then click here to head over to Jenn @ Peas and Crayons to get ideas from others' healthy fall choices!
---
Meal 1:
My usual, morning Apple Cider Vinegar, Glutamine and BCAA cocktail was a little different this morning.  At Jenn's urging, I tried it mixed with kombucha in place of some of the water.  I used my ginger-cinnamon homebrew and it was fantastic!  Jenn also just posted a great testimonial about how great this is for your skin.  It is a great energy boost too – it's replaced coffee in my life. 
In keeping with the fall theme, I went pumpkin for breakfast.  Meg made a fabulous pumpkin Fall Scramble inspired by my PB & Jeggs.  I've had it pinned to try for weeks and today it finally happened.  Why did I wait so long?! 
I reduced the amount of pumpkin to 1/4 C (personal preference), and added a few extra spices because I just can't help myself.  In addition to cinnamon, I added pinches of fresh nutmeg and allspice, plus a little vanilla extract.
It was like eating pie for breakfast.  I kid you not.
Meal 2:
Plums have never been my favorite fruit.  I like them, but they weren't a craving.  Lately I can't get enough!  Today's Mid-morning snack was cottage cheese mixed directly in the almost-empty container with a little protein powder, cinnamon, fresh plum, and a scoop of Sunbutter.
Meal 3:
Scallops are a great seafood protein source, but I'd never attempted to make my own.  Inspired by Heather, I finally took the plunge.  My first batch was a little overcooked.  This second try was MUCH better.  I used this recipe from Rufus for Orange-Lime Scallops (sans sauce), and added some cilantro, shallot, and jalapeno to the marinade. 
Served a top a tortilla with arugula, nutritional yeast sauce (nooch + water + cayenne + cumin), and cauliflower.  And 1/3 piece of left over bacon.
The plate? It was a koala. These plates = greatest breakroom find ever. 
Meal 4:
Yes, I'm in a grilled tilapia rut.  However, I did change-up the marinade a little.  This one is basil, peach schnapps, jalapeno, and cardamom.  It was delish with a side of carrot sticks as my mid-afternoon snack.
Meal 5:
Did you guys check out Instagram last night?  The cauliflower crust pizza made another appearance.  Topped with Uncle Dude's Ridiculous Marinara, tempeh, arugula, asparagus, red pepper, shallot, a teensy bit of avocado, nutritional yeast, and a drizzle of balsamic.
This beast was ~350 calories and packed 25 of protein! 
Meal 6:
I was feeling something custard-like for Meal 6.  Since this meal is a veggie and a protein, my ice cream had to be creative!  Pink is creative, no?
Beet Frozen Custard.  Sounds weird… tastes good.  This is a theme in my life.
I added 1/2 a scoop of casein for the protein (and the recovery – my poor legs are SORE), and amped up the flavor with my favorite spices: fresh ginger and cinnamon.  A little Stevia and I had a delicious pink bowl of creamy frozen "custard."
Recipe at bottom.
Meal 7:
Bringing back an old favorite with a new twist.  I tool my Banana Creme Brownie Parfait, but made it a cherry-flavored treat.  Cherries are supposed to help with soreness and recovery (reducing inflammation and oxidative stress), which I am in desperate need of after Monday's leg day.  They also are high in melatonin, a hormone that regulates the body's sleep cycles.
I replaced the banana flavored yogurt cream with cinnamon (also good for pain-relief), and topped it with melted cherries (frozen black cherries microwaved until juicy and tender).  The perfect end to a looooong day.
---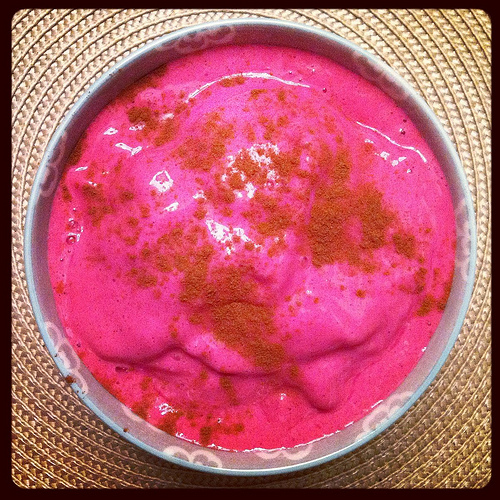 Beet Protein Frozen Custard
1/3 C beet, roasted
1/2 scoop vanilla casein (or other protein powder)
3 oz tofu
1/2 tsp vanilla
1/2 tsp cinnamon
1/2 inch piece fresh ginger
7-8 drops liquid stevia (adjust to desired sweetness)
1/4 unsweetened almond milk (or liquid of choice)
Ice, to taste 
Place all ingredients in Vitamix or high-powdered blender and blend until smooth.
Serve immediately, or store in freezer until snack time.
Serves 1.
***
Protein count for the day: 186.2g from fall clean eats!
How do you break an unclean-eating bender?
Candy corn – love it or hate it?