Leave the gun.
Please, oh please, someone get this reference.  Otherwise I'm wayyy too old.
Take the cannoli.  Especially if it has peanut butter.
Cheese and peanut butter may sound strange to you, but it makes for one deliciously creamy dip.  Not to mention the protein factor.  Add a little vanilla and cinnamon, and you have a dessert-like peanut-y condiment that can be added to anything from chocolate microwave protein cake to PrOATein Pancakes to… well, keep reading. 😉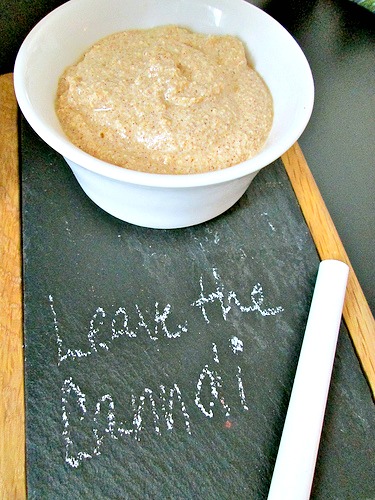 Peanut flour is just de-fatted peanuts.  I order my peanut flour on iHerb.com.  Use my discount code – USO924 – for $5-$10 off your order!  It is different from PB2 in that there is nothing added.  PB2 has added sugar and sodium.  Alternately, you can replace the flour with your favorite nut butter (or sunflower butter if you have a nut allergy).
Just in case you didn't think Peanut Butter Cannoli was weird, I used it to top a sweet potato and poured some warmed blackberries on top.  For breakfast.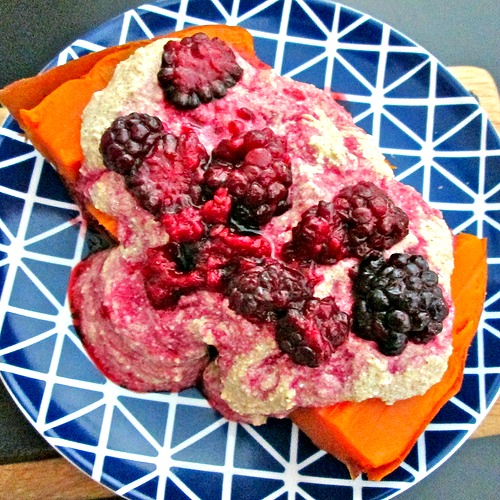 ---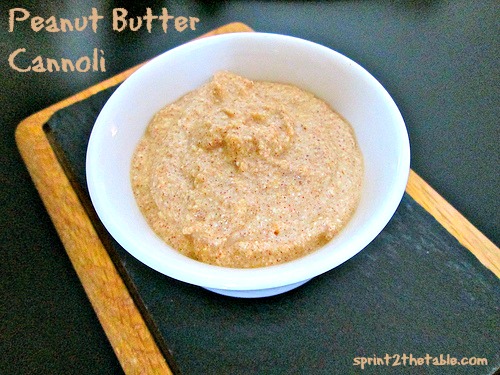 Peanut Butter Cannoli
1/4 C fat-free ricotta

2 T peanut flour (or 1 T nut butter)
1/2 tsp cinnamon
1/4 tsp vanilla extract
5/6 drops liquid stevia
Mix all ingredients together in a bowl.
Enjoy with a spoon or a top a sweet potato, cake, pancakes… anything!
Note: for a vegan option, replace the ricotta with tofu.
---
Who else has enjoyed making co-workers, friend, or family stare with strange but good creations lately?

The link up rules can be found here or by clicking on "Strange But Good" in the menu bar above.
In short, I want to see what concoctions have earned you weird looks from co-workers, family and friends!  Post your Strange But Good creations, grab the logo below for your blog, and link up here.

Remember to use #strangebutgood in any Tweets and Instagrams of your creations. 🙂
***
I'm really sad I'm going to have to start with my asparagus diet again leading up to May's competition.  I'll miss you, fun dips...
Have you ever seen The Godfather?  I have a thing for mob movies.
What's the strangest thing you've eaten lately?