Happy New Year's Eve!!!
I've been waiting to post this… I misplaced my new camera and didn't get pic of the finished product.
Good news: Found camera.
Bad news:  It was washed.  In a ski jacket.  By my mom.
At least we got to play in the whole 1/4 inch of snow…
Soooo… I'm posting this sans final product pics.  But they were pretty!  These would make a great hangover New Years Day breakfast.
---
Christmas morning was very different this year – I was the first one awake!
I bounced out of bed, ready to open presents at 830a.  Then I waited until 11a for the family to wake up.  Talk about anti-climatic.
Things I did to entertain myself for 2.5 hours:
Made/drank coffee
Ate 1/2 an apple
Whittle My Middle workout
Prepared the breakfast roll glaze
Chopped veggies for a frittata
Ate some granola
Unloaded and re-loaded the dishwasher
Productive, right?!
In our family, the big-deal Christmas meals are Christmas Eve dinner and Christmas Day brunch.
Continuing with my theme to trying new things, I decided to make Sweet Berry Breakfast Rolls.  These are adapted from the January 2011 Food & Wine.
We enjoyed them with a veggie frittata and a fantastic rose sparkling wine (which I had a picture of on my new/newly cleaned camera).
Of course, we opened presents first. 🙂
My favorite gift this year was a MacBook Air from Mom Santa.  If anyone can teach me how to use it, that would also be cool.
---
Now for the incomplete rolls.
Ready to roll out after rising.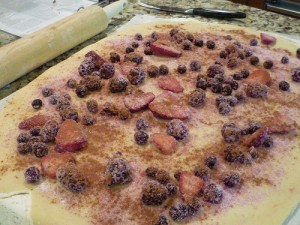 Rolled out, berry-topped, and sugar-cinnamon sprinkled.
Ready for rise #2!  I let them rise for 2 hours and then placed them in the fridge overnight to beaked fresh on Christmas morning.
Sweet Berry Breakfast Rolls
Dough
1 C Milk
2/3 C Sugar
1 1/2 T Active dry yeast
1 Stick Unsalted butter, softened
2 Eggs
1 tsp Finely grated lemon zest
1/2 tsp Fine sea salt
4 1/4 C All-purpose flour (+ more for dusting)
Filling
10-ounce package IQF (Individually Quick Frozen) mixed berries (not thawed)
1/4 C + 2 T Sugar
2 tsp Cinnamon
1 tsp Cornstarch
Glaze
3/4 C Confectioners' sugar
3 T Unsalted butter, melted
1 1/2 T Heavy cream
2 tsp Cinnamon
For the Dough:
In a small saucepan, warm the milk over moderately low heat until it's 95°.  Pour the warm milk into the bowl of a standing electric mixer fitted with the dough hook and stir in the sugar and yeast.  Let stand until the yeast is foamy, ~5 mins.  Add the softened butter, eggs, grated lemon zest and sea salt.  Add the flour and beat at medium speed until a soft dough forms, ~3 mins. Increase the speed to medium-high and beat until the dough is soft and supple, ~10 mins.
Scrape the dough out onto a lightly floured surface and knead it with your hands 2 or 3 times.  Form the dough into a ball and transfer it to a lightly buttered bowl.  Cover the dough with plastic wrap and let stand in a warm place until doubled in bulk, ~2 hours.
Line the bottom of a 9 x 13 in baking pan with parchment paper, allowing the paper to extend up the short sides.  Butter the paper and sides of the pan.  Turn the dough out onto a lightly floured work surface and, using a rolling pin, roll it into a 10 x 24 in rectangle.
For the Filling:
In a medium bowl, toss the frozen berries with the sugar, cornstarch, and cinnamon.  Spread the berry filling evenly over the dough.  Tightly roll up the dough to form a 24-inch-long log.  
Working quickly, cut the log into quarters.  Cut each quarter into 4 slices and arrange them in the baking pan, cut sides up.  Scrape any berries and juice from the work surface into the baking pan between the rolls.  
Cover the rolls and let them rise in a warm place until they are puffy and have filled the baking pan, ~2 hours.
To Bake:
Preheat the oven to 425°.  Bake the rolls for ~20 mins, until they are golden and the berries are bubbling.  Transfer the pan to a rack to cool for 30 mins.
For the Glaze:
In a small bowl, whisk the confectioners' sugar and cinnamon with the butter and heavy cream until the glaze is thick and spreadable.
Invert the rolls onto the rack and peel off the parchment paper.  Invert the rolls onto a platter.  Dollop glaze over each roll and spread with an offset spatula.  Serve warm or at room temperature.
Notes: The recipe can be prepared through the "Filling" step the day before (I did and it turned out perfectly).  Once risen, simply cover the rolls and refrigerate overnight.  Return to room temperature before baking.
You can also use any sort of berries for the filling.  The original called for raspberries.