Wonder Woman is my favorite superhero.
If you know me, this is probably no surprise.
Mind over matter is a very real thing.  I find myself being able to "will" myself to do more than I should be able to both in and out of the gym.  It's kind of fun to push yourself to do the (previously) impossible.  To me, this is Wonder Woman.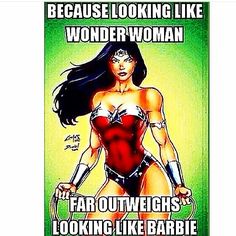 My inner Wonder Woman is especially channeled on leg day.  20 reps with 6 plates on the leg press?  No problem.  Well, yes a problem… but not one I couldn't handle.   My reward was going to the gym the next day and having a guy say (awkwardly) "Your legs have gotten bigger!  I mean… that's a compliment… you know what I mean…"
Only in the weight room could you say that to a woman and get away with it.  HA!
…