Last fall I tried a new type of spaghetti.
Spaghetti squash.  It blew my mind.  Who knew you could make a vegetable act like a pasta?!  The best part is that you can make it in the microwave in under 10 minutes.
If you haven't tried it yet, you should probably do so immediately.  It's that fantastic.  This squash-pasta takes on any flavor – have fun with it!  I've been known to eat it for breakfast…
The air has a nice fall crispness to it, which only makes me crave an Italian classic: spaghetti and meatballs.  (Side note: I didn't have a single meatball in Italy!)  Post-cleanse and post-Forks Over Knives watching, I have decided to limit my intake of meat and other animal products.  So how was I to have meatballs?!
The spaghetti already had a twist… why not go experimental all the way?
And so, Tofu-Lentil "Meat" Balls were born.  I'm not going to lie – these aren't a perfect match for the real deal, but they are good and added some nice bulk to the dish.
I used plenty of red pepper flakes, fresh parsley, and garlic to make it feel more Italian.  The addition of liquid smoke (found at Whole Foods) was awesome.
As if they weren't healthy enough, I baked my balls rather than fried them in oil.  That may have been more a function of my not believing they'd stay together in the pan.
As I alluded to before, the key to good spaghetti squash are the accompanying flavors.  Use your favorite sauce here to make the dish pop!  Don't be afraid to start with a jar and add capers, roasted garlic, basil, red pepper flakes, cheese… or whatever your go-to Italian flavors are!
While we're on the subject of balls…
Did you see that some grocery stores are refusing to carry Ben & Jerry's new brilliant creation: Schweddy Balls???  I guess I get it… but come on… kids aren't even going to "get" the joke.
Say what you will, but those fudgy rum balls are good – Schweddy Balls is B&Js most successful special edition ice cream to date.
---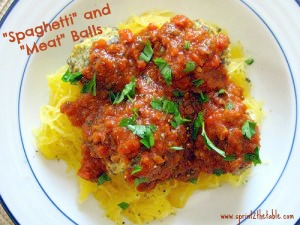 "Spaghetti" and "Meat" Balls
1 spaghetti squash
1/2 block tofu
2 cloves garlic, minced
1 T shallot, minced
2 T parsley, chopped
1/4 tsp red pepper flakes
1/8 tsp liquid smoke
1/3 C lentils (pre-cooked)
S+P, to taste
Preheat oven to 350.
Cut the squash in half (can soften in microwave first).  Remove the seeds.  Place in a glass baking dish, cut side down, in about 1 in of water.  Microwave for 7-8 minutes, or until shell is tender when pierced with a fork.  (You can also do this in the oven at 350 for about 45 mins.  I thought the microwave worked fantastically.)  Remove the flesh with a fork and place in serving bowl.
Meanwhile, crumble tofu into food processor or Magic Bullet.  Add garlic, shallots, parsley, red pepper flakes, and smoke.  Blend until just combined – you don't want to make a paste, just to be able to form a ball.  Add lentils and stir by hand to combine.
Form 1-2 T size balls and place on foil or parchment paper.  Place in oven and bake ~20 mins, until balls begin to brown.
Serve with spaghetti squash and your favorite sauce!
Makes 2 servings.
***
Voting is now open on Facebook for Delta's Biscoff Bake-Off.  Pretty please vote for my Biscoff Cookie Dough Balls by clicking here and "liking" my entry.  You can vote 1x per day!!!
What is the best "cold weather" meal you've made healthier?
What do you think of the Schweddy Balls controversy?  Overkill or being responsible?