Waking up to an alarm was cruel and unusual punishment this morning.
Thank god it's a short week because after so much time off (or at least out of the office), getting back to normalcy hurt a little.  Like a good back-on-track human, I only hit snooze 3 times before getting up and hitting the gym for a quick Body Rock workout and a 1 mile run.
1 mile everyday is January is my goal.  It's about the longest I can stay on the dreadmill and I refuse to run outside when it's 22 degrees outside.  When I saw the January Mile-a-Day challenge on The Sweaty Betties, I knew it was the perfect fit for me.
This is my way of *hopefully* maintaining some semblance of running shape while on my running "break."
_____________________________________________________________________________________
Another benefit of a short week is that it feels like What I Ate Wednesday came faster!  Happy 50th, Jenn!!!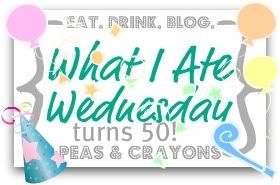 I'm in full-on snack mode.  I want to eat veggies and protein, and I want to eat them often.
Breakfast:
Post-workout breakfasts are usually cold, but this morning was a mini workout… and it was only 22 degrees outside.  A warm Pumpkin Zucchini Muffin topped with melty peanut butter and a side of hot green tea hit the spot.
Lunch:
"Meat" loaf leftovers!  This vegan loaf was even more awesome on day 2.  The flavors came together even more and provided a delicious, warming work lunch.
In case you missed it, check out the recipe for my (vegan!) Asian-Inspired Sweet Potato Lentil Loaf here.  I can't tell you enough to try it – I can't believe it took me so long to make one!
Today I ate it with raw zucchini sticks (if you on't already eat it raw you have to try it) and red pepper hummus.
Dinner:
Since I'm obsessed with my new discovery – miso – I made a miso soup!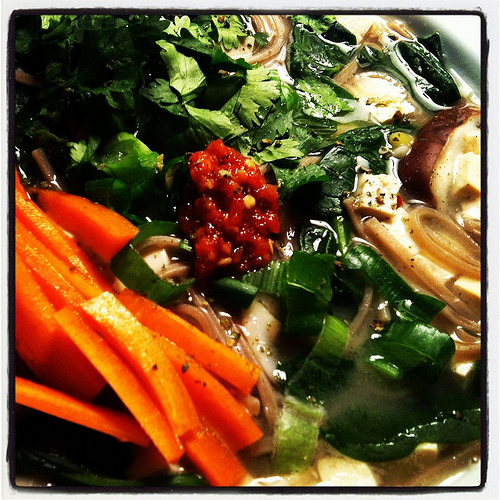 This was an amazing, hearty noodle-filled soup with plenty of green and just enough spice to make my nose run.
Recipe to come tomorrow!
Snacks:
Most people are probably the opposite, but I snack MORE when I'm a work.  It is my equivalent of a smoke break. 🙂
***
I was feeling under the weather… but I SWEAR the miso cured me.
Are you doing any January challenge?  Want to run with me? 🙂
Do you snack more at work or at home?  The same?