This cheesy Pancetta and Caramelized Onion Quiche is perfect for Mother's Day brunch or a simple brinner.  You'll be amazed at how quickly it comes together!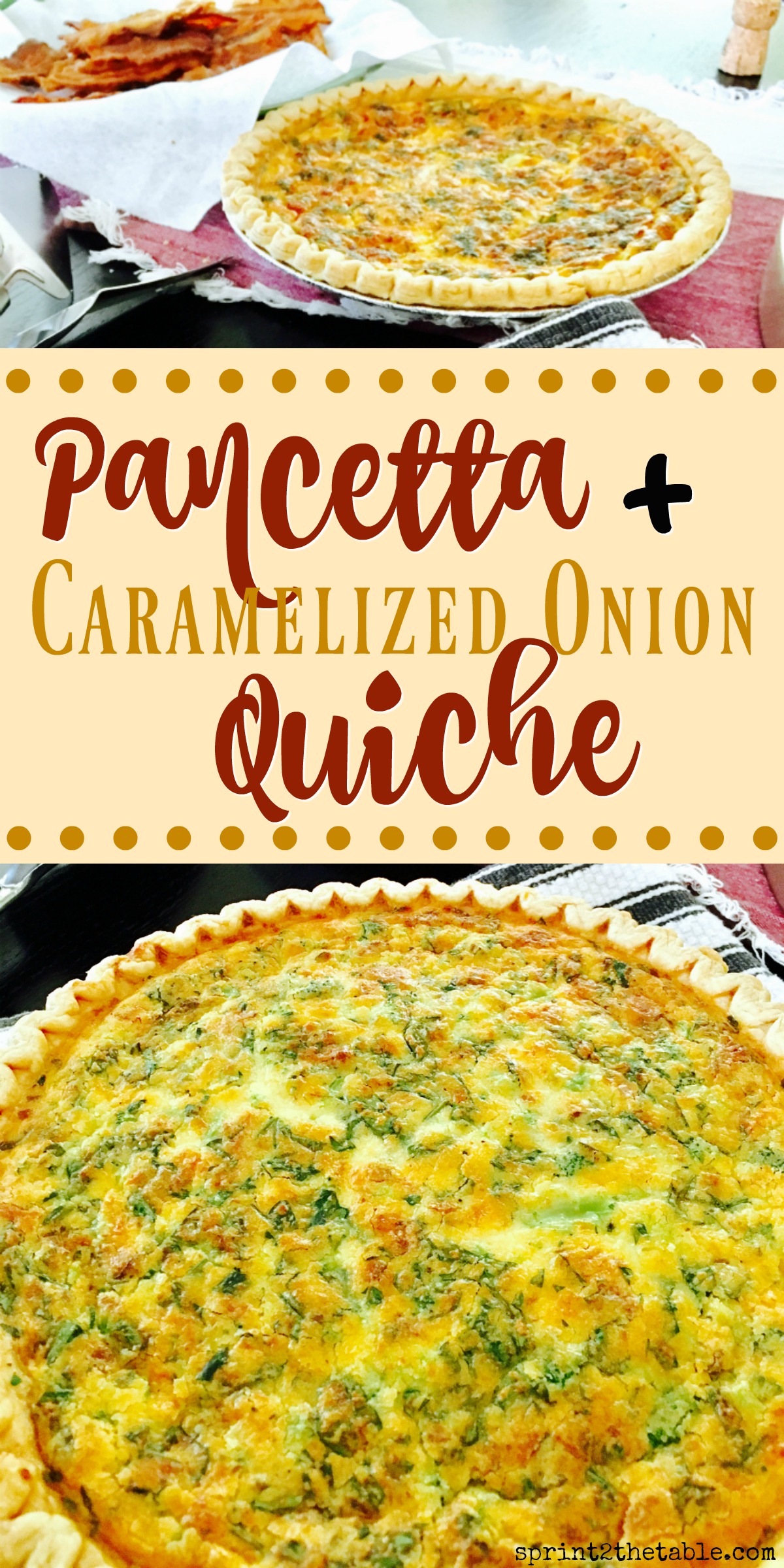 In a perfect world, breakfast would be eaten all day long.  Which is why I love quiche – it seems perfectly acceptable to serve in the morning, afternoon, or evening.  Not that I care about what's acceptable… sorry mom.
Quiche is one of those dishes that you can throw together with whatever you have on hand.  Who doesn't love a meal that comes together without having to try too hard?  I even keep a crust on my freezer for just such an occasion.
That's right.  I said freezer crust.  One of the reasons this meal is so fabulous is that it's fast… which means I'm not about to make a homemade crust.  There are so  many options out there, I just can't justify spending the time to make it from scratch unless is a really, really special occasion.
Take this quiche base and make it your own.  It can be made vegetarian with mushrooms, greens, bell peppers, etc.  Use bacon instead of pancetta, or cooked chicken or other meat.  Change up the herbs as well – I'm forever looking for a way to use up herbs from other recipes.  Endless options, making it the perfect way to celebrate Earth Day this weekend (April 22) and join in this month's Recipe ReDux challenge to reduce food waste.  Whatever you would normally toss at the end of the week, reduce your food waste and use it in a quiche!
I served the version below at Easter brunch… and then I whipped up a second one STAT when I realized we had 3 additional guests.  A true testament to the ease of this recipe.  Special thanks to the prepared crust people for packaging them in twos.  The second quiche was broccoli, bacon, and gruyere, FYI.
---
Pancetta and Caramelized Onion Quiche
6-8SERVINGS
adjust servings
This cheesy Pancetta and Caramelized Onion Quiche is perfect for brunch or brinner. You'll be amazed at how quickly it comes together!
Ingredients
1

medium yellow onion, thinly sliced

2

tsp salted butter

Pinch of brown sugar

5

eggs

1

C 2% milk

1/2

C heavy cream

1

C diced pancetta

1/2

C shredded mozzarella

2

T chopped parsley

Pinch of cayenne

Salt and pepper, to taste

1

prepared crust
Instructions
Place the butter in a medium pan with butter, or a mixture of olive oil and butter. Heat the pan on medium high heat until butter is shimmering. Add the onion slices and stir to coat the onions with the butter. Spread onions out evenly over the pan and let cook, stirring occasionally. Check the onions every 5 to 10 minutes; they should be done in 20-25 mins. Remove from heat and allow to cool.
Preheat oven to 350 degrees.
Whisk the eggs, milk and cream in a large. Stir in remaining ingredients.
Slowly pour the egg mixture into the prepared crust until it is almost full. You may have egg mixture left over if you have a shallow pan.
Bake for 35-40 minutes. Remove from the oven when quiche is just about set. Let cool before cutting and serving.

***
Mother's Day is just 3 weeks away!  This spring is flying by already.
Do you make your own crust?
What is your favorite quiche flavor combo?