PB&J isn't just for kids.
Confession: I ate that or a bologna sandwich for lunch every single day from K-5th grade.
To this day PB&J is one of my favorite sandwiches.  One might even say It's my jam.  I pass on bologna though.
My mom used to make grilled PB&J.  She buttered the bread, and the peanut butter would get all runny and hot… it was pure awesomeness.  Something about a mamma-made sandwich just taste better, right?
Mom also used to make this incredible french toast on homemade sourdough bread.  She'd make it in the morning and bring it up to my bathroom as I was getting ready for school (yes, I realize how spoiled lucky I was!).  I'll never know how i wasn't obese.
This recipe combines two of my favorite things, transforming a couple of less-than-healthy childhood treats a guilt-free breakfast.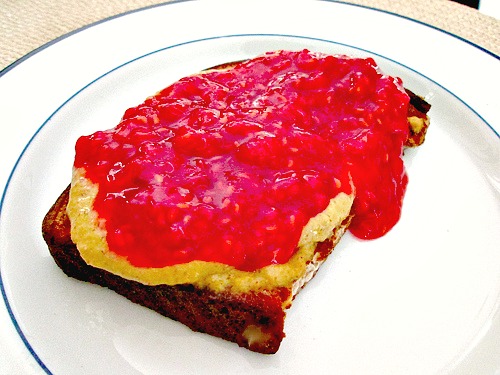 Lightening up this combo-treat doesn't mean it's less delicious.  The PB&J part takes a little creativity, but it can be done!  I replaced jam with a homemade version by mashing and then heating fresh raspberries.  The peanut butter is a low-fat, high-protein peanut flour creation, and – even better – the bread is high protein too!
The French toast part was easier to lighten up – all you really need to make it are egg whites.  You could eat it open-faced with the PB&J as your only topping.  Or you could go all the way and add syrup.  For me, French toast requires (sugar-free) syrup.  Go big or go home. 
Note: I realize a lot of sugar-free syrups have scary stuff in them.  I recommend trying to find one sweetened with Stevia or Xylitol (check your health food store!) if sugar-free is important to you.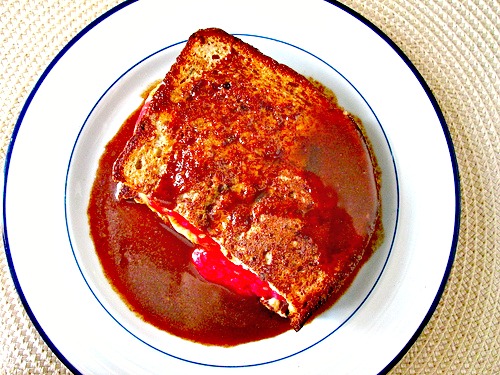 This may look like a lot of ingredients, but it comes together quickly.  I get my toast ready and place it in the pan to cook while I mix up the PB&J.  I had this done in 10 mins, max.
If you haven't tried peanut flour yet… I cannot recommend it enough.  Peanut flour is simply defatted peanuts in powder-form.  Super high in protein and they don't add the sugar and sodium that PB2 has.  It can be ordered online through iHerb.com.  Use discount code USO924 for up to $10.00 off any order!
_______________________________________________________________________________________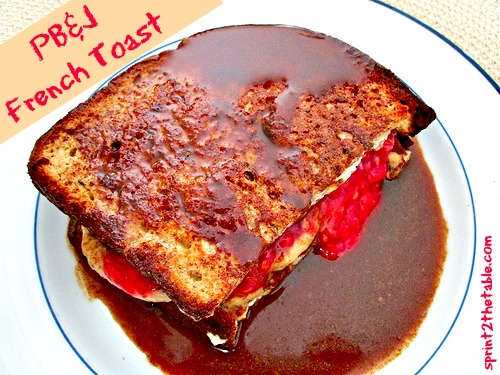 PB&J French Toast
For the Toast:
1 large or 2 small slices of bread

1/4 C egg whites
1/8 C water
1/2 tsp cinnamon
1/2 tsp vanilla extract
1/4 tsp butter extract
5-6 drops liquid Stevia (or other sweetener)
For the Jelly:
1/4 C raspberries

1/8 tsp xanthan gum (optional)
2 drops lemon liquid stevia (optional)
For the Peanut Butter:
2 T peanut flour

2 T liquid
1 tsp ground flax
1/4 tsp almond extract
2-3 drops vanilla liquid stevia
For the Toast:
In a wide bowl, beat together egg whites, water, cinnamon, extracts, and sweetener.
Over medium-low heat, heat pan coated with a thin layer of oil or PAM.
Place the bread into the bowl, letting it soak up egg mixture for a few seconds, then carefully turn to coat the other side.
Transfer bread slices to pan, heating slowly until bottom is golden brown.  Turn and brown the other side.
For the Jelly:
In a small bowl, mash berries until only small pieces remain.  Add sweetener and gum (if using), and mix together.
Microwave until warm, ~10 seconds.
For the Peanut Butter:
In a small bowl, mix together all ingredients.
Plate the toast and top with your PB&J.  Add syrup, if desired.  Devour.
***
Apparently I've been on a French toast bender.  The Hummus French Toast and now this.  I guess mybody knew it wouldn't be having this again until after the competition!  There will be NO asparagus toast. 😉
What did you eat for lunch in elementary school?  Do you still eat it today?
Have you even had homemade bread?  It's divine.