Shrimp is a relatively new love.
Not to be confused with being shrimpy.
I refused to eat fish until a couple of years ago.  Then I had a bite of swordfish (the steak of the sea – seriously) and it was all over.  It took  me still longer to move beyond fish and eat crab, shrimp, lobster, and mussels.
These days I can't get enough shrimp.  Whole Foods sells it already deveined with the tails removed, which is perfect for me since I'm still slightly squeamish towards raw fish.  Raw chicken grosses me out too, but that's another story.
This is the easiest meal you'll ever make. All you have to do is lay down the lemon, dump the shrimp out, and sprinkle it with seasoning.  You could probably make the entire thing without ever having touched a shrimp (which is awesome if you're squeamish like I am).
When you eat this, you can also eat the lemon.  If you have a particularly sour one that might not be good, but they tend to be sweeter in the summer.  I loved it against the spicy Asian seasoning I used!
Recipe at the bottom. 
________________________________________________________________________________________
This WIAW I'm back from Colorado but OUT of groceries.  Desperation has set in…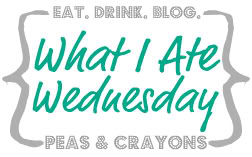 Read on for my eats, and then check out Jenn's blog for everyone else's delicious creations!…