Starting out on the right foot is important.
Yet so often I forget…
Kat's post today is all about trail running, I thought I'd share a quick pancake recipe (sorry if you saw this on Instagram already).  She talks about hiking fuel at the end of this post, but my recipe would be good for pre-hike fuel!
These cakes have a great mix of carbs and protein to start you off feeling the right amount of full!  I really loved how moist they were (yes, I used the word moist) thanks to the cottage cheese.  Leaving some larger pieces of the oats gives it a fabulous chew, especially if you use a mix of grains (mine is oats and millet).
Cottage Cheese Protein Pancakes
(Inspired by Morganne)
1/4 c oats
1/3 c egg whites
1/4 c cottage cheese
1/2 tsp cinnamon
1/4 tsp butter extract
1/4 tsp baking powder
Stevia or other sweetener, to taste
Place all ingredients in a lender (I used the small Magic Bullet container) and briefly mix, allowing some larger pieces of oats to remain.  Cooked in a pan over medium heat, flipping half way through.  
Top as desired.  I used raspberries, strawberries, and peanut butter syrup.  My syrup mix consisted of sugar-free syrup, peanut flour, caramel extract, and a little water.  I didn't measure… but just guess and adjust as you go.
I've babbled enough!  Here's Kat!!!
________________________________________________________________________________________
Mega Trail Heaven – Trail Reviews!
Since I last wrote, yes, Law School Graduation happened!  It was a crazy day, and yes, it's true, family drama cannot be kept at bay.  I did have friends and family visit from all over, and it ended up being completely AWESOME.  I am especially grateful to my friends who came from out-of-state, and even from locations 8 hours away.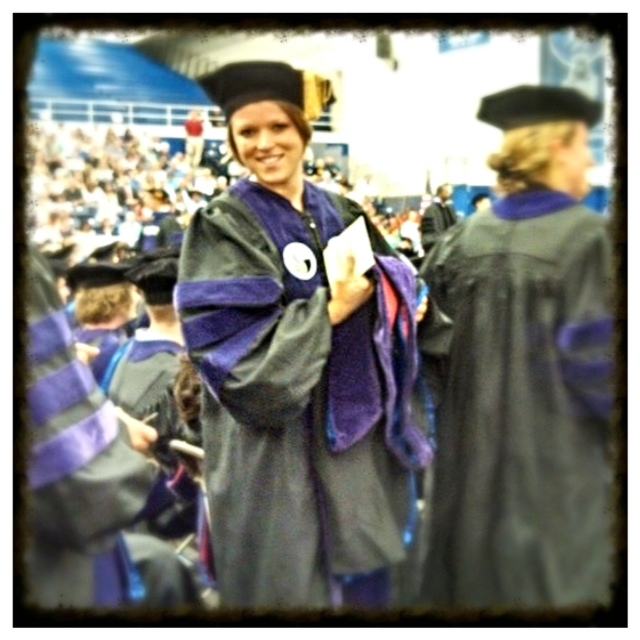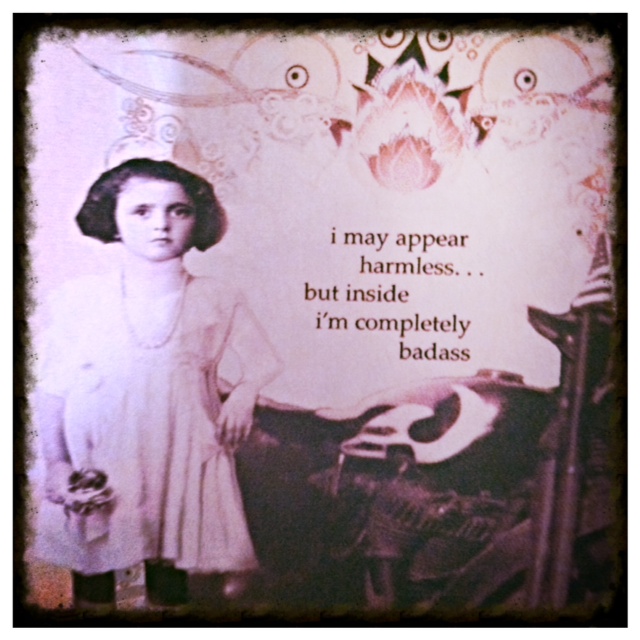 And afterwards, we went out on the town.  Dancing with Mom and Grammy was awesome!
After the fancy cocktail party, we went to a local club to dance the night away.  Grammy I think won us all over, and my friends dancing with Grammy was also not too shabby… the pics below are not even the highlights but I don't want to really embarrass anyone. 😉  (Editor's note: Yes, let's not ruin any political careers…)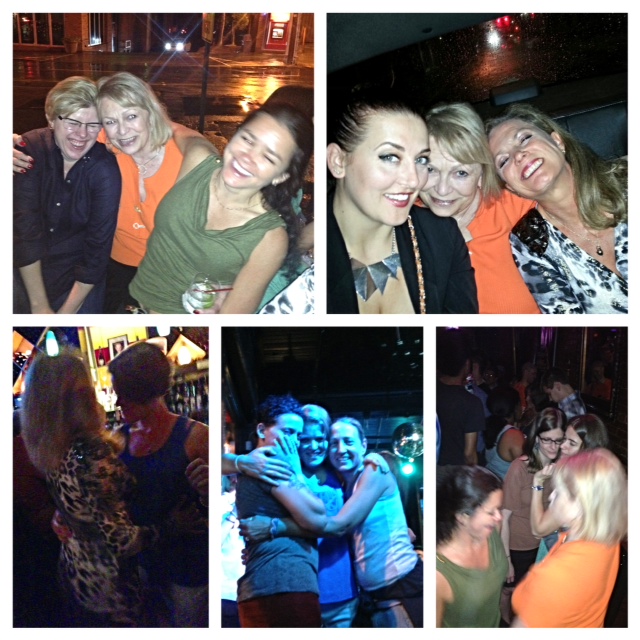 And, in honor of celebrating graduation and my little break before bar review, I am having a little fun!  (Editor's note: WELL deserved!)
First, I got a new bike!  She is a Scott Plasma tri bike, and she rides like a Porsche!   I took her out on Friday for our first ride together!  (Editor's note: What's her name?!)
Second, I am trail running like crazy!  I have hit over 5 different trails in the last week for some long, much needed and deserved runs.  Here is an overview of some of the trails and my personal "Trail Review."
Sope Creek is located just outside the Atlanta perimeter (285).  A short drive for local Atlanta folk, and they are GORGEOUS.  These trails are easy to navigate with maps at every turn.  There are not many hills, and most of them are also suitable for mountain biking!  There are also some cool old paper mill ruins.
(Editor's note: I grew up RIGHT there and went to Sope Creek Elementary!)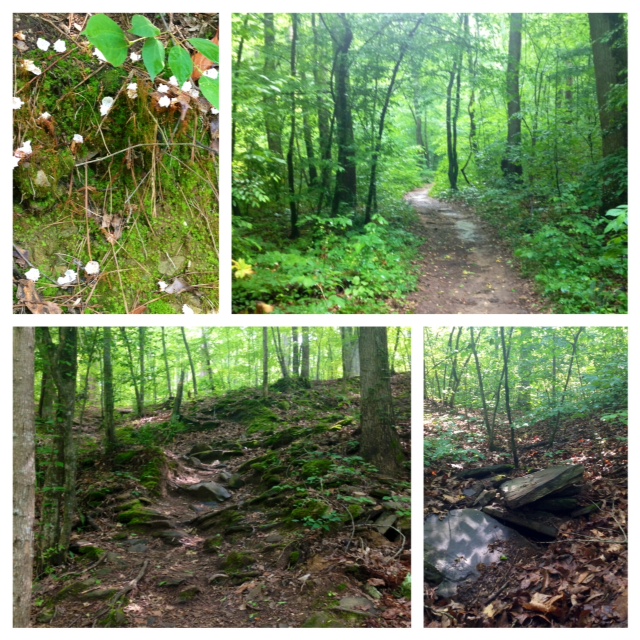 Saturday, I went over to the Tributary and got a good run in on the Yeti Trails, which are located near Sweetwater State Park.  (Editor's note: I love these trails!)
These trails are pretty mild with some incline and decline, but no mountains, that's for sure.  They're well-shaded and provide scenic views of water crossings and the river.  You can also throw in some steeper hills at the power lines and gas lines, if you desire!  (All before I went car shopping!  You will get to see my new car next time!)
Then I headed up to the mountains and stayed at Hiker Hostel, a cute little hostel that allows dogs!  So we could bring pups up to hike AND I could run some trails.
Hiker Hostel is great because it's family owned by a husband and wife who are super friendly, and they have their own bees for honey, and their own chickens!  Such an adorable home.  If you are ever in North Georgia, it's a great place to stay!  They also have a fully equipped kitchen downstairs so you can make your own dinner.
This cute get-away allowed us to first go up to Vogel State Park where we hiked the Bear Hair Trail with the dogs, and I got to go for a run on the Georgia Death Race course.
The hike on Bear Hair was awesome – lots of beautiful plants, including "flaming azaelias," a local wild flower, and plenty of water crossings.  There were enough hills to make it a difficult hike, but a fun couple of hours with the pups.
Then, I hit the Appalachian Trail… a bit easier to run here than on Bear Hair, and not QUITE as much scenery.  The trails are pretty rocky, with some water crossings.  I had never seen these trails during the day!!!  I also had a cathartic moment where I revisited the location where I sprained my ankle.
Monday morning I went for a run at Woody Gap, a section of the Appalachian Trail (AT) between Vogel and Amicalola Falls State Park.  These trails are comparable to the AT by Vogel but has better scenic overlooks and is a bit rockier.
They are a difficult run, but worth the beauty.  I also ran into a bunch of hikers, surprised to see a runner out there!  (Editor's note: further proof you're a bad ass.)
Then we went to Amicalola Falls on Monday afternoon for some more hiking.  While you can also get on the Appalachian Trail for running from here, we stuck to the park area, which was over-crowded due to the holiday weekend.
The park definitely had a more peaceful feel to it with all of the water (Editor's note: the falls are gorgeous!), and the hiking was actually pretty difficult.  I was pooped after just a few short miles.  The dogs were ready to go too!
_______________________________________________________________________________________
Overall, it was one of the best Memorial Day weekends I have ever had!!  5 sets of trails AND a bike ride in 5 days – BLISS!  This was all followed by an adjustment on Monday night with Nate, who also adjusted the dogs!  (Editor's note: Whaaaat?!)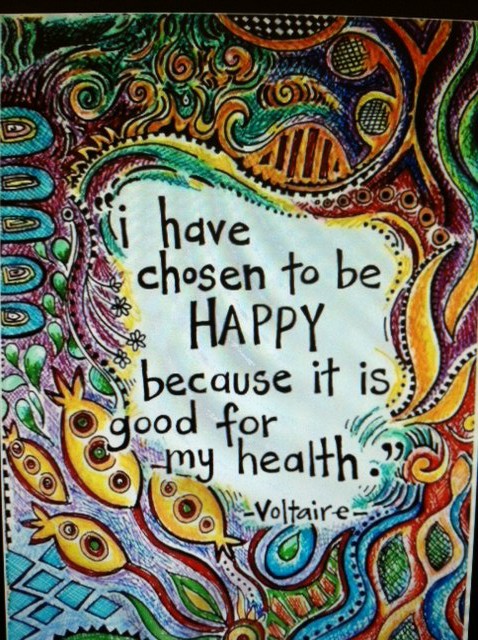 With all of this activity all over the trails, it's important to care for your body!  The trails do it for the mind and soul – they make me happy… but how about fueling this type of outdoor activity?
My favorite trail foods are usually foods that provide the right amount of sugars and carbs to keep me going, with just enough protein (Editor's note: Yay, protein!) to fill me up!
Like Laura's What I Ate Wednesday, I'm going to give you a "What I Ate on the Trails":
First, I always fuel on Lara Bars, especially the Cashew Cookie.  I also enjoy the Peanut Butter Cookie.  They have none of the crap that many other bars have.  They are simple ingredients of nuts and dates, unless you get fancier versions, but still few ingredients are added.
Typical trail food also includes potato chips and gummy bears!  (Editor's note: These hot summer months are the time when I'd be with you on the salt!!!)
I also enjoy the following raw veggies as fuel on the trails – these items don't squish in your pack, and they take a bit longer to digest, so you get a constant supply of the sugar and carbs you need to keep going:
Apples
Sweet Potatoes
Sliced Beets
Packets of Honey (you can make these at home)
The puppies enjoyed some beets while hiking
However, even more than eating just right, it is very important to hydrate!  Sunday, I drank over a gallon of water between breakfast and dinner, and I was still thirsty!  It's getting hotter, and this is my plug about being smart with hydration (and it doesn't hurt to throw in some electrolytes like coconut water) so you can go all day and not feel bad!
I hope you all enjoyed your long weekend and are enjoying the warm summer weather!
***
Just when I think I'm active… I read Kat's post. 😉
What are your favorite outdoor sports?  Any favorite trails?
Do you like to run or hike with your dogs?