I like to apply myself.
My grade school teachers would laugh… they always wrote on my report cards "if Laura would only apply herself…"
With age came discipline.  And the iPhone, which I use to keep me on track with my fitness.  Every day I use my top apps.  It may be a little OCD, but it works for me.
I will never be a morning person, but this gem makes waking up a little easier.  Sleep Cycle uses the accelerometer in your iPhone to monitor your movement throughout the night an determine which sleep phase you are in.  It wakes you up in a 30 minute alarm window that ends at your set alarm time, depending on when you are in your lightest sleep phase.
2. Social Apps
I'm lumping these together since I'm sure most of you are already familiar.  I love social media.  Maybe too much.  HootSuite is a big time saver because it allows me to manage Facebook and Twitter in one place.  I also use the Facebook app to interact with friends and post random quotes and resources on my page (click to "like" Sprint 2 the Table!).
And my beloved Instagram.  What did we do before this?  When I can't decide what to eat, it's my first stop for inspiration!  That first pic was for a recipe I was going to post today… but the pics were SO bad in the night lighting.
The app is great for tracking my water throughout the day.  I drink 120 ounces… it's hard to keep up with that in my head!  There are a lot of apps that will do this for you; I use FitBit because I already use the pedometer.
I use my actual FitBit One device daily to track steps, distance, and stairs.  It also give you a calories burned number… but I don't think it's accurate.  It's value – to me – is that it motivates me to keep moving.  When you have a desk job, it can easily lead to a sedentary state.  Yes, I work out regularly… but in reality it's only about 1.5 hours a day.  The rest of the time I am at a desk.
I just started using this app to track my progress in the gym.  I can record workouts, reps, and the weights I use easily and in real-time at the gym.  A pen and paper will do the trick… but I hate carrying that stuff around, and I can never remember exactly what I did by the time I get home.
This app also track progress graphically, making it easy to see improvements over time.  Heather just wrote a great post about the importance of measuring your progress.  I love her point about setting benchmarks – it is SO important to keep challenging yourself so as not to stagnate.  We don't work this hard to stay the same, right?
I haven't used the following features but… if you don't already have a routine, the app offers 25 pre-defined workouts (with pictures and instructions), cardio exercises, and stretches.  It also offers a calorie counter.
This is both an app and an online service.  While the name is Lose It, I use it to gain.  This service allows me to track the foods I eat, complete with macros!  Their catalog of foods is pretty extensive, but if you can't find something you can scan the bar code or enter it manually.
One of my favorite features is the ability to enter recipes.  You can choose the number of servings and enter all of the ingredients into dishes you make, then save it for future use.  I use this to calculate the recipes I post on this site.  Like that recipe on Instagram last night… this is coming soon!
Another cool feature is that you can enter exercise… and the calories burn is pretty accurate.  Lose It! asks your age, weight, and height when you sign up, which I supposed really can give a good idea of the calories you burn.  I was skeptical.
To confirm its accuracy, I used my heart rate monitor.  Most of the time the calories burned match, give or take 20-40 cals.  I will never understand how this is possible.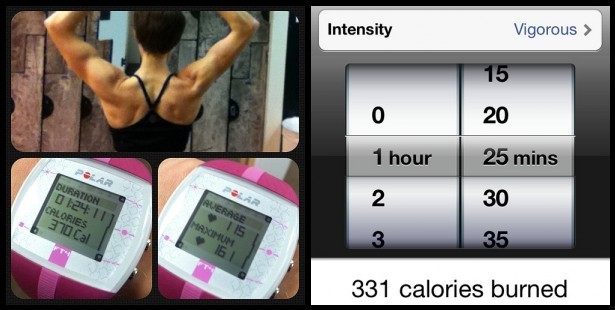 The Lose It! review is part of a sponsored campaign with Lose It! and FitFluential, LLC. All opinions are my own (and I was already using the app). Learn more about Lose It! on Twitter.
***
 That chili recipe is coming as soon as I get some good picture-taking daylight… it was GOOD!
What are your favorite apps?
How much water do you drink in a day?