I'm no stranger to weird.
When I saw the title of Kat's guest post today I grinned.  This girl rocks my weird world.  You know it's a sign of a good friend with a 3 hour trail run/hike flies by.
What doesn't fly by is the soreness after a long day of exercise.  After that run and then this past weekend's race I am no stranger to delayed onset muscle soreness (DOMS).  But I do have a solution!  Or… a relief strategy.  Some of you will think it's weird but…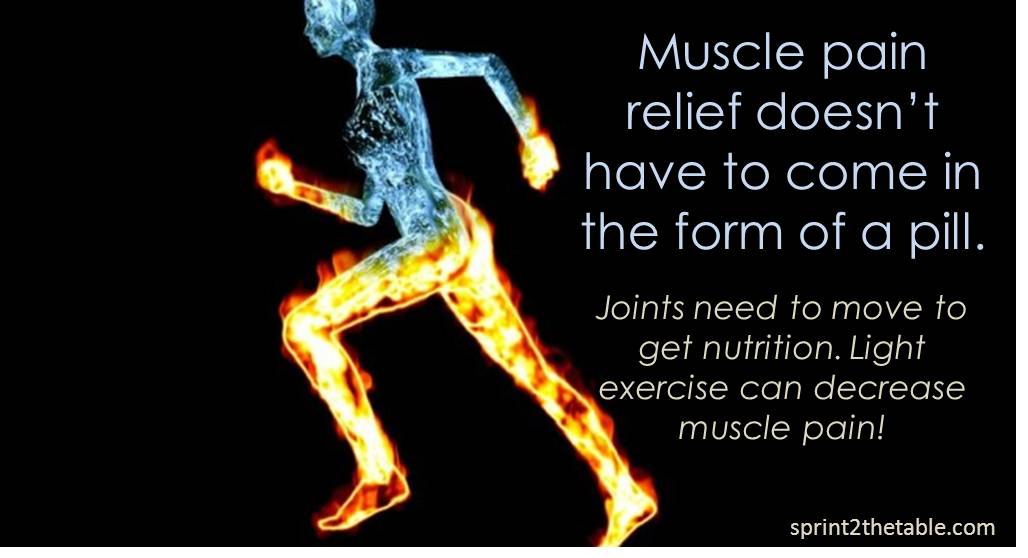 Seriously.  If you can keep moving, that soreness will move on out.  The day after my 8 hour race I walked 3 miles and jogged 1.  By Monday I was back in the gym with my trainer.  It's not a miracle cure, but it DOES help.
Note: Be smart – if it's beyond normal soreness, you have a strain or an injury, or you are sick REST is what you need.  If you are just tight, walk it out!
Enough about me… read on for my weird friend Kat and her killer Strange But Good recipe.
_______________________________________________________________________________________
BE WEIRD, TAKE CHANCES, BE YOURSELF!
Let your spirit move you!!!!  Do things that inspire you!  That is my theme this week, this year, this lifetime.
I'm going to San Francisco today.  It's my first time as an actual tourist there.  I used to go to California for wrestling tournaments in college.  Read: All I saw were the insides of hotels and gyms.  This time I will be going wine tasting, cheese tasting, and running a trail race on Sunday!!  The Steep Ravine trail run (only the 25K distance I think) will be my favorite part!  *sounds steep*  (Editor's note: Only 25k?!  Kat is a trail running beast.)
I have learned to travel the world and make time for friends you haven't seen in ages and some great, beautiful races.  I will see my friend Jaime, from college (see her blog – Event Crashing at its finest ), who is amazing, and a few other friends. Jaime is the kind of friend you can take your hairless cats to a laser show with.  No, that's not a joke.  We did that.
When I was little, the last thing I wanted to be was weird.  Now I embrace it!  I think it is one of the reasons I take to Laura.  She embraces her unique weirdness just like I do.  (Editor's note: Awwww!  I heart you.)
A huge part of enjoying life, for me, is taking chances, doing things I've never done before, and being totally okay doing everything and anything that moves me.  It creates more smiles, and more smiles means less stress!  So let's get out of the box today and share things that make us weird, happy, and stress-free, and brings a smile to your face.  All photos were taken within the last two years.
The point of all this is… is that you must have random, fun, sporadic and unique moments in order to make the most out of life.  Life is not meant to be suffered through, it's meant to be enjoyed.  That is why I spent a lot of time doing things that are outside of my comfort zone (or used to be).
Other things that make me smile include uncommongoods.com.  I could browse that site ALL day!  Amazing stuff like this:
And just as good as weird, fun, and sporadic moments are – weird, fun and sporadic foods help you smile!  I know, I know, another recipe.. but I have been cooking a LOT. (Editor's note: That is encouraged here 🙂 )
After my amazing training day with Laura, I made dinner for my friend Martha.  A cocoa rubbed pork tenderloin with … dun dun dun… Cocoa Cinnamon Cayenne (CCC) Sweet Potatoes (feel free to ask for the pork tenderloin recipe.. but honestly, they're all the same).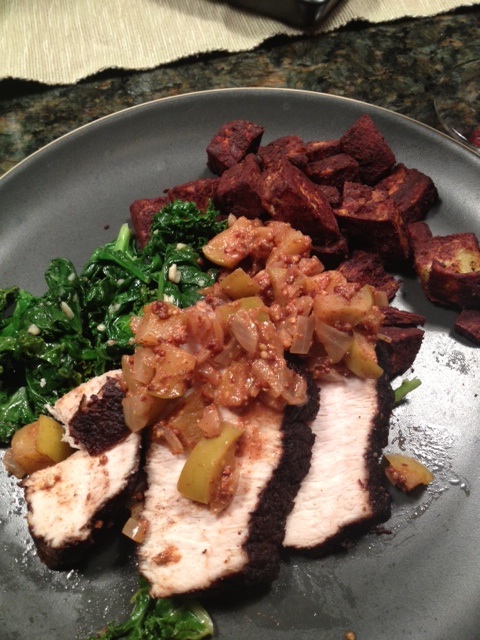 Cocoa Cinnamon Cayenne (CCC) Sweet Potatoes
Cocoa Powder – 1/4 cup
Cinnamon – 1.5 tbsp or so
Cayenne – 3 tsp-ish
White pepper – a sprinkle
Salt – a couple sprinkles
Sweet potatoes
I used two types of sweet potatoes – regular and Japanese.  I coated them in melted coconut oil (~2 tbsp), and tossed them in the CCC mixture.  Disclaimer: I never actually measure
Place in a 375* oven for ~20 mins, stir, leave again (~20 mins).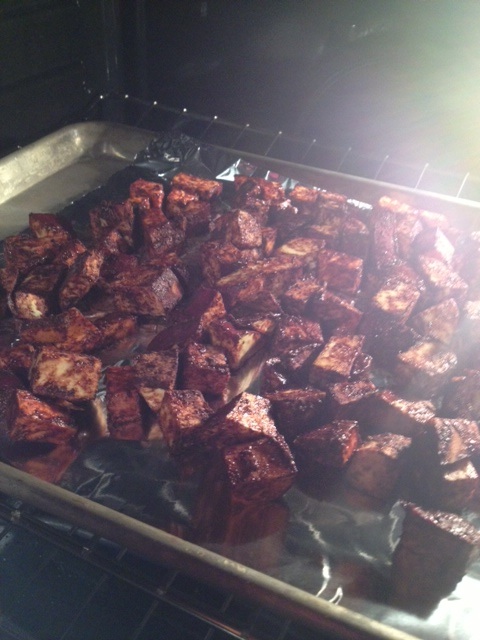 They are absolutely delish!  Ask Martha.
Serve with a homemade apple chutney (this was amazing… you can also ask for that recipe if you want… lots of mustard seeds… more savory than sweet).
The way I cook is….
…whatever I feel & the way my spirit moves me.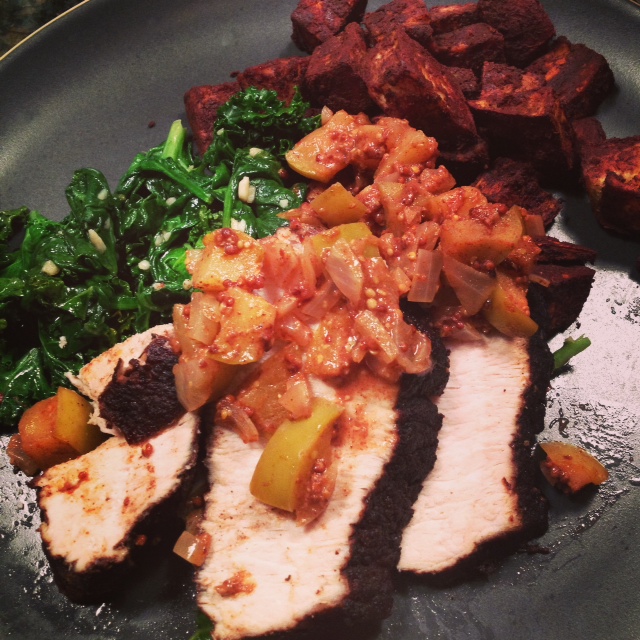 The best part of all of this… the recipe, cooking for friends, and randomness… is that a random and happy life is just that… a happy life!
When you live inspired, you will inspire others.
***
I love this post by Kat… I'm inspired daily by her determination and "can do" attitude.  Time to get inspired in the kitchen for tomorrow's Strange But Good link up!  I hope you will all join! 🙂
What recently inspired you? Have you done something inspired/out-side the box?
Tell me something really positive!