I am participating in a sponsored campaign hosted by Emergen-C® I received compensation for this post. While all opinions stated are my own, I make no claims about Emergen-C as a product or its effectiveness.
I drink a LOT of water.
While I love it, there is a bit of flavor exhaustion.  Or lack thereof.
The problem is there aren't a lot of flavored alternatives that aren't filled with bad stuff.  When I had the opportunity to try out Emergen-C, I jumped at it.  Who couldn't use more vitamins?
They have new Cranberry-Pomegranate flavor that I thought would be an excellent add to my water to break up the monotony.  Even better is that they are fizzy!  I got addicted to sparkling water in Europe and have craved the effervescence ever since.  Emergen-C has over 20 varieties of vitamin drink mixes.  No monotony here!  Plus, all of those B vitamins made for the perfect natural energy enhancement at work.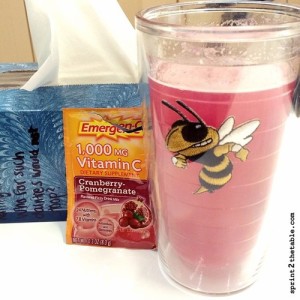 …