It is time I clean up my act.
Let's be real – its beyond time.
It's generally pretty easy for me to keep my diet in check during the week.  The weekends…. it's another story.  Since I'm not competing this year I haven't been following any real nutrition plan.  Of course I took that to the extreme.  

What I know about myself is that I love to indulge.  I also know that when that starts happening too much, I feel like crap.  It affects my physically and mentally.  I've been struggling lately, and I know it's time to reign it in.
For a few years now I've been doing a version of the Standard Process Cleanse.  That's the protocol I'm following for the next 21 days, except using my own supplements rather than buying their program.  Basically, it's eating super clean and eliminating common allergens like eggs, dairy, nuts, and gluten.  The first 10 days is meatless.  The last 11 days includes chicken and deep sea fish.
I'm only through Day 1, but here's my first reactions:
Not taking pre-workout is hard
I'm going to need to buy a lot more veggies
Some of the dishes I made when doing this previously are really good – I'm excited to bring them back
Fruit can make a fun ice cream dessert
Good lord, I miss meat
---
This WIAW is my first on the 21 clean(se) train.  I'm still working out the best foods to bring and when to time protein and carbs to get the energy I need.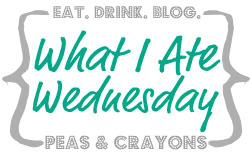 Read on for my eats, and then check out Jenn's blog for everyone else's delicious creations! …