What didn't I eat Wednesday may be a more appropriate title.
I may have over-done it on the sweets…
Do you look forward to the holidays being over?  After I left my mom's last night, I was sad to be going home alone, but at the same time a little relieved to get back into a normal routine.
I do hate leaving this beautiful scene though!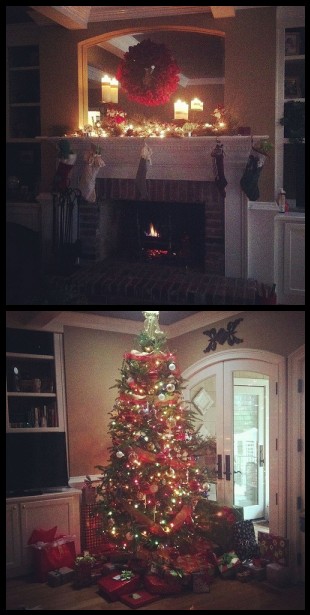 ---
Today I was going to take another "break" from blogging.  Then I realized a) I don't really have anything else to do and b) this would be a fun way to shock myself into going cold turkey on the sugar.  I didn't get pictures of it all, and we slept in so it is kind of a random slew of snack rather than meals.  You've been warned.
We didn't totally fail at Jenn's What I Ate Wednesday theme this month… but it could have been better less sugar-filled: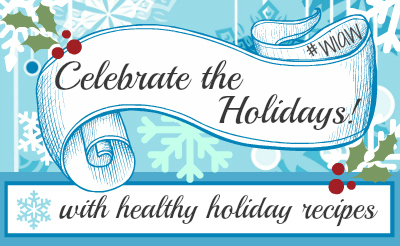 Check out my Christmas eats, and then be sure to head over to Jenn @ Peas and Crayons and see what everyone else ate on this most wonderful day of the year!
---
Meal 1:
I didn't have Fitmixer Aminos at my mom's, but I did have my ACV and water first thing
Christmas Eve I prepared an overnight baked french toast to be ready to pop in the oven Christmas morning (almost afternoon… we didn't eat until 11a).  We open presents while it baked.  Before the toast, we started out with a Christmas tradition: mimosas!
The french toast was served with an easy cranberry sauce.  I soaked fresh cranberries in Gran Mariner (orange liqueur), and placed it all in a small sauce pan with some vanilla liquid stevia and cinnamon.  I let that simmer on low heat while we opened presents, adding a little water as needed.
The Brandied Baked French Toast recipe is below.  It will look like it has a lot of booze in it, but it really isn't strong once you bake it.  Most of the booze cooks out.  I tried to keep it a little lighter using unsweetened almond milk rather than a traditional cream or whole milk.  Making that simple change save a lot on calories and fat, but you don't loose any flavor.  This resulted in a flavorful, surprisingly light, fluffy French toast… it may have to happen once more on New Years Day.
Also on our breakfast table was French-pressed coffee, ambrosia (my mom and sister's favorite… I passed), and fresh figs wrapped in prosciutto.
Meal 2:
Popcorn.  We devoured a bag of Smart Food's Parmesan & Herb Popcorn while watching Elf.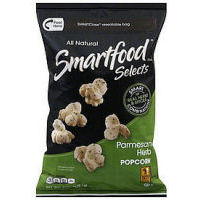 I grazed some more on almonds, random sweets, an extra bite (or 5) of breakfast… but we really enjoyed sea salt-breadcrumb dark chocolate by Chuao that Santa brought me:
Meal 3:
I don't know if this counts as a meal… but we snacked on more prosciutto with Trader Joes' Raisin Rosemary Crisps (like the Raincoat crisps sold at WF, but much cheaper), cream cheese with strawberry-champagne jam, hummus, carrots, and celery while dinner cooked.  With a pear cider cocktail (pear cider + brandy, ginger liqueur, and lime juice).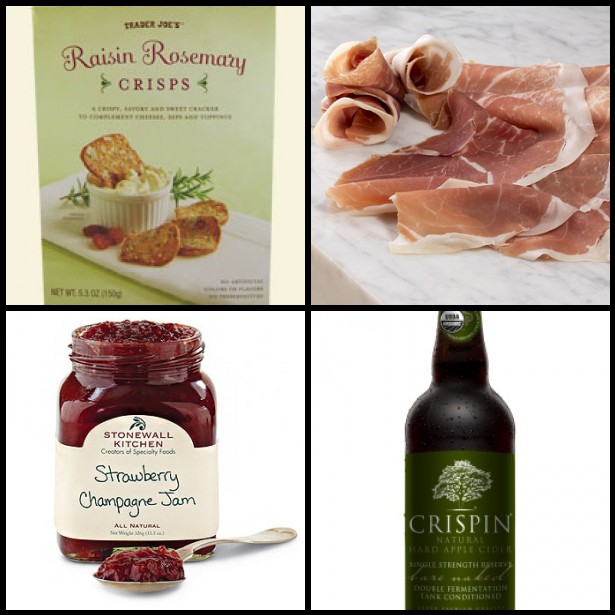 Meal 4:
This meal was probably unnecessary after all of that.  In my family, Christmas Eve dinner and Christmas brunch  are a bigger deal than Christmas night, so we didn't do anything too fancy.
I kept my plate small, but everything was delicious.  We made a quick salad, wild rice with pomegranate and kale, roasted sweet potatoes, and grilled lamb chops.  All drizzled with a thick balsamic.  There was also an unpictured glass of Alamos Malbec… did I mention the return of Sober January?
Also unnecessary was dessert… which I happily enjoyed.  German Chocolate Cookies, coming to you Friday!
---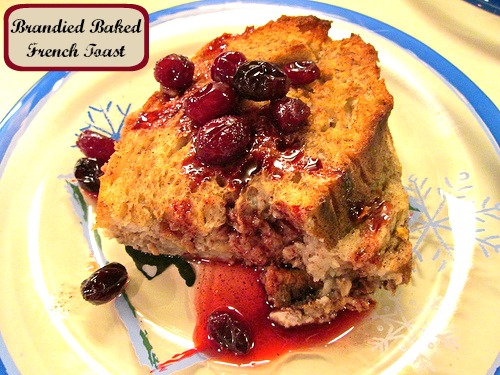 Brandied Baked French Toast
1 loaf Ciabatta bread in 1-inch slices
3 C unsweetned vanilla almond milk
3 eggs
1 T brown sugar
1 packet Stevia (can replace with more sugar)
1 T cinnamon
1/2 tsp nutmeg
3 T Cointreau
3 T Frangelico
1 T brandy
Optional: 1/2 grated apple
Grease a 9×13-inch baking dish (I used Pam).
Place bread in two tightly-packed layers in the pan.  If you use the apple or other fillings (any fruit or nut would work), sprinkle them between the layers.
Whisk milk, eggs, sugar, spices, and booze together in a large bowl.  Pour mixture over the bread.  Wrap tightly with plastic wrap and refrigerate overnight.  The bread will absorb the milk mixture overnight.
Bake at 425 for 25-30 minutes, until fluffed and golden brown.  
Cut into squares and serve with fruit, syrup, or any other favorite breakfast topping.
Serves 6-8.
Notes: If you don't like the alcohols, you may use a couple of teaspoons of vanilla or other extract.  You could also experiment with other liqueurs like Irish cream, Gran Mariner, Kahlua, rum, etc.
***
The gluttony will stop after this week… I swear.  I have one more cookie recipe to share, and it's slightly lightened up!
How were your holiday meals?  What was the winner?
Are you a little relieved when the festivities end?