I'm taking some liberties today.
Relax… just with the word tabbouleh.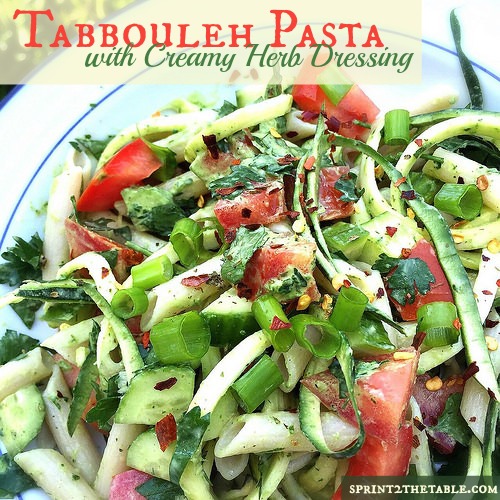 This dish is heavy on the parsley and tomato.  That immediately makes me think tabbouleh.  The "traditional" definition ends there.  The rest is strange… but good.
I used a rice penne here to keep it gluten-free (my detox includes eliminating common allergens).  It's definitely different than the real deal, but I like the chewiness.  I also mixed in some zucchini noodles to add more bulk.  I love a giant plate of pasta, but my tummy regrets it about 10 mins after I inhale it.
So what the strange part?  I think the secret's in the sauce.  The creamy herb dressing is entirely vegan, but so creamy you'd never know it.  The creaminess comes from tahini – I haven't been able to get enough of the stuff lately!   There's a hint of sweetness from the date but it's not over-powering.  With all the herbs, that sweet hint just helps to balance and smooth out the flavors.
A little nutty, a little herb-y, and a lot strange.  This sauce is good with pasta or salad.  Just thin it a bit with some olive oil and you have the perfect compliment to a summer salad.  Try it with some arugula, cucumber, and figs.  Trust me.
---
Tabbouleh Pasta with Creamy Herb Dressing
4-6 servings
adjust servings
Ingredients
For the Pasta
8

oz penne pasta (I used rice)

1

C chopped parsley

1

large tomato, diced

1

medium cucumber, diced

1

medium zucchini, spiralized

2

scallions, thinly sliced
For the Dressing
1/4

C tahini

1/2

C water

Juice of 1 lemon

1/2

C chopped parsley

1/3

C chopped basil

2

tsp dried dill

1

date

Salt and pepper, to taste
Instructions
Prepare the pasta as directed and allow to cool. Meanwhile, prepare the veggies and set aside.
Combine the tahini herb dressing ingredients, except for the dill, in the bowl of a food processor and process until smooth. Add in the dill and pulse a few times until incorporated. Transfer to an airtight container and refrigerate until ready to use.
Combine the veggies and pasta in serving bowl and toss with dressing. Add to serving bowls and top with with red pepper flakes. Serve immediately.
Leftovers can be stored in the refrigerator for up to a week.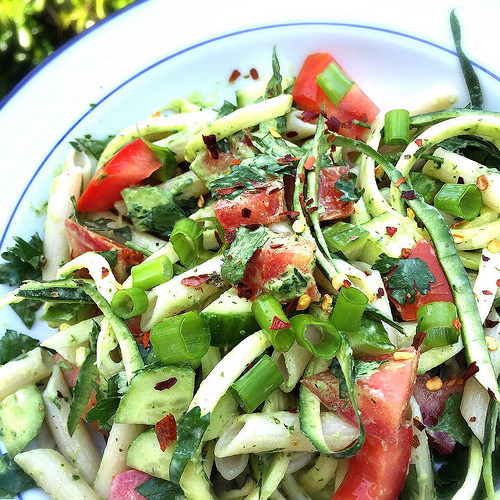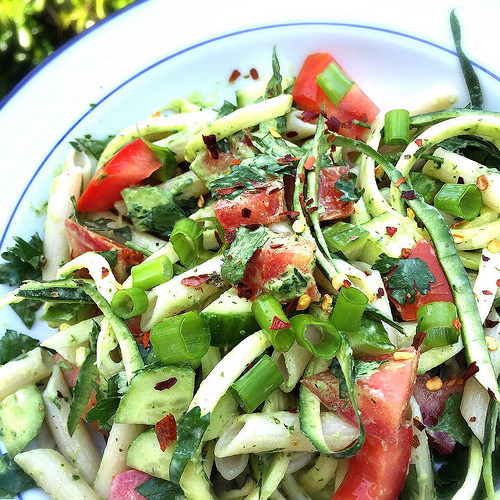 ---
How have you enjoyed making co-workers, friends, or family stare with strange but good creations this week? The link up rules can be found here or by clicking on "Strange But Good" in the menu bar above. In short, I want to see what concoctions have earned you weird looks from co-workers, family and friends! Post your Strange But Good creations, grab the logo below for your blog, and link up here.
Remember to use #strangebutgood in any Tweets and Instagrams of your creations. 🙂
***
I'm so looking forward to the weekend.  Farmer's market Saturday is going to be epic with the spring produce.
Are you a tabbouleh fan?
What have you been loving on salads lately?